I would have despaired unless I had believed that I would see the goodness of the LORD in the land of the living. Wait for the LORD; be strong and let your heart take courage. Yes, wait for the LORD.
—Psalm 27:13-14 NKJV
My wife and I received more discouraging news Tuesday evening. I don't know why disappointment seems to gather around the holidays like a flock of morbid moths to a Christmas candle, but I'm getting accustomed to it.
We hear all the stories how more people die in December than any other month of the year. (I lost my Dad six Decembers ago, so I can point to my own experience of that truth.) And for every Jolly Old Saint Nick, there's some Scrooge ready with a "Bah, Humbug!"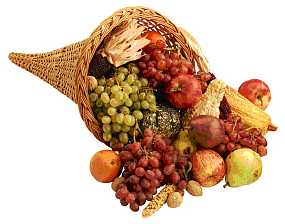 Bad seems to lurk around good for no other reason than sheer spite. Still, I think Job—who had leeway to talk—said it best: "Shall we receive good from God, and shall we not receive evil?" (Job 2:10)
We Americans aren't very good at being grateful in times of trouble. I think we used to be, but perhaps our decadence snuffed our thankfulness. I pray that's not the case. Still, we have a strange karmic approach to thankfulness that says that as long as the good outweighs the bad, we'll be thankful. If things slide the other way…well, all bets are off.
So we're going into another Thanksgiving carrying a load. It's not life-threatening, but it's still a bitter pill. I thought we'd avoid eating bitter pills on our menu this year. One snuck in with a day to spare, I guess.
I've generally thought of myself as a thankful person, though not perfectly. The one thing I've tried to instill in my son is gratefulness for even the smallest gifts God gives. Or as Habakkuk so ably put it:
Though the fig tree should not blossom, nor fruit be on the vines, the produce of the olive fail and the fields yield no food, the flock be cut off from the fold and there be no herd in the stalls, yet I will rejoice in the LORD; I will take joy in the God of my salvation. GOD, the Lord, is my strength; he makes my feet like the deer's; he makes me tread on my high places. To the choirmaster: with stringed instruments.
—Habakkuk 3:17-19 ESV
"To the choirmaster: with stringed instruments." I love that little flourish at the end. Music in the midst of discouragement. Think Paul and Silas in stocks in prison, singing hymns into the wee hours. I wish more modern worship songs said something about praising God when hell burst against us. That's the kind of strong Church I long to see. "You can flog us to our skin hangs in ribbons, but we'll go down singing the praises of Jesus Christ."
(That may come to that sooner than we think.)
Faith is thankfulness for goodness put on hold. Like Psalm 27 says above, Wait for the Lord. Perhaps that's why so few of us are truly thankful: we don't know how to wait for anything. "We'll take the despair now, please, but don't bother us with thankfulness." Sometimes, I think we believe thankfulness lives for another day. But it can't wait, can it? Thankfulness embodies what we are in Christ, every minute of every day.
I hear people saying that Easter is one of the holiest of Christian holy days, but I'd like us to give almost as much attention to Thanksgiving Day. Because as much as we'll be enjoying the fruits of Christ's resurrection, we'll be spending eternity thanking Him for it—and for every small gift we failed to appreciate this side of heaven.
Better practice now.
Have a truly thankful Thanksgiving.