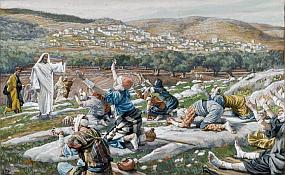 On this Thanksgiving, I will forgo commentary on the wickedness of keeping nonessential retail stores open this day or on the craziness of Black Friday. Instead, let's consider this:
On the way to Jerusalem [Jesus] was passing along between Samaria and Galilee. And as he entered a village, he was met by ten lepers, who stood at a distance and lifted up their voices, saying, "Jesus, Master, have mercy on us." When he saw them he said to them, "Go and show yourselves to the priests." And as they went they were cleansed. Then one of them, when he saw that he was healed, turned back, praising God with a loud voice; and he fell on his face at Jesus' feet, giving him thanks. Now he was a Samaritan. Then Jesus answered, "Were not ten cleansed? Where are the nine? Was no one found to return and give praise to God except this foreigner?" And he said to him, "Rise and go your way; your faith has made you well."
—Luke 17:11-19 ESV
All our healing, all our hope, is found in Jesus. Not some, but all.
How can we not be thankful? How can we not be weeping with gratefulness?
More than anything I want my weeping to be in gratefulness to God for what He has given me despite my frailty, cravenness, and thoughts of self-worth. There is none worthy of those riches, not one. Not you. Not me.
I think much good would come if we Americans wept today because we are not worthy to have received all that we now possess. And it may be that unless we weep we may very well lose all those wonderful gifts because we have been so ungrateful, so unwilling to say that our own cleverness or resourcefulness has NOT gotten us those things apart from God's mercy.
Don't waste your thankfulness giving thanks to an ideal or a philosophy or your own talents. Give your thanks to the Lord. Be that tenth leper who was smart enough to know his source of blessing and come back to the feet of Jesus with praise and tears.