I was talking with a friend the other day about the fear of being an ineffective Christian. Both of us face some difficult challenges in our lives, some the same, some different. Those challenges have taken their toll on us both.
No one gets through life unscathed, though. Everyone has challenges. Everyone. If not now, then later. If not when we're young, then when we're old. Life is hard, and no one has a magic mirror to peer into the future or a gilded passport to avoid trials.
Christianity in America consists largely of two polar camps.
You have the Radical camp that defines Christians by what they do or do not do for God. Some even go so far as to say one's ultimate standing with God depends entirely on how radically engaged one is for the Kingdom. It all comes down to what you do, and you better do a lot.
Then you have the Rest camp. "Do? What is that? I'm resting in the Lord and in my salvation!" The funny thing about that camp is that it never seems to do anything, ever. The world ends at the tip of their noses (or, in some cases, the outline of their belly).
I don't think the truth dwells in either camp. The Church in America can lull you to sleep or work you to death. Neither is healthy–or godly.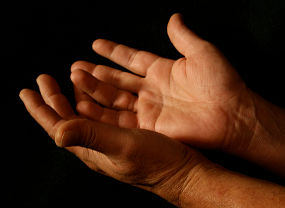 One day, I cupped my hands in prayer and said, "God, fill these hands."
And He did.
He filled them with a mix of normal American life and stuff no sane person would want. Do my best for Him at work, at home, and out there in the world. You know, everyday normality. This blog was part of that mix. Then came the outrageous stuff, most of which consisted of challenges that would push me to the edge.
All God asks of me is to address what He has put in my hands right now, or as one wise Christian once told me, "Jesus hung on one cross only."
We have this tendency to either drop our cupped hands and let things spill out, or we let guilt force us to take on so much we can't hold it all and panic sets in.
We need to examine our lives. What is immediately before us? What is in our hands right now? Do those things to the glory of God.
Little things that daily fall into our cupped hands matter too. When God puts a person in front of me, I can give that person my attention and be in the present. I can be Christ in that moment to that one person. That fits in my hand. That I can always do. I may not be the answer to that person's deep need, but the little bit o' grace I dispense in our connecting matters to that person. I can always be kind and empathetic. Maybe I can help that person financially or emotionally if he needs it. But then, maybe I can't. God, what can I do right now? In what ways can I be your ambassador to this person now? What have you put in my hand?
Regarding the challenges of life, let no one judge you. Anyone who has had to caretake a dying parent knows how debilitating such a task can be and how it consumes all of life. That's reality, and it's OK. It's what is in your hand right now. It won't always be there. God is not judging you by what else you try to carry. Sometimes, something that big is enough. It doesn't matter what other people think of your inability to say yes to everything else they ask of you. You can only do what you can do. Taking on too much means you do everything poorly and stress yourself. Don't. All you can do is what is in your hand. Too few Christians understand this, and one of the most toxic tricks a local church can pull is to guilt people "in the name of Jesus" into doing more than God expects.
God knows what you can and cannot do. Keep your eyes on Him. Learn to say no when He wants you to. Never feel guilty for saying no when it's God leading you to say it.
If the contents of that open hand begin to overflow, get help anywhere you can. God rewards the resourceful, and admitting to being overwhelmed is no sin. Where humility is, Jesus is. You're not a superhero, so don't try to be. We are all dust; without God, we can do nothing.
In the parable of the talents (Matthew 25:14-30), the man going on a journey gave five talents to one servant, two to another, and one to a third. He didn't give five to the servant who could handle two only. Similarly, he gave five to the one who could handle that many in the moment. When the talent dispenser returned to his servants, all he expected was to see what each servant had done with what each was given. Each was accountable solely for making something out of what the journeyman had placed in their hands. No more, no less.
Those Rest folks need to step up. Those Radical folks need to calm down.
Where are you?
Know that you can do only what God has placed in your hands at this time. A year from now, what is in your hands may be different, possibly more or perhaps less. Give your best to God for what you have before you now, and stop beating yourself up. If only one thing occupies your hands right now, do it for His glory. If God wants to add something, He will. Trust Him to get it right. And if it seems too much, trust that God will put people in your life to help. Ask for that help and keep asking until you get it.
Most of all, trust God. Pray over everything He puts in your hands and never stop offering it back to Him as you partner with Him to make it happen. In the end, it's not really about you and how well you perform anyway. It's about moving the whole Kingdom forward. And that happens one cupped-hand item at a time.