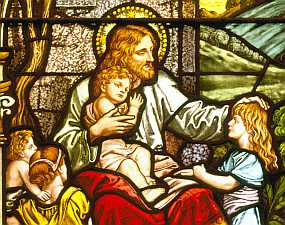 When I left my son at 9:30 PM, he had his Bible folded over his chest, waiting for me to leave so he could wander over to his reading corner (complete with a beanbag chair and a funky five-headed lamp) and finish reading about the Passover. He couldn't wait.
I let him read at night. As a precocious reader, he eats up just about any reading material we give him. I could no sooner punish him for staying up to read than I could punish myself for staying up to blog. Sometimes, you have to pick your battles.
This afternoon, he asked why serpents are evil. I told him God made all things good and that the snakes we see around outside our house keep mice in check. I mentioned that the devil took the form of a serpent when he deceived Adam and Eve, but the word serpent could be broader than snake. Then he asked to define the difference between a serpent and a snake. When I asked where he was getting this from, he mentioned the story of Aaron throwing down his staff and it turning into a serpent. Wasn't Aaron a good guy? What was he doing messing around with serpents?
After his obviously faux attempt to go to bed this evening, he hopped into his beanbag chair and read through the Egyptian plagues, eventually answering his own question about the Passover. When I mentioned earlier that Passover started two days ago, you could see the excitement in his eyes. He thought it was "cool" that the narrative he now read just so happened to coincide with the actual events of thousands of years ago.
When the world was new to us, wonder filled every moment. Who knew what astonishing revelation might unfold before our wide innocent eyes. Magic filled each breath. Possibilities hid behind every corner, ready to unleash the supercalifragilisticexpialidocious.
What a pity then that I read so many Christian sites on the Web and note all the child-like wonder sucked right out of them. How sad for us that we traded in our amazement at the mysteries of God for some cut-and-dried "faith" that's overly diced and ludicrously dessicated.
I won't hold myself up as the pinnacle of Christian practice by any means, but the older I get, the more I see God restoring the wonder in my life. Something about maturity in Christ recaptures our childlikeness, that winsome inner spectacle that never ceases to amaze us who are His dwelling place. Anything is possible! What can He not do? If we're not tracking with that kind of "inverted maturity," we instead turn into grizzled and bitter veterans of the spiritual war. I see far too many people on the path to that cold, hard anti-faith. God help them!
For the Christian, every day becomes that day when the world was new. If we're living consecrated, abandoned lives. If we died at the cross.
Big ifs, but not too big for a magnificent God to make real in the hearts of His children.
{Image: detail from stained glass window from Our Lady of Mount Carmel, Wyandotte, MI}