Do you not know that in a race all the runners run, but only one receives the prize? So run that you may obtain it. Every athlete exercises self-control in all things. They do it to receive a perishable wreath, but we an imperishable. So I do not run aimlessly; I do not box as one beating the air. But I discipline my body and keep it under control, lest after preaching to others I myself should be disqualified.
—1 Corinthians 9:24-27
I have fought the good fight, I have finished the race, I have kept the faith.
—2 Timothy 4:7
What good is it, my brothers, if someone says he has faith but does not have works? Can that faith save him? If a brother or sister is poorly clothed and lacking in daily food, and one of you says to them, "Go in peace, be warmed and filled," without giving them the things needed for the body, what good is that? So also faith by itself, if it does not have works, is dead. But someone will say, "You have faith and I have works." Show me your faith apart from your works, and I will show you my faith by my works. You believe that God is one; you do well. Even the demons believe–and shudder! Do you want to be shown, you foolish person, that faith apart from works is useless? Was not Abraham our father justified by works when he offered up his son Isaac on the altar? You see that faith was active along with his works, and faith was completed by his works; and the Scripture was fulfilled that says, "Abraham believed God, and it was counted to him as righteousness"–and he was called a friend of God. You see that a person is justified by works and not by faith alone. And in the same way was not also Rahab the prostitute justified by works when she received the messengers and sent them out by another way? For as the body apart from the spirit is dead, so also faith apart from works is dead.
—James 2:14-26
I mentioned my Dad in yesterday's post, "The Gospel of Manliness." In a post from a couple years back, I said that my Dad did not finish well; a reader wanted to know what that meant.
I've had a chance to think about finishing well lately, and the conclusion I've come to roils me inside, especially when I consider our preconceived notions of what it means to be a Christian in America 2007 (and beyond).
Paul knew he was finishing the race of faith well. He noted as much to Timothy, his protegé. How did Paul finish?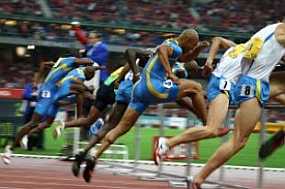 He won the prize after losing his head.
Peter got a second chance from the Lord. Jesus prophesied how His impetuous disciple would live and die. Peter finished well—crucified upside down.
That's not how we think of finishing well, is it?
For most Americans, finishing well means retiring rich to a condo in the Florida Keys, drinking margaritas while listening to Jimmy Buffet all day. Oddly enough, the Christian version of that dream varies little, except it drops the booze from the margarita and subsitutes Salvador for Mr. Cheeseburger in Paradise.
So much for martyrdom.
Which makes me wonder how well most of us will finish.
At one point I believed that the true saint of God lives in such a way that the worldly must kill him or her to snuff the blinding light. I know most people in this country don't believe that. But if we're running the race with all our heart, with our eyes fixed on Christ, how is it possible that our end isn't at the hands of those who hate Christ? If we're REALLY living out the Gospel, how can we possibly end up poolside on the beach counting our money?
My Dad walked away from the Faith and finished badly. Like watching a train wreck, most people who witnessed his self-destruction couldn't take their eyes off the disaster. It was that obvious.
But what happens when it's not obvious? What happens when folks start easing up on the race track, then absent-mindedly wander off it over the course of years, never to cross the finish line? How many people start out brilliantly in Christ but spend the next fifty years on a runaway train headed for disaster—and they don't even know it?
What kind of prize does one receive when one retires to that beach condo? From God's perspective, isn't that its own reward?
And what a bitter prize it may be.