And to Adam [God] said, "Because you have listened to the voice of your wife and have eaten of the tree of which I commanded you, 'You shall not eat of it,' cursed is the ground because of you; in pain you shall eat of it all the days of your life; thorns and thistles it shall bring forth for you; and you shall eat the plants of the field. By the sweat of your face you shall eat bread, till you return to the ground, for out of it you were taken; for you are dust, and to dust you shall return."
—Genesis 3:17-19
I turn into a brutal murderer this time of year. Ask the tens of thousands of victims I killed just this week. I've got a bucketful of rotting corpses sitting on my patio that I'll be adding to in just an hour or so.
My preferred method of dispatching my victims? Suffocation. They trash around for a couple minutes and then its lights out—forever. And nothing gives me more pleasure.
Hey, it's them or me.
You see, it's Japanese Beetle season here at Edelen Acres.
Being organic fruit farmers ain't easy. About the only things that kill Japanese Beetles outright are pesticides strong enough to kill a motorcycle gang or the traditional method of dealing with them by hand. So that's what we do.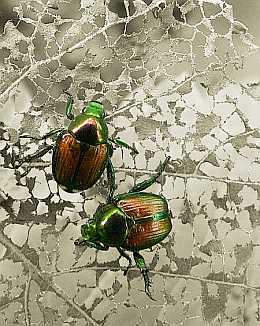 We pick many of them by hand and dump them into a jar of soapy water. The soap plugs their breathing holes and that's that. It's a lot of work, but weirdly satisfying, too.
We divert many of the beetles by stationing a couple pheromone traps far away from the trees. The first year we used the traps, we had them too close to our trees and they ate the trees anyway. This year I put them in the middle of nowhere on our land and that seems to work far better.
I'm using a natural kaolin clay mixture to coat our cherry trees, the hardest hit of our fruit varieties. The first year we had the trees in, we took a day trip over to the county next to us to visit the Amish general stores, only to get home and find that in one afternoon the beetles had eaten our tender cherry trees leaves down to lace. One day. We tried natural pyrethrin (as opposed to synthetic) powders that summer, but the bugs ate the leaves and then died. Didn't see the point in applying pesticides, even organic ones, if the beetles eat the leaves and then die. The end result is still a bunch of eaten up leaves and a highly distressed plant. You've got to stop the beasts before they eat anything and pesticides are not going to work when you've got several hundred Japanese beetles coating your tree. If each one takes a hundred bites before the pesticide does them in, your tree's done for.
We put up netting last year. However, the trees grew so fast the branches deformed against the netting. Now we've got a few trees with branches that look like something out of a Dr. Seuss book. Plus, netting a big tree is a lesson in futility. Beetles will find the smallest gaps in the netting and they're in by the droves.
So I'm trying the kaolin clay barrier. It seems to work well. We've been under assault by the beetles for about ten days and my cherries have hardly been touched. When it rains, though, it has to be re-applied. Still, it's natural and washes right off. They use kaolin in makeup. Obviously not a health threat. I suppose you could use it to thicken gravy, but it has a certain yuck factor. 😉 But if the beetles don't like eating it, that's fine by me.
Talk to me about that curse in Genesis and I'll tell you just how much a curse it is. Weeds. pests, drought, even fire. We've had a drought going on in this area and the farmers all have that anxious look. Sure, it's rained, but five minutes of sprinkling followed by a clear blue sky and a hot sun ain't gonna do it. Downpour. That's what we need right now. Don't need more stinking non-native Japanese Beetles or any other non-native beasties. Ask me about the non-native, invasive weeds we get around here, too.
God had a plan and we threw a huge wrench in it didn't we? We had our own ideas, but consider the outcome.
That kind of arrogance lives on. You can see it in farming. Pesticides coat our food and pool in the fat stores in our bodies. They linger for decades in the soil. They run off into our water supplies and poison the fauna. Haven't seen a frog or salamander lately? They're the canaries in the coal mine, folks. Our man-made pesticides killed them off. And now the true pests are resistant to what we spray. We thought we had an answer but it's not a very good one.
Scientists splice jellyfish genes into corn and then tell us nothing's wrong with that. Then those jellyfish genes wind up moving into the genetic structure of other grasses surrounding our corn fields. We solve one problem to create another, another that may well be far worse than the original.
God's given us natural ways to combat problems. We just need to trust them.
It's like that in every aspects of our lives, isn't it? Sometimes the old, simple ways are the best ways. But we don't trust them. Science tells us otherwise and we get paranoid that we won't keep up with the times. Well, the times they might well be a-changin', but the wise man doesn't give up wisdom to suit the age. Remember, Adam listened to the wrong voice in a certain situation and look where it got us.
Our churches launch some guaranteed program backed by the slickest marketing and the best sound bites from the hottest church leaders and we hope and hope. A couple years later, that program stands forgotten. Sure, it was billed as the pesticide for whatever plagued us, but it wasn't God's way, was it? No fruit.
It's all about the fruit. If all our work produces no fruit, then we're just being wasteful. Sadly, that's what a lot of churches are doing, just wasting time, money, resources, and people's patience.
I think our problems with patience underlie the greater issue here. Yes, people get upset when the newfangled program bears no fruit, but it was sterile from the get-go. What people need is patience for the simple ways that work, the real discipleships that spans decades, not months. You try too hard to rush the fruit and you wind up with tasteless fruit. Think your typical grocery store here. Sure, you bought a package of mass-produced, industrial-strength strawberries. But they taste more like straw than berries.
We may be doing the same with our disciplemaking process. Better to go local, go organic, be patient with the old ways that served us for eons—even when it comes to making disciples.
God knows we have enough spiritual pests out there, but we can't poison our young "plants" in our attempts to kill the weeds or wipe out the bugs.