That's all I want, that's all you need in life, is a little place for your stuff, ya know? I can see it on your table, everybody's got a little place for their stuff. This is my stuff, that's your stuff, that'll be his stuff over there. That's all you need in life, a little place for your stuff. That's all your house is: a place to keep your stuff. If you didn't have so much stuff, you wouldn't need a house. You could just walk around all the time.A house is just a pile of stuff with a cover on it. You can see that when you're taking off in an airplane. You look down, you see everybody's got a little pile of stuff. All the little piles of stuff. And when you leave your house, you gotta lock it up. Wouldn't want somebody to come by and take some of your stuff. They always take the good stuff. They never bother with that crap you're saving. All they want is the shiny stuff. That's what your house is, a place to keep your stuff while you go out and get…more stuff!
—George Carlin
It's been probably 25 years since I saw George Carlin on The Tonight Show do his "A Place for My Stuff" routine.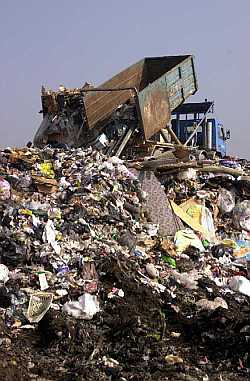 Carson's audience laughed hysterically, but I don't think I laughed once. Anyone who knows me know that I spend a lot of time yucking it up, but I didn't that night because I realized that not only was Carlin right, but he was devastatingly so. The whole routine (only a tiny portion reproduced here) cut me to the quick.
Last week, a reader surmised that I lived modestly. I don't. I live in America. Every American reading this is in the top two or three percent of wealthiest people in the world. None of us can say we live modestly.
Okay, modestly in relation to other Americans, perhaps. But even that doesn't mean all that much when you live in a nation geared to consumption.
The Bible has something to say about that:
And he told them a parable, saying, "The land of a rich man produced plentifully, and he thought to himself, 'What shall I do, for I have nowhere to store my crops?' And he said, 'I will do this: I will tear down my barns and build larger ones, and there I will store all my grain and my goods. And I will say to my soul, Soul, you have ample goods laid up for many years; relax, eat, drink, be merry.' But God said to him, 'Fool! This night your soul is required of you, and the things you have prepared, whose will they be?' So is the one who lays up treasure for himself and is not rich toward God."
—Luke 12:16-21
I don't know about you, but a considerable amount of my daily routine centers around my stuff. Our washing machine broke down Thursday, and it took me the better part of four hours to deal with my hopeless attempts at fixing it, followed by the inevitable call to the service center to place a service call that will cost nearly half what I paid for the washer. Some people out there would throw the seven-year-old appliance away, but I don't want to play into that consumer game. Call me a fool, but part of being a good steward of both the things God has given me and the earth that He told me to care for is to resist leaving a trail of refuse behind me.
I tend to use things until they fall to pieces. My newest pair of casual or dress shoes is seven years old. As I type, I'm wearing the clothes I wore to church Sunday morning: eight-year-old shirt, twelve-year-old pants, fifteen-year-old socks, and eleven-year-old shoes and sweater. Needless to say, I don't keep up with the fashion trends.
My wife's car pushes eight, while my truck verges on fifteen. My truck had to go in the shop because a sensor said the fuel mixture was off; the drop-off in mileage proves it. The mechanic hasn't had much luck getting the part, so the handwriting may be on the wall. I don't know. The rest of the truck is as solid as the day I bought it.
We don't go on vacations. My wife and I bought four oak chairs for our dining room—that accounts for all the furniture we've purchased as a married couple. And while our sleeper sofa needs reupholstering, we don't lack for furniture.
In fact, we don't lack for anything when it comes down to it. We have more in one room of our house than most of the rest of the world has in the entirety of whatever dwelling it is they live in.
And for all that stuff, we spend countless hours and dollars maintaining, insuring, and protecting. Sometimes I think there has to be a better way to live.
I think God has us in a time of pruning. I don't know why I need all the things we have. Yet I also know many people would look at us and turn up their noses at how little we have comparatively. I know I see the newspaper ads and hear people talking about this expensive bauble and that, but little of that stuff holds any fascination for me.
The Wall Street Journal ran an article last week comparing a $100 sweater to one costing ten times as much. Despite the fact that almost everyone thought the $1000 sweater more chic, the Journal still asked the realistic question, "But is it worth $900 more?"
Meanwhile, I'm asking the even crazier question: "Who buys sweaters that cost a hundred dollars? "
Don't get me wrong. I'm all for buying quality. The appliances in my house are all Kenmore Elite (including the failed washer, sad to say) because at one time the extra money was worth it in terms of quality and longevity. My mother's high-end Kenmore washer lasted thirty years. Something tells me I won't get that from these appliances. (I'll try to stay positive.)
Still, even when we spend more on quality, we still spend too much. We duplicate what our neighbors have instead of sharing with them. We don't look out for our neighbor in need because it means we would have less money to buy more stuff for ourselves. We expect people to take care of their own because they have their own stuff and we have ours and never the twain shall meet, as they say.
But what if we Christians stopped with all the crazed consumption? Perhaps instead of twenty polo shirts, what if we had two? We could spend a little bit more for better quality and perhaps even buy American once in awhile. But most of all, we could learn to live on less, not because the economy stinks, but because Jesus gave everything, even His own life, so that we could get the focus off ourselves and onto others.
I guarantee you, right now, you know a family that had a medical emergency they cannot pay for and that emergency is crippling them, and not just in the pocketbook. I guarantee you, right now, there's a family in your church with parents wondering where the next meal's coming from. I guarantee you, right now, you know a bright kid who may never make it to college because they simply can't afford to go. I guarantee you, right now, you know a family ready to lose their modest home because of job loss.
I can't help but think that, for many of us, the enveloping spiritual malaise we feel may have a direct connection to being overwhelmed by all our stuff. Perhaps if we did a better job living with less, giving away our excess, and considering others better than ourselves, then maybe, just maybe, we'd feel that spiritual fire in the belly again.
We can't take it with us. Better to give it away or forgo it altogether than have our souls crushed beneath a pile of stuff. I suspect that in saying no to accumulation, we can say yes more often to those real needs we encounter every day in the lives of the people we meet.
Maybe then we'll find our coffers here pleasantly small and our treasure in heaven immense.
***
A sidenote: From time to time, I receive e-mails from people who wish to send me money as a token of gratitude for what gets posted here at Cerulean Sanctum. I appreciate those gestures and the kindness of the people involved. This blog doesn't exist to generate money, nor do I wish to sell out to corporate interests that would alter the kind of posts you might read here. All that is by plan.
While I do appreciate that some folks would like to support me monetarily, I have two much better ways you can help:
Take whatever money you designated to send and instead spend it on a needy person you know. My wife and I know many people who have no health insurance, who are either burdened by outstanding medical debt or who cannot afford the basic medical care they need. We know people like that, so we're sure you know someone, too. They need that money desperately. Find their address and send it to them anonymously, if possible.
On that note, just this weekend, the son of dear friends of ours was diagnosed with juvenile diabetes after a harrowing weekend in which he came close to dying. The family works with the Hispanic community in our area and operates a small ministry. An emergency room visit, intensive care, and a lengthy stay in the hospital will no doubt tap out the entirety of funds this uninsured family receives in ministry support. Obviously, this is a desperate need. If you would like to help this family defray the costs of medical care for their eleven-year-old son, e-mail me and I'll send you their info. Donations to their ministry are tax deductible.
If a reader would like to bless me, the best way to do so would be to refer freelance writing and editing work to me. That simple act costs you nothing but allows me to help someone else with the skills God gave me and earn my keep as a workman. I can also offer a blessing in return for being blessed. Because I do quality of work, I generate repeat business and good word of mouth—a gift that keeps giving. In that, one freelancing project can grow into a great tree that produces abundant fruit.
Thank you. Have a blessed week.