I have a hope and prayer for 2008 that I wish to share. It started off from a series of negative experiences, but I want to make it positive because I believe the positive word comes from the heart of God.
I'm late to the show on the book Simple Church by Rainer and Geiger. Judging from Amazon's rankings of the book as #1, #2, and #3 in various evangelical categories, it's still hot long after its release in 2006. I'm also amazed at the number of strongly approving reviews. Amazed. In fact, if I could sum up my review, I would describe the book in one portmanteau word: Craptacular.
That encapsulates almost all the hottest books on "How to Do Church" that I've read in the last few years. The same hot churches are held up for mimicking. The same church problems are cited (correctly, I might add—the one nod I'll give these books). But the solutions are always wrong. Always. Nearly all are just business principles given a good shellacking of Christianity to make them look smooth and shiny. Honestly, if Google and The Gap are the models for effective churches, all is lost. (That author Tom Rainer is the head of Lifeway Christian Stores should not surprise anyone.)
What is my biggest problem with all of these modern "How to Do Church" books? Every last one of them offers solutions that can be instituted without the Lord. The fixes are universally man-made. This, universally, makes them the arm of flesh. And the arm of flesh will always fail. Always.
But one fix never fails.
That fix is not a thing, but a person. We know Him as the Holy Spirit.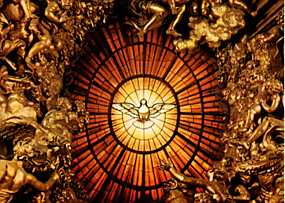 He's perfect. Unlike one craptacular, modern, "How to Do Church" book after the other, the Holy Spirit guides into all truth. Not some truth, but all truth. He's the ultimate source for making the Church all She can be.
Here's how I can save you hours of reading lame books on how to fix your church and turn it into the church God desires. You only need to listen to the Holy Spirit.
I suspect that's not a very satisfying answer for some people. You can't make money selling curricula, church models, and seminars by telling church leaders they need to dump all their craptacular books and start listening to the Holy Spirit. But that's what church leaders need to do.
A church is made up of too many diverse people for a "How to Do Church" book to succeed. If you read the Bible closely enough, you'll realize that it doesn't even attempt to provide all the solutions to how a church should operate. Yes, some general ideas exist, but when it comes down to the specifics, that's where the Holy Spirit comes in.
Take this passage:
Now there were in the church at Antioch prophets and teachers, Barnabas, Simeon who was called Niger, Lucius of Cyrene, Manaen a member of the court of Herod the tetrarch, and Saul. While they were worshiping the Lord and fasting, the Holy Spirit said, "Set apart for me Barnabas and Saul for the work to which I have called them." Then after fasting and praying they laid their hands on them and sent them off.
—Acts 13:1-3
No "How to Do Church" book is going to give you that. They'll tell you a process by which you have to funnel everyone, but they won't get down to this level of leadership.
Why not send Lucius? Or Manaen? Why send that guy who used to persecute the Church, that Saul character?
I would suspect that at the board meeting of your typical church, simple, complex, traditional, emerging, or whatever, the process would dictate who got chosen and for what purpose. What God thinks and the ones He would choose would probably be far down the list. Too dicey to depend on the Holy Spirit; just let the established process make the decision instead. We send the ones WE think are best, the ones who best fit our idea of who should go for the given job. And aren't we the ones deciding what that job is anyway?
Give me a thousand copies of the bestselling Christian leadership books out there and I'd burn them all than trust one over what the Holy Spirit thinks. Why then, do our church leaders trust books so much and God so little?
The Holy Spirit provides perfect answers to intractable problems. He also provides specific answers for dealing with specific people in specific situations. He alone makes a church what it should be. He alone makes genuine disciples out of wrecked people.
We need to stop this craziness and get back to the Lord. If our churches are not run by the guidance of the Holy Spirit, then they are not churches. We must also keep the Scriptures ever before us, but with the understanding that people—sadly—can use the Bible to justify all manner of leadership styles that rely not one iota on the Holy Spirit. These "How to Do Church" books quote a million Scriptures, but they use the Scriptures to support their foregone premises, rather than seeing what it actually says. And what it actually says is that we're blowing it if we're not dependent on the Spirit for guidance.
My hope and prayer for the Church for 2008 is that we find a way to get back to depending on the Holy Spirit to guide our churches. And not just lip service, but genuine dependence so that we don't do a thing unless the Spirit confirms that thing one way or another.
How do we get there?
1. Know the Scriptures—We've got to really know them,our leaders especially. The Holy Spirit calls to mind the Word of God, but if the reserves aren't there, we won't hear.
2. Holiness—It's time to get serious about holiness. That means dropping out of the world's game. That means being a people separated unto the Lord. You want to hear from the Holy Spirit? You want your church to prosper? Then tear down the altars and purify the temple. That never fails.
3. Waiting—The Holy Spirit answers on His time, not ours. Just because our society is enslaved to busyness doesn't mean our churches must be. We must stop trying to force things to happen that aren't in God's playbook.
4. Humility & Repentance—We must repent and humbly admit that we've attempted to take the world's ways and make them the Church's. But what fellowship have Christ and Belial? None. We cannot continue to swallow fleshly business practices within our churches. Those ways end in ashes.
5. We must desire the leading of the Holy Spirit—The Holy Spirit leads where Christ is hungered and thirsted for. He is faithful to those who desire to hear from Him. The Lord does not leave His people adrift. He never has and never will. However, we did not believe this, so we gave up on His leadership and instituted the world's. It's time to get back to the Lord and desire Him above all.
I wrote this several days before it posted because I cannot escape the message. The Church that is not led by the Holy Spirit is utterly directionless, not matter how smoothly it may operate. God has a better way. My hope and prayer is that we rediscover that leadership by the Holy Spirit in 2008.
May you find the Lord in 2008, and know his guidance, when you seek Him with all your heart.