After yesterday's heavy post, I don't have any thoughts deep enough to develop into full-length posts. Most of what remains comes under the heading of political or economic, so if that's not your style, today's not your day…
Mormonism: The Flex Religion
Mitt's gone, but the flip-flopping remains. While I've not seen any pundits draw this observation, Romney's playing to the poll figures not only made him the Republican version of Bill Clinton, but it perfectly mirrored the former MA governor's religion.
How so? Well it seems to me that Mormonism itself is as poll-driven as the former presidential candidate. Take a look at the bad press Mormonism has received in years past for upholding certain politically incorrect doctrines, and not a month goes by before the LDS's head prophet comes up with a revelation that addresses the bad press and spins church doctrine in a more politically correct direction. Believe me, such PR corrections come around like clockwork. When the LDS was lambasted in the media for its doctrinal stances on women or on dark-skinned members, the head prophet quickly received a convenient new revelation from "god" and changed church doctrine to appease the peasants.
Explains a great deal about Mr. Romney when you think about it.
Hand That Economist Some Goat Entrails, Stat!
It amazes me that vast herds of economists are stumbling around wondering where this recession came from. Business Week has an article discussing how economists are suddenly waking up to the possible problems of unlimited free trade with countries whose costs of living are a tenth of what ours are. They talk about the fact that such trade may actually only benefit a rich few here in the States while hurting the middle class masses.
Ya think?
And in other economics news, The Wall Street Journal ran an article on Monday that had economists agog that American companies seem to be rolling in dough, though the majority of their non-boardroom employees aren't enjoying that largess.
Someone needs to tell today's economists to move out of their tony Chevy Chase, MD, neighborhoods and meet the common man!
Meanwhile, I'm going back to college to get my doctorate in economics considering it doesn't seem to take more smarts than what you'd need for an adult continuing-ed class in flower arranging.
You Are Getting Sleepy, Sleepy…
Is it just me or does anyone else find Barrack Obama's rise to prominence eerie? Here's a man who never held any national public office until a few years ago, has yet to complete one full term of office at the national level, yet may very well become the next president! I find the whole thing unnerving and have got to wonder what spell people are under. There's just something about Obama that gives me the creeps. (And don't even try to play the race card with me; I've been an Alan Keyes supporter for many years.)
Wither CT?
Again, is it just me or has Christianity Today magazine become utterly irrevelant? Not only has it lost its cutting edge, but in an effort to seem culturally-aware, it lost whatever doctrinal center it may have once possessed.
Mormonism: The Redux
Prediction: Just as 9/11 seemed to put Islam on the religious map, I predict that Mitt Romney's failed campaign for the White House suddenly gets people interested in Mormonism's claims. Prediction #2: A few years from now, Mormonism will be hip with the "enlightened" crowd in the same way that the disaffected suddenly "discovered" Islam.
…And a Bowl of Tea Leaves, Pronto!
For years, this blogger has contended our economy is caught in what promises to be an unending string of boom and bust cycles with the busts lasting longer and longer each cycle.
And now, here comes the science!
Yep, I definitely has to get me one of them economics PhDs.
A Little Too Close to Home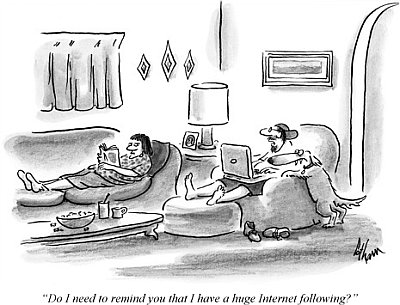 Intelligent cartoons? Yep, that's from The New Yorker.
Like they say, it's always good to end with a laugh.