With my headache reduced to manageable levels, my fever broken, and some signs of flu-free health returning, I decided to write on a topic I don't discuss much on this blog: politics.
Cerulean Sanctum is not a political blog and never has been. Here, we discuss issues facing the church. I don't particularly like politics, though I married someone who does. So my wife and I talk about it quite a bit in our household. Those conversations just don't show up here, mostly because I don't believe that politics is the complete answer.
But in light of Super Tuesday and the drama of the 2008 presidential race, I felt compelled to write.
I'm a conservative. I wish that term meant more than it does right now in 2008. But just as the word Christian has been demoted by some in favor of the terms Christ-follower or Follower of Jesus, I wish someone would come up with a better word than conservative because I certainly don't recognize conservatism anymore.
The word conservative tells you all you need to know. It's a belief that valuable (God-given) things are worth conserving. What bothers me is that conservatives today have no understanding that this is the heart of traditional conservatism.
If we conservatives were all that interested in the purity of conservative beliefs, we would have to admit that not a single self-branded conservative running in this presidential race is a traditional conservative. Conservatives today have short memories and can no longer recall what traditional conservatism is. The conservatism of today looks nothing like the conservatism of fifty years ago when Eisenhower was president.
This election cycle, conservatives have whipped themselves into frenzies over a bunch of Republicans who call themselves conservatives but in no way resemble the true conservatism of old. Todays conservatives are yesterdays liberals when you get down to it. (With today's liberals being yesterday's socialists.) The closest thing to a genuine conservative in this presidential race is Ron Paul. Look at Paul and you see the shadow of yesterday's conservatism. However, Paul's libertarianism does not equal true conservatism.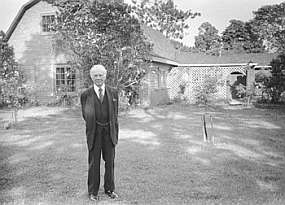 But again, today's conservatives can't spot the difference.
What does traditional conservatism stand for? I'll defer to Russell Kirk:
1. Men and nations are governed by moral laws; and those laws have their origin in a wisdom that is more than human—in divine justice. At heart, political problems are moral and religious problems. The wise statesman tries to apprehend the moral law and govern his conduct accordingly. We have a moral debt to our ancestors, who bestowed upon us our civilization, and a moral obligation to the generations who will come after us. This debt is ordained of God. We have no right, therefore, to tamper impudently with human nature or with the delicate fabric of our civil social order.

2. Variety and diversity are the characteristics of a high civilization. Uniformity and absolute equality are the death of all real vigor and freedom in existence. Conservatives resist with impartial strength the uniformity of a tyrant or an oligarchy, and the uniformity of what Tocqueville called "democratic despotism.

3. Justice means that every man and every woman have the right to what is their own—to the things best suited to their own nature, to the rewards of their ability and integrity, to their property and their personality. Civilized society requires that all men and women have equal rights before the law, but that equality should not extend to equality of condition: that is, society is a great partnership, in which all have equal rights—but not to equal things. The just society requires sound leadership, different rewards for different abilities, and a sense of respect and duty.

4. Property and freedom are inseparably connected; economic leveling is not economic progress. Conservatives value property for its own sake, of course; but they value it even more because without it all men and women are at the mercy of an omnipotent government.

5. Power is full of danger; therefore the good state is one in which power is checked and balanced, restricted by sound constitutions and customs. So far as possible, political power ought to be kept in the hands of private persons and local institutions. Centralization is ordinarily a sign of social decadence.

6. The past is a great storehouse of wisdom; as [Edmund] Burke said, "the individual is foolish, but the species is wise. The conservative believes that we need to guide ourselves by the moral traditions, the social experience, and the whole complex body of knowledge bequeathed to us by our ancestors. The conservative appeals beyond the rash opinion of the hour to what Chesterton called "the democracy of the dead—that is, the considered opinions of the wise men and women who died before our time, the experience of the race. The conservative, in short, knows he was not born yesterday.

7. Modern society urgently needs true community: and true community is a world away from collectivism. Real community is governed by love and charity, not by compulsion. Through churches, voluntary associations, local governments, and a variety of institutions, conservatives strive to keep community healthy. Conservatives are not selfish, but public-spirited. They know that collectivism means the end of real community, substituting uniformity for variety and force for willing cooperation.

8. In the affairs of nations, the American conservative feels that his country ought to set an example to the world, but ought not to try to remake the world in its image. It is a law of politics, as well as of biology, that every living thing loves above all else—even above its own life—its distinct identity, which sets it off from all other things. The conservative does not aspire to domination of the world, nor does he relish the prospect of a world reduced to a single pattern of government and civilization.

9. Men and women are not perfectible, conservatives know; and neither are political institutions. We cannot make a heaven on earth, though we may make a hell. We all are creatures of mingled good and evil; and, good institutions neglected and ancient moral principles ignored, the evil in us tends to predominate. Therefore the conservative is suspicious of all utopian schemes. He does not believe that, by power of positive law, we can solve all the problems of humanity. We can hope to make our world tolerable, but we cannot make it perfect. When progress is achieved, it is through prudent recognition of the limitations of human nature.

10. Change and reform, conservatives are convinced, are not identical: moral and political innovation can be destructive as well as beneficial; and if innovation is undertaken in a spirit of presumption and enthusiasm, probably it will be disastrous. All human institutions alter to some extent from age to age, for slow change is the means of conserving society, just as it is the means for renewing the human body. But American conservatives endeavor to reconcile the growth and alteration essential to our life with the strength of our social and moral traditions. With Lord Falkland, they say, "When it is not necessary to change, it is necessary not to change. They understand that men and women are best content when they can feel that they live in a stable world of enduring values.

—From "The Essence of Conservatism," 1957
Not a so-called conservative running for office today ascribes to those wise words. That's sad for us.
Notice that Kirk said little about money. Yet isn't that what most so-called conservatives are concerned with today? This is why the Republican Party has gone off the rails. All the true conservative ideals were jettisoned in favor of cold, hard cash and sordid allegiances to business partners. When worthy principles could be bought and sold, the GOP became nothing more than the Democrats, except with nicer vacation villas. The GOP of Eisenhower's era would in no way recognize the GOP of 2008 as its progeny.
So where are the true conservative politicians today? Many have given up on politics or have been swept aside by those masquerading as conservatives. As for their supporters, too many have bought the fake conservatism bandied about today. That so many so-called conservative pundits have fallen for the decidedly non-conservative crew foisted on us by the GOP this year is proof enough that all definitions have been lost. The neo-con branch of the GOP successfully muddied the waters to the point that scant few can see clearly.
I firmly encourage conservatives to vote truly conservative and stop supporting those candidates who are not traditional conservatives. If this means writing in a candidate, then do it. I've done so myself. At some point we need to send the message that we won't stand for pretenders, nor will we let this continued slide left persist.
Conservatism is worth conserving.