Yesterday, I mentioned the problem of cost overhead in our churches. It's a big problem, too, as many of you thought your church should spend its money on more important things than mortgages and office supplies.
Let's not talk about those first. Instead, I want to alienate every pastor who reads this blog by tossing out one word: bivocational.
I look at it this way: We should most definitely pay our pastors. We should also pay the head of the children's ministry. In fact, we should pay a lot of people, because, let's face it, the church secretary is truly the one who runs the church. Next to the Lord, that is.
I think those folks are worth money. However, I also think we spend too much money on staff salaries, especially at these massive churches that have 100+ people on staff. That's nuts. And it's a big drain on the mission of the church.
How so? Well, we somehow found a way to separate the lowly from the priestly class, a sort of sequel to the Old Testament's temple system, the very system Christ fulfilled and therefore put to rest.
That separation gave us a full-time clergy and the "well, someone else is doing the ministry for me, so I'll concentrate on everything that isn't ministry" laity, an artificial distinction that pretty much denies the idea of the priesthood of all believers. As George Orwell wrote in Animal Farm, some are "more equal than others."
In many ways, this has been a train wreck for pastors because no one treats them like a fellow brother in Christ. They are not one of us, so to speak, a view that facilitates all manner of craziness (cults of personality, depression, marital infidelity, and so on) that derails churches left and right.
Still, the greater hurt comes when those who aren't "professionals" decide to lay down and do next to nothing to advance the cause of Christ. Sadly, under the bifurcated system of ministry we have today, that's all too often the outcome.
Which is why I believe that pastors need to have a job outside the church. Even if it's only a small part-time job, the pastor needs that dose of reality, that connection to the life his flock leads. Talk to some pastors and it's all too clear they have no idea what goes on in the cubicles today. (I know. I read books by pastor/teachers talking about the modern work world and they just have no idea.) That works against them in many ways. I remember a pastor who preached that it didn't matter what you looked like or how old you were, yet at the same time there were people in his congregation who were getting Botox injections so they wouldn't be the old-looking one in the office and therefore subject to the first pink slip when the next round of downsizings came.
But more than that disconnection with the world of their congregations, having pastors work in the "real" work world affords churches the chance to have more than one pastor. A church could hire two pastors for the cost of one if both worked outside the church a few days a week. For a lot of churches who can afford only one pastor, having two bivocational pastors for the price of one full-timer would open up many more options and better broaden the giftings of the leadership in that church.
I also think that having bivocational pastors forces the people in the seats to step up. And that's always a good thing. No one should be irreplaceable, even a pastor, and the more the congregation takes over the roles it should be handling apart from the lone office of the pastor, the better for their church.
Like I said, that won't curry me any favor with the pastors who read this blog, but that's my stance and I'm sticking with it.
I'm also going to quote this:
And Peter said to Jesus, "Lord, it is good that we are here. If you wish, I will make three tents here, one for you and one for Moses and one for Elijah."
—Matthew 17:4
Our tendency in the Church is to want to pitch that tent. This is why we have so many church buildings.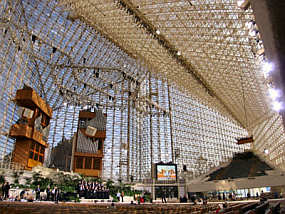 That tendency is also why the Lord Himself oversaw the destruction of the temple in 70 AD. He wanted the Church to get out there. To move. To not be tied to one place, to a building that can so easily become like cement shoes.
When it comes to church finances, for many churches, that church building has become the impediment that keeps them from running. Its very convenience slows them down, keeps the people thinking small, keeps them stuck in one place, imprisoned by a multi-million dollar mortgage.
But the temple? Well, you are the temple and so am I. Wherever we are is where the Church is. The Light moves where we move.
Track revivals around the world. Those revivals last until someone decides to pitch a tent, until the building committee comes together. Then it quietly peters out. That's why revival burns bright in Chinese house churches and not so much here. It's why God is using the poorest of the poor in today's world to be the best evangelists of the message of Christ. They don't even have the money for the tent so many others want to pitch. Somehow, making do with what they have is good enough for them. Because they've got another paradigm, a heavenly one.
I can't help but think that our churches can be better by making do with less. By not being tied to the earth by wealth any more than a lone individual should be. Yet you look at so many church building projects and they seem a lot like this:
And he told them a parable, saying, "The land of a rich man produced plentifully, and he thought to himself, 'What shall I do, for I have nowhere to store my crops?' And he said, 'I will do this: I will tear down my barns and build larger ones, and there I will store all my grain and my goods. And I will say to my soul, Soul, you have ample goods laid up for many years; relax, eat, drink, be merry.' But God said to him, 'Fool! This night your soul is required of you, and the things you have prepared, whose will they be?' So is the one who lays up treasure for himself and is not rich toward God."
—Luke 12:16-21
I look at that passage and it's all too easy to see a church enamored of numbers talking about even bigger numbers and a place to store them all. Tearing down the old church building to build an even bigger one, and in the process losing sight of what really matters to God.
As Americans, I think it's knit into our DNA to have a building. The American Dream's foundation is built on home ownership, and I suspect that ideal translates into our compulsion to erect a church building. And just as nature abhors a vacuum, a church abhors being plain. Funny how expensive it is to rig up a church building for maximum entertainment and comfort value nowadays.
Between paying staff and paying for a building (and its upkeep and utilities—ask to look at the electrical and heating bills sometime), a big chunk of cash goes away from fulfilling the overall mission of the Church, especially as it pertains to the world outside the walls of that very building.
I think a church that ran without a full-time pastorate and a semi-utilized building would find itself less burdened by titles and mortgages and more burdened by the lost. It would be a church that cornered on a dime rather than running up on the sidewalk like a semi.
It's a hard sell, though.
I keep hoping some day that we get a flat-tax or value-added tax in this country, but then you've got an entire industry of tax-prep and legal people screaming bloody murder that their livelihood—based as it is on the arcane, cryptic mess our tax code is—will up and go poof. I'm sorry, but it needs to up and go.
And so it is with the way we do church, especially when it comes to spending too much of our money on things that may not be advancing the Kingdom. Too many people are deeply invested in the crusty institutions our churches have become. They'll find a way to hang on kicking and screaming, resisting what may be better for us in the long run, so that they can maintain the status quo.
Unfortunately, the status quo ain't doin' all that well for us anymore.
***