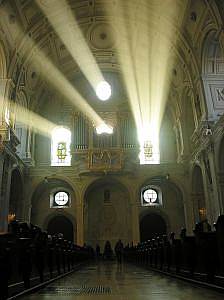 Over at Challies.com, Tim posted a link in his A La Carte section of Oct. 1 to a post by the head of Lifeway, Thom Rainer, "Five Types of Critics in the Church." As they say on the Interwebs, read the whole thing (hey, it's short too!).
Rainer posits his five types of people who criticize church leaders:
The constructive critic
The negligent critic
The hurt critic
The sinful critic
The self-serving critic
He then adds:
"…make every attempt to discern the type of critic with whom you are dealing. In many cases, the criticisms will benefit your life and ministry. In other cases, you may have the opportunity to deal with the critic in a pastoral and redemptive way."
The more I pondered the article, especially the list of five critics and what Rainer says about them, the more critical of the article I became. Ironic, eh? It seemed to me the article brought into focus a big issue in the contemporary American Church.
Reflecting on what Rainer wrote about the five critics (you did read the article, right?), what came through more than anything is the chasm that separates paid, professional ministers from "the laity." The descriptions of the critics seemed to have a built-in class distinction, as if the people in the seats or those "in support" don't have much right to criticize what happens in a church or parachurch ministry. By listing five types of critics and then telling leaders it's essential to discern which they are dealing with, Rainer betrays a general lack of connection with what is really going on in the lives of "the laity" and enforces a classification system that further insulates leadership from criticism. Nothing puts uppity, troublesome people in their place like a label.  And though Rainer tries to temper this by saying that criticism can be good for one's ministry, it seems tacked on and "Christianized."
Here is my experience…
I have noted many times on this blog that what many people interpret as sin, stupidity, and opposition is nothing more than people just trying to get by in life. My experience is that the vast majority of people are desperate for some kind of stability, a foundation that will keep them going through the motions one more day. Most of what we don't like in other people's lives is their coping mechanism in operation.
We live in turbulent times. People feel powerless and angry. Many are losing control of their lives and fear acceleration of that loss. Mental illness is an epidemic, with the number of people on psychoactive drugs at the pandemic stage.
In the middle of this stands the Church. That Church says, "Jesus is the Rock," and claims to be a port in the storm of life. People believe that too.
Criticism doesn't erupt in a vacuum. Most people become critical when change happens (or when it should happen but doesn't).
When I see criticism building in a church, it is often because leaders tinkered with aspects of church life that were a comfort to distressed people. Those people saw their respite toyed with and it created further stress in their lives.
More than anything, church leaders today do not take into adequate account how change affects the flock. Those leaders get into their heads that they want to adopt the latest hotness even when people are perfectly fine with the way things are. Leaders think of "Behold, I am doing a new thing" as a verse that gives imprimatur to every whim of change.
Fact is, this is highly disruptive to folks who see the Church as their last refuge of peace and tradition in a world changing far too quickly, and often for the worse. Church leaders who force change—and often do so rapidly so as to keep up with whatever is new and trendy in church programming and growth theories—are often breeding their own critics.
What bothers me about the Rainer article is that leaders create this disruption and then don't want to be bothered by the fallout. Worse, when people feel threatened by changes, they end up having to face a leader who has been told that threatened people must be labeled by the leader with one of five types of critic tags. I find this advice startling in its superiority, perpetuating the "touch not the Lord's anointed" mentality Christians often face in their leaders.
Of the five types of critics Rainer sketches, I honestly believe that most people are constructive critics with some level of self-serving. When church leaders disrupt the safety people feel in the normalcy of their church life, those people lose a valuable sense of personal stability, so of course there is a self-serving aspect to their frustrations. How could it be otherwise? Most people won't come forward unless they feel some personal attachment to the criticism they risk sharing.
And it is a risk. What gets "laity" disenfranchised faster than saying, "Um, Pastor, should we really be doing this?"
Five types of critics make it sound as if the majority of criticism is wrong, what with "constructive" seeming as if it comprises only 20 percent of all criticism. I disagree. Most people are constructive because they love their church and really don't want to see it run onto the rocks that have destroyed so many other cherished institutions in life, the wreckage of which is all around people and ever obvious, fostering much of the ill-ease they feel about life in the 2010s. That many churches ARE hurtling toward the rocks because of leaders who DON'T listen to the criticisms of "laity" is one of the epidemics of our age.
As a counter to Rainer, I offer that leaders need to lose the labels. We don't need to see a label on a type of criticism; we need leaders who recognize that we may be feeling disrupted by something that has happened in or to the church.
Also, leaders, discern the times. People are looking for safety. Messing with what people find safe is a recipe for generating frustration, which leads to criticism. Realize, too, that critics are not stupid, nor are they attempting to halt everything that can be good about change. Most are asking is for greater temperance in moving forward and a recognition that change for change sake has wrecked more than one solid church. Many are frustrated with having yet more lack of input in yet one more aspect of life.
To the leaders I ask that you be more wary of the new than you are of your critics. Today's new and hot is tomorrow's old and busted, and not every "vision" proves to be of the Lord. And sometimes, the "laity" understands this better than you do.