And Nadab and Abihu, the sons of Aaron, took either of them his censer, and put fire therein, and put incense thereon, and offered strange fire before the LORD, which he commanded them not. And there went out fire from the LORD, and devoured them, and they died before the LORD. Then Moses said unto Aaron, This is it that the LORD spoke, saying, "I will be sanctified in them that come nigh me, and before all the people I will be glorified." And Aaron held his peace.
—Leviticus 10:1-3 KJV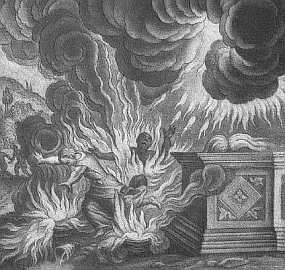 A couple weeks ago in church, I was talking with some small group friends when a woman approached us and regaled us with stories of a massive revival going on down in Florida. She said it was all over the TV (*cough*, TBN, *cough*). Said hundreds were getting healed. (Okay, good.) Said the gifts were operating powerfully. (Also good.) Said people were coming from all over the world to attend. (Not sure what to think about that, since fads can pull in people, too, but okay.) Said God was giving people gold teeth. (Yikes!)
A few bloggers/writers are discussing this "revival" (here, here, here, and here) and all the typically charismatic hoopla that attends it. The descriptions seem all too familiar.
Me? My hackles are up. I've been around enough real manifestations of the Holy Spirit to know that something is odd about this "revival." I was never a big fan of the so-called Toronto Blessing, had a boatload of reservations about the Brownsville Revival, and now this.
Here's my take on the revival in Lakeland:
1. All true revival is marked by one overarching, indisputable reality: People are driven to repentance. And not "Me too, me too!" repentance, but the kind that soaks the carpeting in tears of holy remorse for sin. Any revival that is not first and foremost preceded by and given over to repentance is not a Holy Spirit-ordained revival. The number one fruit coming out of any revival will always be fruits of repentance. And those fruits remain. They don't vanish six months after roadies pack up the revival tent; they last a lifetime. Want to gauge who's behind this revival? Watch for fruits of repentance. If everything but repentance is visible front and center stage, then it's not a revival from God.
2. There's no fool like a charismatic fool. And I say that as a charismatic. Too many charismatics drink from poisoned wells only to clutch their guts in pain later, asking what went wrong. What went wrong is that no one was bold enough to test the spirits to see if they were from God. Want a wise foundation for that kind of discernment? Start right here.
3. Whenever the emphasis gets off Jesus, a revival's focus is off target. The Holy Spirit always pulls people to Jesus. He doesn't pull them toward angels, canny preachers, or displays of spiritual gifts. He doesn't need gold teeth, gold dust, and angel feathers to point people to Jesus. (Those are illusionist and occultist tricks.) He just needs himself because He is sufficient to do the pointing. Real revival isn't about what you or I want, but what Jesus Christ wants.
4. When the sons of Aaron offered "strange fire" before the Lord, their offering was probably close to what it should have been. After all, they knew the formalities. The problem was that close doesn't count except in horseshoes and hand grenades. God doesn't put up with close. His worshipers worship Him in Spirit and in truth. And there's no "almost" in truth. You want "almost" when it comes to truth? Consider Satan; he's a master of the almost truth. If we've got experienced charismatics at a revival with folded arms and scrunched brows saying, "Well, you know…," then it's strange fire.
5. Real revival doesn't just draw one kind of Christian. It draws everyone. It draws Episcopalians, Lutherans, Reformed, Presbyterian, Nazarene, Brethren, Mennonite, Methodist, Baptist—everyone. And not just Christians, either. Real revival pulls in hundreds of the unsaved and the cultists. Real revival spills out of the cup that first held it. It rains down on whomever is near because God doesn't discriminate. He's an equal opportunity anointer of those who wholeheartedly seek Him.
That's what I have to say about this "revival" in Florida. You can take my comments for what they're worth.