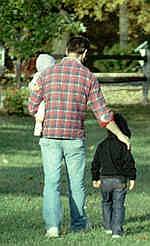 Though we serve a big God, no shield is large enough to keep out the world.
Tuesday literally burst with life. We had a day that epitomized gorgeous here (mid-70s, dry, slight breeze, and sunny with cotton candy clouds), so I bagged work. My son and I went geocaching instead. We hunted caches down by the Ohio River in Kentucky, the shoreline scenery adding to the picturesque day.
But before we got to our destination, I had to deal with the radio.
I don't listen to kid-friendly radio. In other words, my listenership of Christian radio borders on the non-existent. I stopped listening when they refused to play a single one of the artists I listen to on a regular basis. You know, artists who talk about Jesus, sin, and repentance.
Instead, I tend to listen to classical music, which is primarily on Public Radio. Same for my news. And as I flipped to the news station, it just so happened to be discussing gay marriage as we drifted down the highway on that stunning June afternoon.
Where's the force field when you need it?
My son was largely oblivious because he doesn't know that gay means anything other than happy. You know, the way I understood it as a kid, too. Sadly, it just doesn't mean that alone anymore.
My parents didn't talk to me about "The Love That Dare Not Speak Its Name." When I was in college in the early 1980s, a few men tried to hit on me. Clueless, I just thought they were overtly friendly in an odd sort of way. I didn't know that there were men out there having sex with other men. I was in my mid-20s before I finally understood what homosexuality was. Even then, it made no sense to me. How was such a thing even possible?
My son won't get that same shielding. None of our children will.
So I had to talk about homosexuality with my son. In the end, his reaction was much the same as mine: "I wish we could get the word gay back, Dad. It's a good word."
I wish we could get a lot of things back.
When I was a kid, things were different:
You could leave your house unlocked.
Adults were trustworthy, not potential molesters.
People looked out for each other and their neighborhoods.
The rules everyone knew actually worked and most people weren't fighting to change them.
A boy might take a gun to school and the principal would admire it, not declare a lockdown.
Civic pride meant something.
You got the sense that people lived for some aspiration or belief greater than themselves.
People didn't go out of their way to avoid someone in need or in trouble.
Social groups that hold our society together saw increases in membership, not precipitous declines.
A collective trust existed that each of us knew we were a part of a great nation, the best that had ever been.
All those good things (and more) seem to have vanished. Our children will never personally experience how it was for us to grow up in that environment. Instead, they'll have to deal with the fallout of the jihad we declared on our own values.
In geocaching, you search for little treasure containers scattered all over the planet. I think that in many ways, our society has gone searching for similar containers, each a box with Pandora's name carved on the front. And when we find one, we fail to ask whether it should be opened. Instead, we forge ahead, unable to contain our glee over what we might find inside.
There's nothing I would like more than for "The Love That Dare Not Speak Its Name" to shut the heck up already. I'd love for us to close a few of those Pandora's boxes and know that what Pandora could not repair, we could. But I know better.
The second law of thermodynamics applies beyond the laws of physics, doesn't it?