If a man and woman have sex, and that union produces a baby, they're responsible for their tryst and for the baby.
If a man goes on the down low, picks up HIV, and infects his wife, he's responsible for his actions.
If a college student cheats on a test and gets expelled, she's responsible for her actions.
If a guy decides to score some blow on a dimly lit corner and it stops his heart forever, he's responsible—and dead.
If a bunch of financial institutions decide to cavalierly play a no-win game that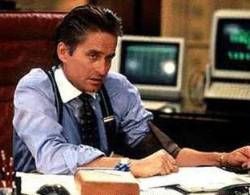 could ruin the lives of millions of people, they're not only NOT held responsible, they get the government to bail them out, even if the American people DO NOT WANT the bailout, a bailout that may STILL bring down the American financial system.
Jesus Christ extends grace to those who turn to Him. He paid our penalty, one we could not pay ourselves. As a result, we will not suffer the torment we deserve.
The questions we face daily are ones of grace and no grace.
Should a maniac destroy the life of someone we love, we can offer grace to the perpetrator of the crime, but all the grace in the world will not return the one we lost. Someone pays.
Does the extension of grace to the one who shattered our life mean that he will never see a day of jail, never face the government's social responsibility to prosecute the crime?
I look at this sordid investment bank meltdown, the lust for a quick, no-fault buck, and the filth shoveled around so that everyone gets dirty. Doesn't someone at some point have to be responsible?
What does grace look like in this case?
I contacted my government representatives and asked them to reject any bailout. I wonder if the only way for us to understand what God is trying to say to this country is to man up and let the consequences fall.