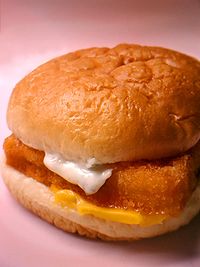 When I was growing up in the '60s, our public elementary school served fish every Friday.
Part of this was in response to the large Roman Catholic community that lives in the Cincinnati area, especially on the west side of town. Where I grew up, nearly the entire neighborhood was Catholic, save for our Lutheran family and the Assemblies of God minister and his family three houses down.
Flash forward…
I can't remember a Lenten season when I've seen so many ads on TV for fast food fish. Considering how little TV I watch, that's saying something.
I think Vatican II eventually eliminated the fish every Friday thing that I experienced in school, but for some reason, it still persists for part of the year. It now shows up only during Lent, but man, does it have legs! There's not a Wendy's or McDonalds around here that isn't advertising fish on its sign. And like I said, the ads on TV…
After last week's intense debates, I'm thinking lighter, so I have to wonder—Are there that many Catholics still eating fish on Friday during Lent to justify this huge fish push? Seriously. When you consider how many self-identifying Catholics are pro-abortion, how many are worried that they'll have to go to confession if they choose a Big Mac over a Filet-o'-Fish (which, ironically, has a Cincinnati origin).
It's weird. That the fast food restaurants are spending millions on commercials to get you to eat their RCC-friendly fish every Friday during Lent…well, that's even weirder.
I'm looking for an explanation.
I also want to find Evangelical equivalents. What do you consider to be an Evangelical equal of fish on Friday and why?