It's a cliché to say that one of the benefits of aging is wisdom, but the older I get, the more I realize that being clichéd doesn't make something less true.
One of the things I'm slowly learning is that God uses even that group of people who drives you nuts. You know, the ones who are doing it wrong in your estimation, whatever the it might be. Their way is not your way, so they naturally irritate you.
The Church of Jesus is overrun with people who give advice. They seem to be the mature ones who have it going on. They always have a sure word in season and out. Problem is, most of the time it's out of season, especially when you're in the middle of the worst battle of your life and they come around with their Scripture hammer and whack you upside the noggin.
Do these folks ever lend a hand to help you? No. Do they let you cry on their shoulder? No. Don't they just really hack you off? Heck, yeah.
What we don't seem to have enough of in the Church are people who DO lend you a hand and let you cry on their shoulder. They're the compassionate ones. Their eyes mist up when you tell your story. They're the first ones on the phone to you when the grapevine distributes your bad news.
Everybody should be in that compassionate second group, right?
Well, you would think so.
But what I seem to be finding out is that while the compassionate group is nice, folks in that category aren't always the best at helping you get out of your rut. A shoulder to cry on is swell, but it may not be enough a few months down the road. Odd as it may seem, the advice-givers may have the advantage here. You know, the one's who you were about to strangle when they brought their aloof "I've got the answer to everything" attitude into the midst of your agony. Truth is, they may actually have something worth hearing. The other truth is that you may not have been in a place to hear it when they first dumped it on you. You needed compassion more than advice. Compassion has its limits, though. Cutting to the heart of the matter, it may also be true that the cause of your pain is your own stupidity, and while a shoulder to cry on is nice to have, sometimes a brain is really what's needed.
Ideally, the Church would be filled with people who are both advice-filled AND compassi0nate. But if my own experience bears witness to what is normal, I'd say those rare people are just that—exceedingly rare. Most of us are going to run into an advice-giver or a compassion-giver but almost never both in one person.
So the next time you feel like the world is ending and some advice-filled sage comes up to you, drops his load of wisdom on you, and bolts, don't get riled up because he didn't hold your hand and say, "There, there, call me anytime, even 3 a.m. Better yet, I'll come over tomorrow."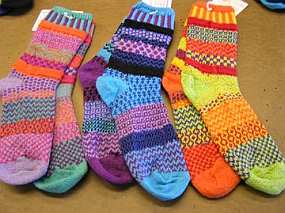 And if you do find compassion with those who will weep with you, don't expect that they'll have answers to your dilemma or a good word in season. They may not. Your personal diamond may be the rough-looking rock, and you don't see it for what it's worth.
And if you do stumble across person number three, who has both realities going on, recognize that you received a rare gift in the midst of tough times, that highly sculpted and polished stone
In other words, whichever kind of person God sends your way, be appreciative of the gift, even if it's not exactly what you asked for. Remember, when you were young and green, Aunt Ida's handknit wool socks seemed like a lousy gift Christmas morning, but when your feet were cold, they were exactly what you needed.