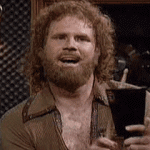 Cerulean Sanctum's More Cowbell Award,  given to the most ridiculous aspects of "Christian" practice, has not been handed out since October 2007, and since "time may be running out," I better bestow another while I still can.
I start this seventh award by asking, Has there ever been a more bloodthirsty, demon-driven culture than the Maya?
The Maya of Mesoamerica practiced ritualized slayings of enemies and willing victims as part of a large number of religious festivals. These sacrificial victims often had their hearts carved out of their chests while still alive. The Mayan gods were animistic demons to whom the Maya offered perverted blood sacrifices, a complete corruption of the one genuine blood sacrifice that truly mattered, that of Jesus.
Oh, and then there's that wacky Mayan calendar. You know, the one famously set to run out of time at the end of 2012.
So how is this a Cerulean Sanctum post, you ask.
Well, if you're like me, you've received spam from supposedly Christian sources attempting to link the lack of a 2013 in the Mayan calendar with the Second Coming of Christ. Yes, indeed, June 2009 marks 3½ years before the end of that calendar. And we all know how the numbers 3½ and 7 figure into speculation about Christ's return.
Jesus, however, said this:
"But concerning that day or that hour, no one knows, not even the angels in heaven, nor the Son, but only the Father. Be on guard, keep awake. For you do not know when the time will come. "
—Mark 13:32-33
You know, I take that as pretty authoritative, as it comes from the mouth of Jesus. Yet there are "Christians" out there who are willing to state that the heart-extracting, demon-worshipping Mayans have got one up on the Lord of All. With all apologies to the original lyricist of the classic children's song, those folks seem to be singing, "Jesus may not truly know, but the Maya tell us so."
Good grief.
But before we set to stoning the New Age syncretists behind this "Mayan Calendar Predicts Jesus' Return" garbage, need I remind anyone of a couple sets of dates:
7/7/07
Rosh Hashanah,  September 1988
The first was the "magic number" trotted out by a bunch of charismaniacs. We all know from the Bible that 7 is a blessed number, so let's all go crazy and predict that Jesus will come back on a day filled with that number. All I can say in response is that the Rapture must've been really, really small, and not too many of us passed muster, apparently.
Now I'm generally a contrarian, but even I was struck by how many sane Christians  decided to spend the entire day of July 7, 2007, praying. A fine endeavor on its own, yes, but let's get real about why they were doing it. And if they were doing it for that reason, they were doing it wrong.
As to the second date, I was working in a Christian bookstore when the infamous 88 Reasons Why the Rapture Will Be  in 1988 came out. I urged the owners of the store to send the book back to the distributor. They didn't listen. I didn't last too long at that store afterwards.
That summer of 1988, I worked at a Christian camp. Everyone was talking about the book. A lot of the young, Evangelical staff wondered if they would be raptured as virgins, thus missing out on the be all and end all of life. Evidently, the senior class of Cedarville Bible College (not too far away from where I live) thought the same thing, but they remedied their fear the old fashioned way: by marrying in droves before that second week in September. (I've always wondered how many of those couples are still together.)
I know people may not remember this, but earnest believers, especially in the Bible Belt, sold their houses, stock, and all manner of goods just so they could be unencumbered when that decisive week in September 1988 rolled around.  Some went so far as to euthanize their pets  so that Muffin and Bowser—who, being soulless beasts, would not be raptured—didn't wind up as  animal sacrifices atop the altars of millions of Satanists who would be left behind.
You may laugh, but I'm not joking. I have no doubts that a few folks reading this are saying to themselves, Yeah, I was one of those fruitcakes.
I'd blame the false prophets behind this kind of stuff ordinarily, but they only pander to the crowd.
So this More Cowbell Award instead goes to
People who listen to lying prophets about the date for the Rapture.
I mean, this is a no brainer, folks. This doesn't require any major spiritual discernment when Mark 13:32-33 exists in every Bible I've ever read.
Why not try this instead: Live every day as if Jesus was coming back tomorrow.
Sound good?
Word of warning: If no posts show up here after today, you'll know I was done in by a shadowy cabal of book publishers who make a bazillion dollars off Christians by marketing  according to the old adage There's a sucker born every minute.
Or I was raptured.
😉