Over at First Things, Jared Wilson posts a passionate call by Ray Ortlund Jr. for a recovery of the Gospel in modern America. It's a needful call I utterly support.
Yet despite the clarion nature of Ortlund's words, a fundamental problem exists that we Christians in America have been entirely unable to overcome.
I don't believe that American Evangelicals don't know what the Gospel is. I admit that no one person seems to grasp the entirety of the Gospel and its implications, but most people who self-label as Christians get the Gospel to some point.
But the messes we've made of living out the Gospel in a redemptive way, those many tangents that Ortlund describes so well that distract us from the real Gospel, are what they are because of a fundamental problem with America and American Christians.
The following quote from Kierkegaard captures the problem in a nutshell:
The matter is quite simple. The Bible is very easy to understand. But we Christians are a bunch of scheming swindlers. We pretend to be unable to understand it because we know very well that the minute we understand we are obliged to act accordingly. Take any words in the New Testament and forget everything except pledging yourself to act accordingly. My God, you will say, if I do that my whole life will be ruined. How would I ever get on in the world?
The Gospel demands something of us. It also forces us to see with a different set of eyes, God's.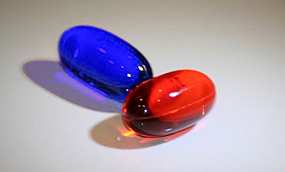 The person confronted by the truth of the Gospel is like the person in the world of the movie The Matrix who is given the choice to take the red pill and see the world as it is from a different set of eyes or take the blue pill and stay blissfully doped against reality.
And that person, confronted with the truth of the Gospel of Christ, MUST then come to grips with these truths:
The American Dream is a vicious and all-consuming lie.
The way the American economy functions is antithetical to the Gospel.
The way we Americans live socially in our communities denies the Gospel.
The values we American hold dear more often than not war with the Gospel.
The Gospel demands the death of self, while the American ideal demands the exaltation of self.
The American system is cracked to the core and is rapidly failing, yet misguided American Christians spend enormous amounts of time and energy attempting to seal the cracks.
As Kierkegaard so ably said, if we American Christians genuinely lived the Gospel we say we believe, every single aspect of how we live, work, love, commune, and bleed would be radically altered. Almost none of the way we live would resemble the lifestyles we have becomes so enamored of. We wouldn't recognize our old lives at all. And we would look so profoundly different from the rest of the world that it would have to sit up and take notice.
Ortlund makes the obvious statement:
To a shameful degree, we Christians are morally indistinct from the world. Why? One reason is that we think piecemeal, and our lives show it. We do not perceive reality from God's perspective. We perceive reality from the perspective of our ungodly culture, and then we try to slap a biblical principle onto the surface of our deep confusion.
We all know this damning final assessment of the rich young ruler:
When Jesus heard this, he said to him, "One thing you still lack. Sell all that you have and distribute to the poor, and you will have treasure in heaven; and come, follow me." But when he heard these things, he became very sad, for he was extremely rich.
—Luke 18:22-23
Our problem as Christians in America 2009 is not simply that we are more wealthy than 95 percent of the world's population, but that every single aspect of how we live, work, love, commune, and bleed  MUST be "sold" to follow Jesus.
And we are simply unwilling to take that step.
But instead of going away sorrowful, we construct a syncretistic faith that melds the parts of the Gospel we can stomach with the life we cannot leave behind.
What makes this so troubling is that not a single one of us is immune to that syncretism. In fact, we have made it our religious security blanket, the warm, comforting deception that gets us from one day to the next. We marvel at the rich young ruler's stupidity and yet we ourselves are even more deceived.
More than anyone, I want Ortlund's call to resonate. But I fear it won't. If we truly re-examined the Gospel and sought to live it purely, then nothing we experience in America would be free from questioning. In fact, everything that is not the Gospel MUST be questioned.
Yet who today will put up with those people who question the foundational shibboleths of the American Way of Life? We instead remain mute because too few of us are prepared to be martyrs for the cause. Taking the red pill may not only wake one up from the stupor, but it may also mean being attacked—and even from our supposed brothers and sisters in Christ.
If you and I truly stepped out in faith to live the Gospel we say we believe, it may well be that we would have to drop out of the corporate treadmill, suffer a freefall in the company hierarchy, watch our income plummet, and suffer the American indignity of no longer being able to keep up with the Joneses. It may mean we cannot get our children into the fancy private school, the top division sports team, and subsequently fail to send them to Harvard to mint their perfect future. It may mean that we reject consumerism and globalism, returning to a local economy that celebrates community and works to see that no one suffers at the expense of the richer among us, no matter how difficult it will be and what it will cost us. It may mean that we have to let go of long-time friends who suddenly hate our "class descent" and no longer want to be around us. It may mean that we live among the rejected people of the world (as we have become rejected ourselves). It may mean that we rediscover what the Lord meant by "give us this day our daily bread." It may mean thousands of profound changes to the way we think and live that put us out of the mainstream and make life more chllenging, though in the end we realize the challenge is where Christ Himself dwells.
Believing the Gospel will destroy our American lifestyles. But as long as we are Americans first and Christians second, we have nothing to fear from the Gospel, and we can be thankful we downed the blue pill.
I am not confident that what Ortlund writes will make any difference. When the call for change comes from the very people who are enmeshed in the system and prefer it that way, hope comes hard. I know that every day I struggle to put off the shackles from which Christ has freed me. He unlocked the chains, but their weight upon me has become too comforting, too familiar. I am like a man for whom the entire world is a chain, because that is all I have known—and anything that is not a chain is too difficult and frightening to understand.