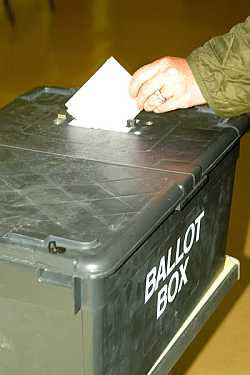 My church keeps a watchful eye on the political scene. Maybe yours does too. If your church considers itself Evangelical, then there's a good chance it believes the Republicans to be the party of righteousness.
It's a culture wars thing mostly. Abortion and same-sex marriage stick in Evangelicals' craws more than anything else. And since the GOP is generally against those two hot button issues, a lot of churches rush to the brink of illegality, dancing at the edge of the "you cannot endorse candidates" precipice in order to fawn over GOP candidates who promise to stem the tide of unrighteousness in America.
Enough of that and you start to believe that only Democrats sin. Ha, ha, right?
I gave up on the Republican Party years ago. I stopped believing the hype. The fact is that Republicans held majority power several times since Roe v. Wade and yet did nothing to overturn abortion.
But beyond that, the reason the political rhetoric I hear from Evangelicals doesn't move me anymore is our selectivity on sin.
Bible verses fly when abortion and same-sex marriage come up in Evangelical discussions, but you almost never hear any verses bandied about in support of the poor, the alien, the widow, and the environment. Yet the Bible has much more to say collectively about sins related to those issues than it does abortion or same-sex marriage.
Now I don't want anyone to think I'm soft on abortion or same-sex marriage. I believe strongly that advocates of abortion and same-sex marriage are under a powerful spiritual delusion. (That's all I need to say. You've read my posts on these topics before.)
While many Evangelicals may nod their heads in assent, few will think beyond those two powderkeg issues.
But what of the politician who supports the big company lobbying to invoke eminent domain against a neighborhood filled mostly with the elderly? Doesn't God hate the powerful ursurping the property of the weak? Doesn't He detest those who break the backs of the poor? Do I need to quote a couple hundred verses on those issues?
Why is it that when I read about eminent domain, a GOP politician is usually involved? How is it that Republicans fight tooth and nail against living wage legislation for the poor? God's first command in the Garden is for Man to steward the earth, yet how is it that Republicans seem so eager to despoil that earth instead? Why is it that when the little guy is fighting for his life against some monolithic oppressor with a warchest filled with millions of dollars, the GOP is often on the side of the oppressor?
The list of practices and beliefs that God hates is long. Sooner or later, our political candidates will run afoul of that list. Some much more than others.
Which is why advocating certain political parties will only lead Christians into a deep abyss. What we should be advocating when we talk of the greatness of America is a commitment to avoiding EVERYTHING on that list of what God hates, not just those select sins that plague the "other" party.
Sadly, once we start looking at reality that way, many candidates fail—even the ones Evangelicals endorse.
While I understand that all have sinned and fall short of the glory of God, I simply cannot cast my vote for candidates who ally themselves with unjust or wicked causes. I'm sticking with God's list of dont's and not Evangelicalism's "hammer some sins and ignore others" list.
Beyond that, even if a candidate holds to certain beliefs that resonate with a righteous position, what if that candidate is simply a terrible politician? In the case of employment, it doesn't matter what a résumé may say, if a candidate for the job ends up proving unable to do the job well, is continued employment deserved? Beliefs don't always translate into competence. Should we Evangelicals elect candidates who say all the right things but who ultimately can't do their job well?
If all this means that I reject all the candidates in a race, then I will. If it means I vote for a third-party candidate, I will—even if Evangelicalism's "anointed" candidate will lose because I did not hold my nose and cast my vote his or her way. I'm not going to be forced to endorse someone who hates abortion but who also hates the poor.
Frankly, I think we should throw all the bums out. Clean house. Both parties are filled with compromisers and gladhanders. And I'm just not going to compromise my vote anymore. I guess you could say I'm asking, How would Jesus vote?