If you've noticed the lack of posts here recently, kudos for being a consistent reader! I must admit to some burnout. It's not that I don't have many topics I'd like to write about, it's just that the Internet is such a poor place from which to minister to others that I'm having something of a crisis of conscience adding my voice to the cacophony and lack of action.
One of the things that has set me off lately concerns several posts and comments I've read from folks under the age of 40. I have no axe to grind against younger Christians, but when such folks start talking about how someone else isn't carrying his or her cross correctly, I get furious.
The problem of judging someone else's ability to carry the cross is a huge one on the Internet.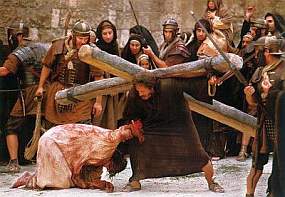 The amount of presumption on the part of these judges is staggering, particularly when that judger has lived a golden, carefree life in which "my cross" consists of mistakenly receiving a mocha latte instead of the ordered cappuccino from the barrista at Starbucks (or whichever coffee dispensary is trendiest among the self-righteous).
The wisdom to discern anything about another person's life can only be gained through time and the Holy Spirit. Bury a parent or two. Have a child wind upon the wrong side of the law. Suffer a divorce. Care for a chronically ill or terminally sick family member. Adopt a special needs child. Suffer repeated job losses.
There's a reason why the eldest were the first to drop their stones in John's chapter 8 telling of the woman caught in the midst of adultery. The eldest were the first to understand what Jesus was saying. Age buys people rights, but that's largely because they've experienced enough vicissitudes of life to know that sometimes they need to withdraw their dog from the hunt.
A prime example of how the young often get it wrong is the pile-on concerning stupid things Pat Robertson said to a man wondering if his pursuit of personal happiness trumped taking care of his wife, who had Alzheimer's. Was it okay to divorce her and marry someone else?
No, it's not okay. And the youngsters quoted Scriptures and got riled up and foamed at the mouth and all the other things they tend to do to make sure EVERYONE knew it was not okay. To let everyone know how right and just and perfect they were by letting their righteousness shine before all on the Internet.
But the funny thing about holding onto the rock when the elders have already dropped theirs is that the rock cries out against the holder. And it does so because the holder lacks the wisdom of empathy and basic compassion. To the fool, the path is always clear and obvious. Needless to say, the fool often winds up on the wide path that leads to destruction.
The ugliness that is self-righteousness starts from frame of reference. In the case of judgmental people, they rarely wander outside themselves to ask what it is like to be the person on trial. They don't have enough rotten experiences in life to have any kind of empathy. They lack that perspective of Jesus, who saw lost people as more than just another face in the "bound for hell" crowd. He saw people as being more than their disease. More than anything else, He saw how He could be there for others.
The great unanswered question in the Robertson fiasco was not about the rightness or wrongness of the reply to the man asking the question about his wife, but why that man asked it in the first place. People who lack widsom and empathy never ask those kinds of deeper questions when confronted with a problem situation. They instead rush to the obvious question with the most broad, simplistic answer. The problem with that mentality is that life is found in the narrow, more difficult way.
While self-righteousness and judgmentalism rush to the approved mob answer, empathy and wisdom draw people to ask how difficult it must be for others to carry the cross.
Anyone who has spent a couple decades watching a spouse slowly lose his/her mind endures a cross unimaginable by most. Not everyone can afford the kind of professional, third-party care that allows the remaining spouse to put some distance between the horror of that cross and the rest of life. We know the simplistic answers, but it's the daily living in the shadow of that cross that should have us clapping a hand over our mouths before we presume to speak and to reveal our ignorance.
No one wanted to help Jesus carry His cross. Someone had to be compelled to do it.
We can talk all we want about right and wrong. We can point fingers at weasels, liars, and cheats. We can let the world know just how right the Law might be. But for most of us, we are far, far away from anyone bearing a difficult cross.
All the Scripture study in the world cannot trump helping another bear the cross. I don't care how right you are or how well you divide the Scriptures. It all comes to naught if you are too preoccupied to shoulder for a time someone else's crushing cross.
Young people, here's my word for you: One day it will be you. No one gets out unscathed. Be careful what you speak to others bearing up under the weight of the cross. Because you might very well have a massive one dropped on you, and when you cry out for help, you better pray that some kind soul shows you more compassion and aid than what you offered to others.