A friend told me this story:
A teenager in his small hometown had announced from an early age that she was called to missions work. So apparent was Cori's calling, no one in that small town questioned it. Most everyone saw it operating in her life. So when Cori was old enough to go on a mission trip that would encompass nearly her entire summer, the whole town chipped in to assist her. And when the day came for Cori to leave for sub-Saharan Africa, many in that town came out to see her off. Bright and beautiful, she represented not only the ideal young woman, but the hope and dreams of that small Midwestern town.
But something went wrong.
Within a day or two of landing in Africa, Cori took ill at the mission station. A few days later, she died.
Another story:
Karl and Jen had spent years trying to conceive a child. Now into their early 40s, hope dwindling, they heard about a new fertility treatment. Folks in that church loved Karl and Jen. Jen worked in the nursery and had a real gift with babies. Karl managed the church's financial assets. So their plight had the entire church praying for a miracle.
Thanks to that new treatment, Karl and Jen got their miracle. Baby Amanda was born.
Everyone thought Jen would be thrilled with the birth. And she was. For awhile. But postpartum depression is a tricky illness, and few people understand its effects, especially on a miracle mom. Everyone thought Jen would get over it. Then one day, she told Karl she was going to the grocers. They found her car wrapped around a tree.
Karl mourned. Taking care of Amanda became his primary duty. He stepped down from managing the church funds, and Mavis, who had ably assisted him, took over. Life, though sadder, seemed to settle down.
At Amanda's two-year checkup, the doctor found a worrying lump on her arm. The diagnosis came back as bone cancer. Karl had never had great insurance through his workplace, and the costs to treat Amanda drained all his savings. The church put together a great fundraiser in response. Everyone was stunned when Amanda, the miracle child, failed to see her fourth birthday.
They were even more stunned to find later that Mavis, the new church financial manager, had run off with $300,000 in church funds.
One of the most well-known verses in the Bible:
And we know that for those who love God all things work together for good, for those who are called according to his purpose.
—Romans 8:28 ESV
I've heard a lot of sad stories in my life. Some don't seem to have good endings.
I know that I struggle with Romans 8:28. A lot. So do many other people. We know the verse. We know that God is true. But we can't always make life fit into that verse in a way that makes sense.
We Christians in America tend to read the Bible with one eye on the Scriptures and the other on the Bill of Rights. Nothing gets our goat more than thinking about our individual rights being infringed. Our sense of entitlement to personal happiness is enormous because it's reinforced day in and day out by our collective American unconscious.
I'm not saying the following is the perfect exposition of Romans 8:28, but it's something I've been pondering.
What if the Creator's intention for "those who love God" isn't primarily for the individual crushed by circumstance? What if the "those" consists of the greater mass of Christendom?
Perhaps we search in vain for Karl's redemptive answer to his wife's and child's deaths. Maybe the happy ending isn't Karl's but another Christian's, a doctor who hears about Karl's story and leverages her talents from God to found a clinic for helping others diagnose and manage postpartum depression.
Perhaps answering the elusive Why? in the case of missionary Cori resolves not in her survivors' joy, but in a next generation, when a young, local man completes that teenage missionary's calling by establishing a missions center in that town that ends up blessing the world.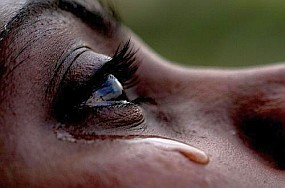 Perhaps Mavis's granddaughter gets a tap on the shoulder from God and starts an organization that helps churches better handle their money.
Perhaps it's not about the happiness of the primary people hurt by life's seeming injustices but about those who come afterward. Or even those sitting on the other side of the planet in a sub-Saharan missions HQ who decide to work toward improved health care for missionaries in their country.
Something about the Hollywood ending drives us Americans. And we always want to see it unfold in the lives of those immediately affected by life's vicissitudes.
But what if this redemptive story that God placed us in is far greater than your happiness or mine? Do we ever look at it that way?
I've written many times about Hudson Taylor, the great missionary to China. His work back in the 19th century is instrumental in the faith of millions of Chinese today. The work he started continues to flare brightly, lighting the world.
Yet those who knew Taylor best claimed that the man who left for China with his family was not the same man after their burial under the earth of his adopted country. A sadness permeated his life.
Did Romans 8:28 not "work" for this renowned missionary?
Perhaps we think too much of ourselves and not enough of the collective work of God in the lives of those other "those who are called according to his purpose." We like to believe that the verse reads solely for our own private circumstances.
But what if it doesn't? Are we solid enough in our faith to go to our own graves happy that God's story is greater than our own lives? And that our tears may not be dried in this life?