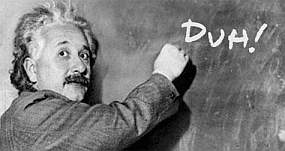 How to dumb down the biblical knowledge of the adults in a church in six easy steps:
1. Start with a relatively educated church.
2. Kill the adult Sunday School program.
3. Mandate that all adult education move to small groups (because that's what everyone else is doing).
4. Fail to check whether the small group leaders are themselves biblically knowledgeable and well-equipped to teach.
5. Fail to nurture the new small groups just created, so (A) no one attends because no push occurred, (B) time erodes the enthusiasm after the initial push until the groups wither, or (C) both.
6. Do nothing, sit back, and watch the ignorance creep in.
I'm beginning to wonder if this is someone's idea of a new programming trend, as plenty of churches seem to have done just this. Come to think of it, I suspect I know who that "someone" might be.