Recently, I spoke with a young man who possesses a rare gift. Though he knew he had the gift, he didn't see it for what it was, deciding to pursue other avenues rather than let his gift take him in a logical direction. Now that he's burned out other options, he's regretting all the choices he made that diverted him off the path his gift created for him. He's not sure he can get back on the path, confessing that getting off it was perhaps the most lunkheaded thing he's done in his life.
You can see the regret painted over his face.
I saw his train wreck coming. Everyone who knows him did. I've prayed for him a few times since. I believe he'll be okay in the end. Though I thought he blew it at the time, I'm encouraged that he's wised up. Most guys his age would've taken years to come to their senses. His confession holds out hope he'll be able to turn his bad choice around.
Few topics nag at men more than this one: What might have been.
In contrast to the young man I just mentioned, I know dozens of men who thought they knew the best way to go, only to find the path dead-ending after years of travel. Most of the time, it's a career cul-de-sac. They got into a particular line of work and it vanished, went overseas, proved soul-killing, demanded moral compromise, or some other unimagined outcome. Now they don't know what to do.
I feel for these guys. No one knows what to tell them.
I've written page upon page here at Cerulean Sanctum about the invisible nature of our employment. Invisible, at least, to the Church in America. Sure, maybe once every five years you'll hear a sermon about how to be a good employee, but most preachers never examine the nature of work itself and how it impacts the soul—especially when it all goes wrong.
Nothing we do in a day competes with work for the sheer amount of time consumed. Despite this, I suspect that in most Christian households, work alters more of the way we live than anything else, even more than our confession of Christ.
Untrue? Well, check how everything in our day revolves around work, even our devotional lives. If Christ were all that important, our work would be a blip in the day compared to how we live out our discipleship. A look at the typical family will tell otherwise. It's almost impossible to separate our jobs from even the the most minute aspects of our lives.
Which is why the man who finds himself in a dead-end job or habitually unemployed in his "peak earning years" presents such a difficult puzzle.
I used to enjoy The Simpsons. One of the recurring characters is Gil Gunderson, a parody of the Jack Lemmon character in David Mamet's Glengarry Glen Ross.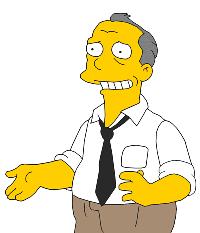 The running gag with Gil concerns his series of humiliating jobs and the utter desperation that surrounds him like a haze. He's always hoping that the next deal's the one that will save him, but instead we see him reduced to so much human grist for the corporate mill.
I know plenty of guys like Gil. They wake up one day and realize their one chance at the brass ring passed them by years ago.
Some try to reinvent themselves. I saw this in spades out in Silicon Valley. When the Internet bubble first showed signs of bursting, companies ditched gobs of forty-something guys, the ones who did all the dirty work in the startup days but earned a few too many cost of living increases. How did these guys respond? They all became consultants. The Valley teemed with consultants of all kinds, each little guy desperate to find his one tiny morsel in the limited consultancy pot. They'd crow about how they empowered themselves, but you knew every single one was sweating blood at night praying some company would rescue them out of the hell of making $5,000 a year as a "consultant."
Next stop, real estate. Then what?
I hear they're hiring for the crab boats.
You find a lot of these guys in the ministry, too. When they were young, nothing fit, and the ministry looked like the only option. They end up hanging around for decades, their ministry amounting to a mound of legumes.
On the other hand, you've got some guys with a calling bigger than the planet, yet one church after another treats them like bubble gum stuck to the bottom of their congregational shoe. They wind up pincushions for whatever the pitchfork-toting natives dream up.
I feel for both. I feel for all men discouraged in their work, ministry or not.
I'll probably never understand in this life why this happens to decent guys who work hard. I got an e-mail today from a guy talking about how bosses praise and praise till their oxygen runs low, gushing over the unmatched skills of the one receiving praise, yet the praisee's the first one pink-slipped after Conglomo Corporation suffers a less than stellar quarter. And for what reason? Who knows? Guys who muddle through this never find out.
What can the Church do for the Gils of this world? How can we help?
I think about this nearly every day. My wife and I have discussed starting a ministry that meets the needs of people in just this fix, but we never get any clear direction on how to start. Nebulous social issues resist change simply because framing their limits proves so difficult.
What do you do for a fifty-year-old autoworker who's been one all his life but discovers himself on the unemployment line with no one hiring? What's he going to transition into?
Again, back in my Silicon Valley days, I saw plenty of guys burnout in their careers, yet somehow they found a way to start a completely different one. After years of watching some Midwest guys try the same thing, I now understand how the Silicon Valley guys successfully segue from the boardroom to handmaking bicycles in Marin: They're filthy rich.
Sadly, that assembly line guy isn't rolling in the kind of cash that allows him to self-finance his whim. So I don't know what to tell him.
The stock market drop spooked people. Not much of a drop as I saw it, but that jittery look's returning to some faces. The Cincinnati Business Courier is sponsoring a symposium for business leaders on how to prepare for the looming U.S. economic disaster. Talk about inspiring positive energy!
I want to help men left wondering what might have been, the Gils of the world. I think we in the Church need to get our collective acts together to brainstorm this issue because it's only going to get worse. Greenspan dropped the word "recession" the other day and, despite the fact he's no longer the Fed Chairman, grown men soiled themselves.
It's bad enough we're minting Gils. (Look around. They may seem invisible, but they exist in numbers too large to ignore.) Now imagine a country filled with them.
What's the American Church's response?