"'And in the last days it shall be, God declares, that I will pour out my Spirit on all flesh, and your sons and your daughters shall prophesy, and your young men shall see visions, and your old men shall dream dreams; even on my male servants and female servants in those days I will pour out my Spirit, and they shall prophesy. And I will show wonders in the heavens above and signs on the earth below, blood, and fire, and vapor of smoke; the sun shall be turned to darkness and the moon to blood, before the day of the Lord comes, the great and magnificent day. And it shall come to pass that everyone who calls upon the name of the Lord shall be saved.'"
—Acts 2:17-21
At my church's VBS last week, the theme revolved around Joseph, the one who by God's revelation saved all of the known biblical world.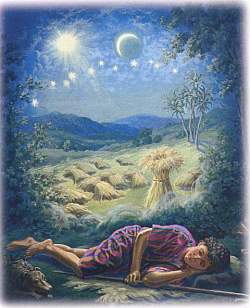 God spoke that plan of salvation to Joseph through dreams.
Evangelicals don't do well with dreams. In fact, you'd be hard pressed to find anyone in the average church who would claim to have the gift of interpreting dreams. In most churches, the mere mention of the role of dreams in directing the church, planning for the future, or meeting the needs of people too afraid to share their needs publicly will get you an initial blank stare that morphs into that "I smell a heretic" scowl.
Yet any pass through the Bible reveals dreams to be a common means of God speaking to and guiding individuals, groups, and nations.
Which is why the enormous pushback by some Christians against dreams is a big problem.
That passage in Acts that starts this post…a few questions:
1. Is the Bible the authority for how we should conduct our lives?
2. Are we still in the Last Days?
3. Is the Holy Spirit still being poured out?
If you answer yes to all three questions (and you should), then guess what? You affirm that God speaks to people today through dreams.
See, that wasn't so hard, was it? 😉
Fact is, there's no biblical argument that can be formed against dreams as a contemporary, God-ordained means of revelation. None.
Despite that truth, we Western Christians get upset at the idea of using dreams as a way to order our lives and the life of the Church. Why? Because dreams are messy and sometimes weird. And man, do we Westerners hate anything messy and weird in our churches! Still, that says more about our own foibles than it does about the veracity of dreams as a form of approved divine revelation.
I strongly believe, though, that our automatic rejection of any kind of God-ordained revelation that occurs outside the Bible's chapters and verses is a major flaw in the contemporary Church. As much as I love the Bible and affirm it as the final arbiter of truth, the Bible may not speak to specific situations that are not explicitly stated in its pages. Yet the need for specific answers remains.
A case in point: For a church looking for a new pastor, the Bible does not say which of five great candidates would be the best choice. How then do we choose if all five meet the Bible's exacting criteria for the role of pastor? By drawing straws? By hoping that the other four will get calls from other churches and leave us with only one candidate? By relying on our intellects to scry out the right man?
When the early Church had a similar issue, this is how it was resolved:
Now there were in the church at Antioch prophets and teachers, Barnabas, Simeon who was called Niger, Lucius of Cyrene, Manaen a member of the court of Herod the tetrarch, and Saul. While they were worshiping the Lord and fasting, the Holy Spirit said, "Set apart for me Barnabas and Saul for the work to which I have called them." Then after fasting and praying they laid their hands on them and sent them off.
—Acts 13:1-3
Plenty of good candidates, but the Spirit did not select Simeon, Lucius, and Manaen for the work, did He?
This is how the Church is to function in those specific, individual situations to which the Bible does not directly speak:  by listening to the Holy Spirit's extra-biblical voice.
I know that rubs a lot of people the wrong way. I'm sorry. Man up, because this is what the Scriptures say in response:
Do not quench the Spirit. Do not despise prophecies, but test everything; hold fast what is good.
—1 Thessalonians 5:19-21
So rather than tossing out all extra-biblical revelations—dreams included—we are to test them. We then retain and act on those that pass the tests.
We're doing that, right? No? You say we're just throwing them all out instead?
*Sigh.*
Should we be surprised then when our churches seem adrift and lacking in direction? Or when our rational church decisions produce irrational results? And what about when bad things happen to good people because no one bothered to address what may have been an unrevealed, yet fixable, problem before it got out of hand?
What would have happened to the biblical world if Joseph had despised his dreams and the dreams of others? Would we even have a Bible?
A city surrounded by enemies decides that maintaining a city army is messy, demanding, and costly. So despite what the city charter says, the city leaders decide to disband the army. When the barbarians storm the gates, won't there be regrets for what was ignored?
Yet this happens all the time in our churches because we simply do not want to deal with dreams (and other types of supernatural revelation) as a means of legitimately hearing from God.
When I was about 18, I had a dream that a friend drove onto some train tracks and his car stalled just as a train was coming. The dream was so frightening and vivid that I awoke and started praying for my friend.
Just a few hours later, that friend told me how he'd been out in the wee hours of the morning when his car stalled on railroad tracks just as a train was coming. He couldn't start the car and worried that he would have to leave it on the tracks, only to find his door refusing to open. But one last twist of the key got the car started, and he drove off the tracks just moments before the train came hurtling through.
What if I had ignored that dream and not prayed for my friend right then? Do you think the outcome would have been different? I do.
Someone else was blessed because I took action regarding the content of a dream.
For several years, a terrifying recurring nightmare troubled me in my 20s. The dream was always the same. I'd awake thrashing and in a sweat, my heart pounding.
I was fortunate that the University of Cincinnati is known for sleep research, so there are a greater than average number of folks in the area who deal with sleep and dreams.  I was able to find a Christian man who helped people understand their dreams. He and I spent several months working on my recurring nightmare, plus other dreams.
In the end, God gave us an answer to what the nightmare meant. Once I understood, I was able to take specific actions that resolved the issue behind it. The nightmare then ceased.
I was blessed because I took action regarding the content of a dream.
More recently, I had a recurring dream that troubled me. Going back about six years, I'd have this one dream about once a year. Then 18 months ago or so, I started having the dream about once or twice a month. I was stymied by what to do about the dream because it didn't fit real life situations as I knew them. Nothing in the dream conformed, so I excused myself from taking action because I rationalized away the need to do anything.
Just a few days ago, I found out that this recurring dream had sadly come true. The dream proved more real than the shadowed appearance of "reality."
I did nothing about a dream. A sad outcome resulted. Now I can't do much about that outcome.
I believe that the outcome would have been different if I had prayed fervently about the dream, despite the seeming nonsense of it. Instead, I disbanded the army and let the barbarians storm the gates.
Four steps we can take to restore the value of dreams in our lives and in the life of the Church:
1. Believe that God wants us to listen to our dreams — He IS speaking to us, so we need to heed what He is saying.
2. Respect recurring dreams — If a dream (or dream theme) recurs, it may be God's way of demanding our attention because the dream is important. (Genesis 41:32 — "And the doubling of Pharaoh's dream means that the thing is fixed by God, and God will shortly bring it about.")
3. Pray — Ask God for the following:
a. Discernment — We need to know which dreams are genuinely from Him (and not from the triple-meat pizza we ate before bedtime) and require us to take notice and action.
b. Interpretation — We must always ask for an interpretation of dreams, either by the Holy Spirit's illumination within us or by the wise words of those blessed with a gift of interpreting dreams.
c. Direction — We must take action on God-ordained dreams once interpreted.
4. Share our dreams with other believers— A dream may not mean much alone, but when similar dreams are shared by others, a pattern may emerge; so if a dream seems vivid, don't be afraid to talk it out with wise believers and other Christian dreamers.
Someone's going to say it, though: "But Dan, can't dreams be misinterpreted or mistaken?"
Yes, they can. But that's OUR fault. Consider this:
And Pharaoh said to Joseph, "I have had a dream, and there is no one who can interpret it. I have heard it said of you that when you hear a dream you can interpret it." Joseph answered Pharaoh, "It is not in me; God will give Pharaoh a favorable answer."
—Genesis 41:15-16
Joseph understood the source of interpretation. If we genuinely operate in the Spirit with regard to dreams and their interpretations, God is faithful to provide answers; He is the interpreter. Like Joseph, we must be tapped into God if we are to handle dreams correctly.
Here is the starting point for handling all dreams correctly: We establish the Bible alone as the arbiter of the meaning behind a dream and its interpretation.
If I have a dream in which I leave my wife and kid and become a meth dealer, the meaning of that dream is most certainly NOT that I should leave my wife and kid and become a meth dealer. No dream interpretation or subsequent action on that interpretation should violate Scripture—ever. Scripture stands as the authority over all dreams, interpretations, and actions taken.
This is not to say that the dream itself can't be awful or that events in the dreams can't stand contrary to Scripture. Just as people in the Bible sometimes act contrary to the will of God, the events of dreams may portray sin. It may be that God is trying to root out sin in our lives or in the lives of someone we know.  Proceed cautiously, though.
If you or I have a dream, will God be angry with us if we take the simple baby step of praying about it? Will we be chastened by Him for taking everything—including our dreams—to Him in prayer?
If we take dreams seriously and always pray about them, I think God will bless us in mind-boggling ways. Yes, some dreams will prove to be nothing more than too much TV before bedtime, but God's not going to be angry if we take even that dream to Him in prayer. It will just peter off into nothing of any consequence—except that we spent a little more precious time before the God who loves us.
The ramifications of ignoring dreams are huge, though. In the face of an approaching famine, the words of God that come to us in dreams may be all that stand between life and death.
So, what's the problem with us and dreams?