We interrupt the end of the world for this news bulletin…
Have you been receiving some of the same emails I have?
You'd recognize them if you saw them. They come from Christian parachurch ministries. They come from ministry leaders who are not yet somebody on the national stage but who hope to be some day. They come from friends you've known for years.
What they all have in common is their begging. Not for money, but for you to do the right thing come Election Day.
When you lean into those emails and take a whiff, can you smell it? The fear? It's all over them.
In fact, it seems to be all over everything nowadays. The Christian blogosphere reeks of fear. The media. Your neighbors. Maybe even you.
But it's about more than just the election. People seem to be panicking everywhere I look over any old thing. Seems like someone called a run on the national storehouse of pins and needles. And that panic results in ramblings and ravings that make no sense to those who fit this truth:
For God hath not given us the spirit of fear; but of power, and of love, and of a sound mind.
—2 Timothy 1:7
Many of the most revved up writings I see lately are coming from people entrenched in the modern prophetic movement. Though I consider myself a charismatic, I have yet to see any fruit coming from the self-appointed prophets who litter the charismatic landscape.
Lately, much of the prophetic talk has centered around a particular vice-presidential candidate. Or it's a rant about Supreme Court judges.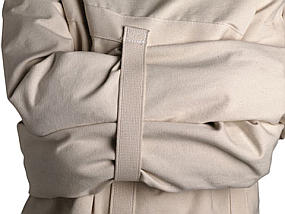 Or the need for us to kowtow to what the national Christian "leaders" say we believers MUST DO—OR ELSE. Most of it contradicts itself. And sadly, it contradicts the Bible more than anything else.
I could reproduce some of the "words" going around out there, but you can see an example in one of my previous posts: "Only One True Kingdom." Truth is, that "word" is tame compared with some of what is making the rounds.
Here's my word for the state of things today: Unhinged.
Recently, I read a book that discusses how people react during disasters. A quick look around shows all the signs:
Numbness
Denial
Hysteria
Depresssion
Rationalization
Obedience to small, daily routines despite emergency conditions
Sudden onset of blindness
While that final one may not be literal in this case (though it does happen in disasters), it sure satisfies the figurative element for what is going on in our country at the end of The Year of Our Lord 2008.
But it shouldn't. The Church, especially, should be calmer, wiser, and more discerning than this. That same disaster book discusses how it's the small people who step up (such as the busboy who saved hundreds during the Beverly Hill Supper Club disaster that occurred in my community), the nobodies, the normally powerless, who can make all the difference. Isn't the Church supposed to be filled with small, powerless (by the world's standards) nobodies who end up leading others to safety?
The world doesn't need a Church that has gone nuts. It needs levelheaded people who stay true to the Word and Spirit.
So if you're one of those folks sending me emails featuring the kind of stuff I've mentioned here, I have a not-so-prophetic "word" for you: Stop.
We now return you to your regularly scheduled apocalypse, already in progress…