One of the strangest phenomena I've witnessed in contemporary Christianity has been the rise of what I call the Cult of Suffering. Young Christians (under 40), usually with allegiances to the Young, Restless, and Reformed movement, glamorize suffering without relief as some sort of spiritual badge of honor, something they want to hold in high regard as a means to be more godly.
I first noticed this "cult" more than a decade years ago. What struck me as most bizarre is that most self-proclaimed members had never truly suffered even once in their lives, yet they wrote online missives proclaiming the joys of suffering.
Here's the thing: Suffering isn't wonderful. In fact, suffering because of the human condition sucks. The depths to which such suffering can go are nearly limitless in some cases. No one should wish that on themselves.
Fast forward a few years. Now many of those most entrenched in the Cult of Suffering are experiencing something new.
What? Genuine suffering. Some from becoming pastors and getting involved in the messier side of ministry. Some from having true suffering finally hit closer to home.
There's something about getting older that changes the tint of rose-colored glasses. Those pro-suffering folks have now added a few years. They've buried parents who died after excruciating battles with cancer or some other pain-filled, debilitating disease. They've seen young children cut down. They've had to counsel people with serious mental illness. They've had to plunge into the septic tank of life. Suffering no longer affects someone else. It has come home to roost.
The result? Many of those in the Cult of Suffering have backed off their previous adoration of human suffering.
I think part of the problem is that too many of those folks conflated suffering for Christ with general human suffering due to sin.
I don't see those sufferings as the same.
Jesus routinely praised people who came to Him because they were not content to suffer. Jesus regularly called those people faithful because they sought Him out as a way out of their suffering.
The hemorrhaging women who spent 12 years looking for a cure.
Bind Bartimaeus, who would not stop shouting for Jesus to heal him even when others told him to shut up.
The Samaritan woman with the possessed daughter who would not take Jesus' rebuff for an answer.
And on and on.
FAITHFUL because they were NOT content to suffer or see those they loved suffer.
The Bible says this about Jesus:
That evening they brought to him many who were oppressed by demons, and he cast out the spirits with a word and healed all who were sick. This was to fulfill what was spoken by the prophet Isaiah: "He took our illnesses and bore our diseases."
—Matthew 8:16-17 ESV
What did Jesus say about His reason for coming?
And the scroll of the prophet Isaiah was given to him. He unrolled the scroll and found the place where it was written, "The Spirit of the Lord is upon me, because he has anointed me to proclaim good news to the poor. He has sent me to proclaim liberty to the captives and recovering of sight to the blind, to set at liberty those who are oppressed, to proclaim the year of the Lord's favor." And he rolled up the scroll and gave it back to the attendant and sat down. And the eyes of all in the synagogue were fixed on him. And he began to say to them, "Today this Scripture has been fulfilled in your hearing."
—Luke 4:17-21 ESV
And John writes this about Jesus' purpose:
The reason the Son of God appeared was to destroy the works of the devil.
—1 John 3:8b ESV
The Kingdom of God does not have a place for such suffering. Jesus came to deal with it.
So why does Jesus say his followers will suffer? Because they seek to be like Him.
Indeed, all who desire to live a godly life in Christ Jesus will be persecuted…
—2 Timothy 3:12 ESV

"Blessed are those who are persecuted for righteousness' sake, for theirs is the kingdom of heaven. "Blessed are you when others revile you and persecute you and utter all kinds of evil against you falsely on my account. Rejoice and be glad, for your reward is great in heaven, for so they persecuted the prophets who were before you.
—Matthew 5:10-12 ESV
There's the difference between types of suffering.
Jesus wasn't of two minds on this issue because He understood the distinction between leprosy, barrenness, and demon possession and being persecuted for faith in Him.
The Cult of Suffering never made that distinction. Now they have come face to face with disease, misery, and death, and it doesn't seem so wonderful. Sadly, some are even questioning their faith or the goodness of God because of their mistaken notions about suffering. I know, because I keep stumbling across their recent confessions online.
It didn't have to come to that.
Suffering because of the human condition outright sucks. Jesus came to address it.
Never make peace with the kind of suffering the Enemy brings. Never. The Bible tells us how we should respond:
And he told them a parable to the effect that they ought always to pray and not lose heart. He said, "In a certain city there was a judge who neither feared God nor respected man. And there was a widow in that city who kept coming to him and saying, 'Give me justice against my adversary.' For a while he refused, but afterward he said to himself, 'Though I neither fear God nor respect man, yet because this widow keeps bothering me, I will give her justice, so that she will not beat me down by her continual coming.'" And the Lord said, "Hear what the unrighteous judge says. And will not God give justice to his elect, who cry to him day and night? Will he delay long over them? I tell you, he will give justice to them speedily. Nevertheless, when the Son of Man comes, will he find faith on earth?"
—Luke 18:1-8 ESV
"Give me justice against my adversary" indeed.
I find it interesting that Jesus concludes that story by asking if He will find faith when He returns. What kind of faith is He referring to? The kind that never gives up and is never content to suffer from the human condition. The kind of faith displayed by the hemorrhaging woman who would not be content with sickness, even after 12 years with no relief. The kind of faith displayed by a Samaritan woman who would not take no for an answer, even when it was from the lips of her Maker. And the kind of faith displayed by a man who did not want to continue to suffer from blindness, so he would not let anyone quiet him when he saw his opportunity to be free from suffering. The kind that relentlessly demands vindication against an enemy who sows suffering—the Enemy.
THAT kind of faithful.
"But Dan, what about Paul's thorn in the flesh?"
This is the the typical response from people who simply don't want to deal with a Biblical response to suffering, who somehow want to make peace with misery.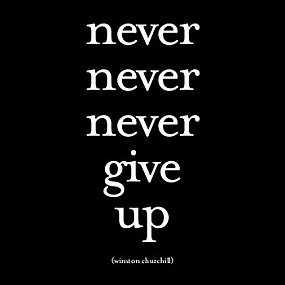 If God comes to you and explicitly says that your suffering has a purpose to keep your pride from possibly disqualifying you from His glory, then yes, be content. Otherwise, don't be. And I can tell you right now that God is not using suffering in most people to keep them from being disqualified from His glory, or else He would have said the same thing to that hemorrhaging woman, that blind man, and that Samaritan woman, and all those other great men and women of the faith who were called faithful because they weren't content to suffer.
In other words, never stop seeking God for relief from suffering unless you get a clear revelation from Him that explicitly states otherwise.
Never give up seeking God for relief from suffering. Never!

And to those former members of the Cult of Suffering who are questioning everything now that genuine suffering is theirs, I say the same.