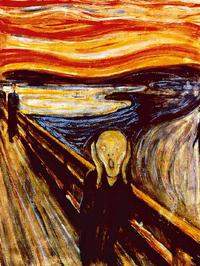 One of the hardest confessions to wring out of most Christians regards what we fear. We don't talk about fear in the Church, in part, because we have created a culture in Christianity that is often afraid (ironically enough) of appearing incompetent in some aspect of the Faith.
Take evangelism, for instance. I think the reason evangelism in this country has practically gone extinct is that many people are scared to death to look incompetent while sharing Christ in any way that borders on apologetics. The reasons for this would probably fill a month's full of posts here, but needless to say, I think fear is a major reason why American Christians avoid evangelism like the plague.
I think the homogenization that has swept over our churches is largely due to fear. While the Bible equates Christians to sheep, we too often seek out bland flocks, as if the lack of anything distinguishing will somehow allow us to tick a mark off our spirituality checklist while avoiding being too contrarian or countercultural. I mean, the wolves go looking for the oddballs, don't they?
Beyond competency issues and a desire to not attract too much attention, we still struggle with fear of the future, despite verses like these
Be strong and courageous. Do not fear or be in dread of them, for it is the LORD your God who goes with you. He will not leave you or forsake you.
—Deuteronomy 31:6

He who dwells in the shelter of the Most High will abide in the shadow of the Almighty. I will say to the LORD, "My refuge and my fortress, my God, in whom I trust." For he will deliver you from the snare of the fowler and from the deadly pestilence. He will cover you with his pinions, and under his wings you will find refuge; his faithfulness is a shield and buckler. You will not fear the terror of the night, nor the arrow that flies by day, nor the pestilence that stalks in darkness, nor the destruction that wastes at noonday. A thousand may fall at your side, ten thousand at your right hand, but it will not come near you.
—Psalms 91:1-7

The LORD is on my side; I will not fear. What can man do to me?
—Psalms 118:6

Fear not, little flock, for it is your Father's good pleasure to give you the kingdom.
—Luke 12:32

…for God gave us a spirit not of fear but of power and love and self-control.
—2 Timothy 1:7

Keep your life free from love of money, and be content with what you have, for he has said, "I will never leave you nor forsake you." So we can confidently say, "The Lord is my helper; I will not fear; what can man do to me?"
—Hebrews 13:5-6
and this verse (which we often make into a competency issue)
There is no fear in love, but perfect love casts out fear. For fear has to do with punishment, and whoever fears has not been perfected in love.
—1 John 4:18
I wish I could say that I'm perfected in love, but I'm not. Each day, I pray that I will get closer to that mark by Christ living out more of His life in me, but I am not there quite yet.
I have written much about the times we live in. I think they are scary times, not only because we cannot see what each of us will walk through in the coming days, but also because our leaders (political, intellectual, and spiritual) are increasingly failing us. Too much of the world appears to be coming apart at the seams, and who are we to halt the seam-ripping?
I confess that I am fearful that I will not be able to juggle all the demands that keep hitting my household. One needs almost to be a genius to navigate the twists and turns of the countless little bureaucracies that grip us, and the number of people waiting to jump at us with "Gotcha!" seems infinite. (Honestly, I fear the mailman; he never seems to bring good news, and each letter opens to reveal another "Gotcha!")
Also, I have long believed that the Church is called by God to be the thick pillow that softens the fall of those who encounter hard times. Sadly, too many in the Church don't want to rise up to be that pillow. (Let's be honest: We buy life insurance policies because we don't believe the Church will take care of our families after we die.) I know that some of my own fears exist for that reason.
Yet, I keep reminding myself of what is true. And Christ is truer than all truths, even the hard ones. So, I keep going back to this verse:
When the righteous cry for help, the LORD hears and delivers them out of all their troubles. The LORD is near to the brokenhearted and saves the crushed in spirit. Many are the afflictions of the righteous, but the LORD delivers him out of them all.
—Psalms 34:17-19
What fears do you struggle with? And how can we pray for the alleviation of those fears?