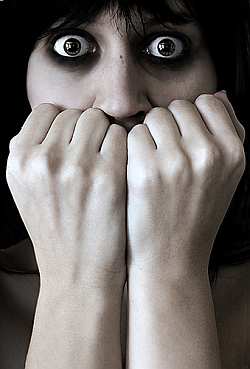 If you asked me what I thought was the general feeling sweeping the contemporary Church in America, I wouldn't hesitate for a second. It's fear.
Each day, my email inbox fills with messages of conspiracy, worries of persecution, legal rights abridgments, last days mania, and so on. What troubles me most is that I don't ever get these messages from unbelievers but only from the Body of Christ.
If I were a visitor from another planet come to investigate the blue planet Earth, my assessment of American Christians would be that they are the most frightened people on the planet and that large chunks of their day are spent worrying about one threat after another. To find a reason for this, I would, being a good alien sociologist, consult their holy books to learn the reason for their fears.
That holy book, to my surprise, says this:
The LORD is my light and my salvation; whom shall I fear? The LORD is the stronghold of my life; of whom shall I be afraid? When evildoers assail me to eat up my flesh, my adversaries and foes, it is they who stumble and fall. Though an army encamp against me, my heart shall not fear; though war arise against me, yet I will be confident.
—Psalms 27:1-3

God is our refuge and strength, a very present help in trouble. Therefore we will not fear though the earth gives way, though the mountains be moved into the heart of the sea, though its waters roar and foam, though the mountains tremble at its swelling. Selah
—Psalms 46:1-3

He who dwells in the shelter of the Most High will abide in the shadow of the Almighty. I will say to the LORD, "My refuge and my fortress, my God, in whom I trust." For he will deliver you from the snare of the fowler and from the deadly pestilence. He will cover you with his pinions, and under his wings you will find refuge; his faithfulness is a shield and buckler. You will not fear the terror of the night, nor the arrow that flies by day, nor the pestilence that stalks in darkness, nor the destruction that wastes at noonday. A thousand may fall at your side, ten thousand at your right hand, but it will not come near you.
—Psalms 91:1-7

The LORD is on my side; I will not fear. What can man do to me?
—Psalms 118:6

The fear of man lays a snare, but whoever trusts in the LORD is safe.
—Proverbs 29:25

Do not call conspiracy all that this people calls conspiracy, and do not fear what they fear, nor be in dread.
—Isaiah 8:12

Strengthen the weak hands, and make firm the feeble knees. Say to those who have an anxious heart, "Be strong; fear not! Behold, your God will come with vengeance, with the recompense of God. He will come and save you."
—Isaiah 35:3-4

…Fear not, for I am with you; be not dismayed, for I am your God; I will strengthen you, I will help you, I will uphold you with my righteous right hand….For I, the LORD your God, hold your right hand; it is I who say to you, "Fear not, I am the one who helps you."
—Isaiah 41:10,13

"Blessed is the man who trusts in the LORD, whose trust is the LORD. He is like a tree planted by water, that sends out its roots by the stream, and does not fear when heat comes, for its leaves remain green, and is not anxious in the year of drought, for it does not cease to bear fruit."
—Jeremiah 17:7-8

Do not fear the king of Babylon, of whom you are afraid. Do not fear him, declares the LORD, for I am with you, to save you and to deliver you from his hand.
—Jeremiah 42:11

You came near when I called on you; you said, 'Do not fear!'
—Lamentations 3:57

And he said, "O man greatly loved, fear not, peace be with you; be strong and of good courage." And as he spoke to me, I was strengthened and said, "Let my lord speak, for you have strengthened me."
—Daniel 10:19

Fear not, O land; be glad and rejoice, for the LORD has done great things!
—Joel 2:21

"Therefore I tell you, do not be anxious about your life, what you will eat or what you will drink, nor about your body, what you will put on. Is not life more than food, and the body more than clothing? Look at the birds of the air: they neither sow nor reap nor gather into barns, and yet your heavenly Father feeds them. Are you not of more value than they? And which of you by being anxious can add a single hour to his span of life? And why are you anxious about clothing? Consider the lilies of the field, how they grow: they neither toil nor spin, yet I tell you, even Solomon in all his glory was not arrayed like one of these. But if God so clothes the grass of the field, which today is alive and tomorrow is thrown into the oven, will he not much more clothe you, O you of little faith? Therefore do not be anxious, saying, 'What shall we eat?' or 'What shall we drink?' or 'What shall we wear?' For the Gentiles seek after all these things, and your heavenly Father knows that you need them all. But seek first the kingdom of God and his righteousness, and all these things will be added to you. "Therefore do not be anxious about tomorrow, for tomorrow will be anxious for itself. Sufficient for the day is its own trouble."
—Matthew 6:25-34

"When they deliver you over, do not be anxious how you are to speak or what you are to say, for what you are to say will be given to you in that hour."
—Matthew 10:19

"Are not two sparrows sold for a penny? And not one of them will fall to the ground apart from your Father. But even the hairs of your head are all numbered. Fear not, therefore; you are of more value than many sparrows."
—Matthew 10:29-31

But overhearing what they said, Jesus said to the ruler of the synagogue, "Do not fear, only believe."
—Mark 5:36

"I tell you, my friends, do not fear those who kill the body, and after that have nothing more that they can do."
—Luke 12:4

"Fear not, little flock, for it is your Father's good pleasure to give you the kingdom…."
—Luke 12:32

"Fear not, daughter of Zion; behold, your king is coming, sitting on a donkey's colt!"
—John 12:15

For you did not receive the spirit of slavery to fall back into fear, but you have received the Spirit of adoption as sons, by whom we cry, "Abba! Father!"
—Romans 8:15

Do not be anxious about anything, but in everything by prayer and supplication with thanksgiving let your requests be made known to God. And the peace of God, which surpasses all understanding, will guard your hearts and your minds in Christ Jesus.
—Philippians 4:6-7

…for God gave us a spirit not of fear but of power and love and self-control.
—2 Timothy 1:7

Keep your life free from love of money, and be content with what you have, for he has said, "I will never leave you nor forsake you." So we can confidently say, "The Lord is my helper; I will not fear; what can man do to me?"
—Hebrews 13:5-6

Now who is there to harm you if you are zealous for what is good? But even if you should suffer for righteousness' sake, you will be blessed. Have no fear of them, nor be troubled,
—1 Peter 3:13-14

Do not fear what you are about to suffer. Behold, the devil is about to throw some of you into prison, that you may be tested, and for ten days you will have tribulation. Be faithful unto death, and I will give you the crown of life.
—Revelation 2:10
And being an alien sociologist, I would conclude that while Christians say they believe their holy book, they seem to leave plenty of room not to believe it when confronted with certain realities.
I would also note that while many portions of that holy book speak of fear, the majority of those references are to fearing the Christian God—though I would suspect, given the rest of the verses about Him, that this kind of fear is more reverential awe.
So I would scratch my scaled head with one tentacle and wonder about this strange religion that doesn't believe its own holy book and seems to be more fearful of people, events, and man-made devices and schemes than the God of that same religion.
Stepping out of my overused illustration, I have to ask what the unbeliever thinks of all this fear coming out of the Christian camp in America. Isn't it a turnoff? I mean, where is the comfort of faith that Christianity affords? Heck, if I were an unbeliever, what kind of witness do I receive when I hear talk from Christians that Congress is even now sharpening the blades on all those guillotines they've got stored away in some warehouse in North Dakota in preparation to remove a bunch of Christian heads? What sense do I get that Christians are any less fearful than the general populace (and perhaps even more fearful, when you get down to it)? Why would I want to have anything to do with Christianity?
All this fearmongering also makes us look ignorant, because in most cases those fears are unfounded. My email inbox fills with one warning after another, fear after fear, that a simple check of Snopes.com or FactCheck.org would prove to be a hoax, one that only makes us look silly for going off half-cocked. But then there's the folks who believe that Snopes and Fact Check are in on the conspiracies…
Still, what is the worst that might happen? That we die and go to be with Christ our Lord, where we reign forever and ever with Him in glory? Does that sound awful? Or do we not believe our own message?
Here's the truth: every person dies. Then why all the fear?
I'd say that this is a crisis of faith within the American Church, but as I've grown older in the Lord, I realize a different truth:
So we have come to know and to believe the love that God has for us. God is love, and whoever abides in love abides in God, and God abides in him. By this is love perfected with us, so that we may have confidence for the day of judgment, because as he is so also are we in this world. There is no fear in love, but perfect love casts out fear. For fear has to do with punishment, and whoever fears has not been perfected in love.
—1 John 4:16-18
The genuine crisis here is one of abiding in God and in His love. We don't often think of love as the opposite of fear, but I would offer that the more we love God and love others, the less room exists for fear. As John notes, love is so big that it squeezes out any place for fear. Which proves what I have seen in my life: The most loving people I have known are also the least fearful.
So the word I have for the Church today is this: Love, don't fear. If we spend time serving God and others in love, we won't have time to worry, to read the latest fearful headlines in the newspaper, or to forward yet another conspiratorial email that only sends weak people's shaky knees a-knocking.