The wiser you are, the more worries you have; the more you know, the more it hurts.
—Ecclesiastes 1:18
Winter holds sway here in southwestern Ohio, defined by cheek-stinging cold and relentless gray skies that suck all the color out of creation's palette. January and February lurk.
This time of year in the Midwest is my least favorite by far. It takes a great deal of energy to refrain from going into the garage (doors down, of course), climbing into the family car, rolling down the windows, twisting the key in the ignition, and letting a CD of Beethoven's "Moonlight Sonata" loop repeatedly on the car stereo while the CO billows over you.
Yeah, that bleak.
It's that set of weeks when people start thinking too much because there's time to think;  the Christmas madness is over and there's little else to do when a foot of snow traps you in the house. Everyone goes a bit more inward than they do in mid-June. They start thinking about their lacks. Christians do this more than anyone, I think.
We Evangelicals hear a lot about unconfessed sin. You can blame all manner of ills on that beast. Unconfessed sin is the spiritual antithesis of duct tape:  Everything falls apart when wrapped in it.
Somehow in the English language, a tongue in which I am supposedly familiar, we can have something that is unconfessed but not an unconfession. I find that odd.
But I do not find it odd that, whether the word exists or not, Christians make unconfessions. When I think about what may constitute an unconfession, I consider those confessions that no one would ever declare before an assembled body of believers, even if all are mature and have walked with God for years.
We can probably all imagine what might remain an unconfession: a heinous sexual sin, some awful thing done to a child, possibly even a murder.
In some ways, those are easy.
I think there's an unconfession even more devastating. It's the kind of inner disquiet that I've never heard spoken out loud in polite Christian company. It's by no means salacious or repugnant, but it makes so many people uneasy that it goes unconfessed from generation to generation.
What follows, I believe, is the great unconfession of many sincere, earnest Christians in America today:
I gave my life to Jesus, believe in Him with all my heart, serve Him with everything I have, yet life still seems meaningless.
In many churches in this country, if someone respected in the congregation stood up on Sunday and spoke those words, people would be appalled. Yet I believe that a whole host of Christians struggle with that unconfessed angst—and its killing them slowly.
Daily they trudge to a cubicle in a stark glass edifice, punch some characters into a computer keyboard, fight gridlock on the way home, barely stay awake as they wolf down a warmed-over meal, spend some half-hearted moments with their spouse and kids, stare down the list of things they have to do but can never find time to resolve, punch a few more characters into a computer keyboard, trudge to a dark bedroom, sleep six hours, get up, toss off a quick prayer or two asking for yet another unmet need, read a half-baked devotional reading for the day…lather, rinse, repeat until death lays claim to them in an unguarded moment. And they are told by their spiritual elders on Sundays that this is the abundant life.
If they are ultra-spiritual, they may go into the ministry, each day confronting a set of problems in the lives of others, problems that may, in fact, relent, only to be replaced by others, just as the people are themselves replaced by someone else who is hurting.  The great circle of pain. And the meaninglessness increases when all that work comes to naught some day because of one misunderstanding or another, and they move on to whatever the next ministry assignment is. And on Sundays they tell people that this is the abundant life. But there's a catch in their heart that they hope doesn't show in their voice—because the meaning of all this still escapes them.
I've had people write many times and tell me the reason they read Cerulean Sanctum is that I write from the heart. Truth is, much of what I write here is to myself. I need to hear what I write more than anyone else does.
And so I write this post because I struggle with meaninglessness, too, especially this time of year. I may be alone on this, projecting my own struggle onto the lives of other believers, but I don't think so. I think many Christians bottle up this unconfession concerning their own battles against meaninglessness in life. To confess that one struggles with meaning post-conversion is about as close as one gets to apostasy in some Christian circles.
It gets worse for many people who struggle with meaninglessness because the truth is that Christ is our sufficiency. If we struggle with meaninglessness, it's because we are not connected to Christ the way they should be. And that's not Christ's fault; it's ours.
Doesn't make the struggle any easier, does it?
I think this plague of meaninglessness has been a problem with mankind since the fall. Ecclesiastes captures this better than any book in the Bible. A sampling:
These are the words of the Philosopher, David's son, who was king in Jerusalem. It is useless, useless, said the Philosopher. Life is useless, all useless. You spend your life working, laboring, and what do you have to show for it? Generations come and generations go, but the world stays just the same. The sun still rises, and it still goes down, going wearily back to where it must start all over again. The wind blows south, the wind blows north—round and round and back again. Every river flows into the sea, but the sea is not yet full. The water returns to where the rivers began, and starts all over again. Everything leads to weariness—a weariness too great for words. Our eyes can never see enough to be satisfied; our ears can never hear enough. What has happened before will happen again. What has been done before will be done again. There is nothing new in the whole world. "Look," they say, "here is something new!" But no, it has all happened before, long before we were born. No one remembers what has happened in the past, and no one in days to come will remember what happens between now and then.
—Ecclesiastes 1:1-11
Despite the fact that there is nothing new under the sun, I think we humans of 2009 struggle with meaning more than our ancestors did.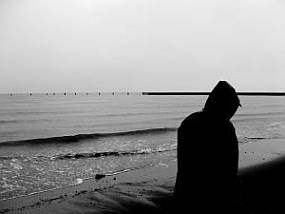 Most of our communities have shattered. We roam far from our birthplaces in search of what does not ultimately satisfy, fracturing family and robbing us of connection. We have little time for each other, for that once-tribe that helped root in meaning those who preceded us. Even the imprisoned apostle Paul had his faithful companions who cheered him with their presence. Without them, would the writings of that great apostle have taken an even more somber tone? There's a reason why God intended the Church to be a communion: He himself is a communion.
But we have lost the idea of communion/community. For this reason, I believe we have magnified our struggle against meaninglessness.
Meaning also goes wanting when a society's end goals cheapen, when beauty is replaced with cynicism, accomplishment comes down to material accumulation, and youth trumps age and its community-building wisdom. All of this detracts from our sole source of meaning, God.
We are all caught up in this race to the bottomless pit of meaninglessness. Some handle it better than others. I know that I do not handle it well at all.
Maybe that's because I believe life can be better than it is. Maybe we don't have to settle for less. Maybe in the midst of all that meaninglessness something better arises: hope.
Or maybe I'm just fooling myself. Ask me again come March.