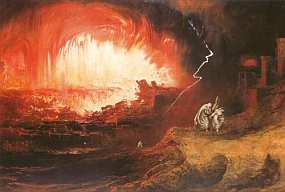 On Monday,  I wrote concerning Christians who err by judging the failings of others while simultaneously forgetting to examine themselves to check for their own complicity in those failings.
Today, I want to look at the notorious city of Sodom.
Long the hallmark of wickedness, Sodom is repeatedly held up in the Bible as an example of how NOT to live. And if you've been around American Evangelicalism long enough, you've been drilled on the exact reason God destroyed Sodom. (Hint: We get the word sodomy from this particular association.)
If you're still lost on the reason, Genesis 19 is the standard text. Lot's life in the city and what befalls him, his divine guests, and his immediate family are laid out for all to see, as are the despicable actions of the denizens of the city of Sodom:
The two angels came to Sodom at evening. Lot sat in the gate of Sodom. Lot saw them, and rose up to meet them. He bowed himself with his face to the earth, and he said, "See now, my lords, please turn aside into your servant's house, stay all night, wash your feet, and you will rise up early, and go on your way." They said, "No, but we will stay in the street all night." He urged them greatly, and they came in with him, and entered into his house. He made them a feast, and baked unleavened bread, and they ate. But before they lay down, the men of the city, the men of Sodom, surrounded the house, both young and old, all the people from every quarter. They called to Lot, and said to him, "Where are the men who came in to you this night? Bring them out to us, that we may have sex with them." Lot went out to them to the door, and shut the door after him. He said, "Please, my brothers, don't act so wickedly. See now, I have two virgin daughters. Please let me bring them out to you, and you may do to them what seems good to you. Only don't do anything to these men, because they have come under the shadow of my roof." They said, "Stand back!" Then they said, "This one fellow came in to live as a foreigner, and he appoints himself a judge. Now will we deal worse with you, than with them!" They pressed hard on the man Lot, and drew near to break the door. But the men put forth their hand, and brought Lot into the house to them, and shut the door. They struck the men who were at the door of the house with blindness, both small and great, so that they wearied themselves to find the door. The men said to Lot, "Do you have anybody else here? Sons-in-law, your sons, your daughters, and whoever you have in the city, bring them out of the place: for we will destroy this place, because the outcry against them has grown great before Yahweh that Yahweh has sent us to destroy it."
—Genesis 19:1-13 (WEB)
Cut and dried, right? Homosexuality was the primary reason God destroyed Sodom.
Well, maybe not.
I was reading in Ezekiel today and came across the following passage. The context is that God is chastising His chosen people for being even more sinful than the wicked nations that surrounded them:
"Behold, everyone who uses proverbs will use this proverb about you: 'Like mother, like daughter.' You are the daughter of your mother, who loathed her husband and her children; and you are the sister of your sisters, who loathed their husbands and their children. Your mother was a Hittite and your father an Amorite. And your elder sister is Samaria, who lived with her daughters to the north of you; and your younger sister, who lived to the south of you, is Sodom with her daughters. Not only did you walk in their ways and do according to their abominations; within a very little time you were more corrupt than they in all your ways. As I live, declares the Lord GOD, your sister Sodom and her daughters have not done as you and your daughters have done. Behold, this was the guilt of your sister Sodom: she and her daughters had pride, excess of food, and prosperous ease, but did not aid the poor and needy. They were haughty and did an abomination before me. So I removed them, when I saw it…."
—Ezekiel 16:44-50 (emphasis mine)
What is fascinating about this passage is that God explicitly names what it was about Sodom that caused Him to destroy them:
1. Pride
2. Excess food
3. Prosperous ease
4. Lack of love for the poor and needy
5. Haughtiness
6. Practicing an abomination
While not explicitly named, the abomination that was practiced surely included homosexuality.  Exchanging heterosexual practice for homosexual is an abomination because it mocks the created order and the character of God. (I have written about this previously in "Sex and the Created Order.")
But for us Christians in America who love to hold out the homosexual agenda as the worst possible thing to happen to our country, please note the five explicitly named sins that preceded the sixth.
I can wait while you read the list again.
When I read those top five, they nearly define American Evangelicalism circa 2009.
The pride of having somehow "arrived" with our Christian radio stations and our Jesus T-shirts, the Time and Newsweek cover articles proclaiming our ascendancy, and the whole of our Evangelical subculture that seduces us into thinking that we are somehow living in the world but are not of it
The gluttony evident by the number of morbidly obese "saints" who never met a pantry they didn't like or an all-you-can-eat buffet they could ignore, and the hording of food that allows us to feel safe and well insulated against the "childish" idea of "Give us this day our daily bread"
The vacation homes, McMansions, iPhones, Playstations, spa trips, Christian cruises, and amassed luxury that we so often attribute to God's imprimatur on our "righteous" lifestyles
The blind eye we turn to the destitute, the alien, and the least of these—the very ones who signify Christ Himself
The self-reverential belief that we are better than those around us who do not show the same outward manifestation of our blessings, and the certainty of heaven for us because we alone have done it right while our clueless neighbor has done every last shred of it wrong
Five devastating, explicitly named indictments of God against Sodom, yet for some reason, all we can think about is the sixth, because that final one applies to the other guy—you know, the flambouyant one with all the Streisand CDs.
Dear God, bring us to repentance before it is too late.