I've been reading more nonfiction books on Christian living and church practice. Without exception, they've been a little (or a lot) disappointing.
What bothers me most is how quickly man-made ways of doing things come to the fore in those books. You can almost always trace the author's primary influences back to their sources, and far too many times those influences are NOT primarily from Scripture.
This is not to say that there is no biblical justification for what is written, but the tendency is to take a man-made idea, wrap it in Scripture, and then sell it as wisdom.
That cannot work.  Anything of worth must start with Scripture and proceed from it, not the other way around.
Over at Outreach magazine, Larry Osborne wrote on innovation in the Church ("Real World Innovation: It's a Lot Like Sausage"). Coincidentally, I have Pastor Osborne's Sticky Church on order from my local library as the next Christian living and church practice book on my to-read list. So, I was eager to hear his insights on this topic.
For as long as that article was, it didn't have much to say about how Jesus, who was clearly the exemplar of innovation, approached the subject. Instead, I kept feeling like I was reading something out of Forbes rather than from a Christian source.
Let's cut to the chase. This is Jesus' approach to innovation:
Then they said to him, "What must we do, to be doing the works of God?" Jesus answered them, "This is the work of God, that you believe in him whom he has sent."
—John 6:28-29 ESV

So Jesus said to them, "Truly, truly, I say to you, the Son can do nothing of his own accord, but only what he sees the Father doing. For whatever the Father does, that the Son does likewise.
—John 5:19 ESV

When the Spirit of truth comes, he will guide you into all the truth, for he will not speak on his own authority, but whatever he hears he will speak, and he will declare to you the things that are to come. He will glorify me, for he will take what is mine and declare it to you. All that the Father has is mine; therefore I said that he will take what is mine and declare it to you.
—John 16:13-15 ESV
You want to be an innovator in the Church? You want to be a genuine leader? A visionary? Then do two things:
Believe wholeheartedly in Jesus, and do only what the Holy Spirit shows you the Father is doing.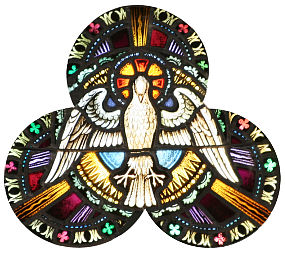 Do we not see the beauty in the Trinity at operation here? Is this not truth?
Then why are we so loathe to live this way? Why must we find some other kind of wisdom from some other source and try to position ourselves as some kind of Steve Jobs of Faith?
For all that Osborne wrote in his article, you know what I really would have liked to have read? How we Christians can better attune ourselves to understand what the Holy Spirit is showing us about what the Father is doing.
The sad part is that we seldom get that kind of answer, and I think it's because too many of our contemporary Christian "leaders" simply do not know how to get it. They can recite content from an MBA course, Seth Godin, or Steven Covey, but they don't know what the Spirit is telling them right now and right for them and their church.
It all comes down to this:
Now we have received not the spirit of the world, but the Spirit who is from God, that we might understand the things freely given us by God. And we impart this in words not taught by human wisdom but taught by the Spirit, interpreting spiritual truths to those who are spiritual. The natural person does not accept the things of the Spirit of God, for they are folly to him, and he is not able to understand them because they are spiritually discerned. The spiritual person judges all things, but is himself to be judged by no one. "For who has understood the mind of the Lord so as to instruct him?" But we have the mind of Christ.
—1 Corinthians 2:12-16 ESV
Spiritually discerned. Anything lasting, anything innovative, is spiritually discerned.
Church, it is long past time that we return to living by the Spirit. My prayer will be that God will raise up more leaders from among us who are better led by the Spirit and less by the wisdom of the world.