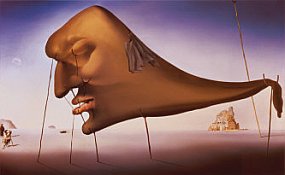 I'm so tired right now, I can barely type. I wasn't going to blog this evening (I'm writing this around 10:30 PM on Sunday), but as I sat here bleary-eyed, a couple thoughts came.
We're barely into a new year and the big "R" word—Recession—blares from the front page of the newspaper. The economy in my area is already on the downswing. Companies have frozen hiring in most cases. A quick look at Monster.com for my area shows a depressing increase in junk jobs ("Make Millions from Home Licking Stamps for Envelopes!!!"). Folks have that flinty stare, the kind of look reserved for bothersome teenagers blasting hip-hop out of their cars. Except folks stare off into nothing, as if to warn away life itself.
Everyone talks about the price of gas ("Yeah, but waddya gonna do?"), the out-of-touch presidential candidates ("Yeah, but waddya gonna do?"), and that nagging fear that things really ARE not as good as they used to be ("Yeah, but waddya gonna do?"). The voices all reflect two states of being: helplessness and tiredness.
And it does seem to me like people seem stricken with tiredness, as if we could all hibernate and sleep through whatever it is that's afflicting us right now. A Rip Van Winkle sleep. The sleep of the not-quite-dead, yet not-quite-alive.
But that's the sleep of the damned, if you ask me.
We are the Church of the Triumphant Lord Jesus. It's not time to be drowsy. It's time to trim the wicks and check our supplies of oil.  The world may be in the throes of somnambulism, but we Christians can't sleepwalk through life. We cannot allow the enemy to lull us to sleep through materialism, through the threat of losing all the cheap junk we've accumulated for ourselves, or through the threat of threats. The gates of hell were not built to withstand the onslaught of even one wide-awake Christian on fire with the Holy Spirit.
Do we believe that?
Tired? How can we be tired when we've been asleep for so long!
The old Christian band Harvest had an album called Only the Overcomers. If the times are threatening, it's time for the overcomers to stand up and be counted.  It's time to roll up the sleeves and get to work.
I asked last Friday about the pressing needs you all felt at your churches. I ask now: "What's your next step?" How will you overcome that issue? How will you be the source of change for the better in your church?
Because the days aren't growing any brighter. The Bible promises that darkness is coming. And we also know that when darkness comes, the tendency is to sleep. It's natural. That's what the world will be doing, just more so.
What will the Church be doing?