Last Friday, I lay with my mouth wide while she picked at my teeth with the pointy wand of stainless. She matched my look with her own yawn. "Been doing that a lot lately," the hygienist said.
"Me, too."
Couldn't tell you why exactly. I've fallen asleep sitting upright at least twice in the last week. Can't remember that ever happening. Nap and Dan don't often schmooze in the same sentence. I think my reluctance to let the Sandman dance on my widdle head has something to do with this ominous verse:
A little sleep, a little slumber, a little folding of the hands to rest, and poverty will come upon you like a robber, and want like an armed man.
—Proverbs 6:10-11
Whoa. Harsh, context or not.
But then, I can't help myself  on naptime of late.
I'm not the only one, I think. Seems like a lot of people have been struggling to stay awake. It's as if a collective blanket of snooze has dropped over southern Ohio. Maybe everyone is simply bored to tears with cold, gray skies.
I think it's something else, though. I think that the global stress of the last six months has taken root in our psyches. The anxiety of earlier days has burned through its wick and left us all spent.
As one who lived through the Carter Administration, albeit just barely, I remember a dusty word bandied about in those days: malaise.
Malaise has once again crept into the American soul and its body politic.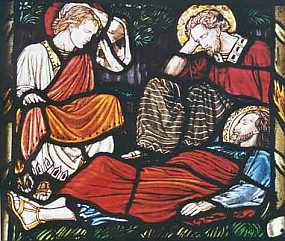 Malaise coupled with resignation. We sit at home helpless to make a difference in what is going on around us. We turned the country over to naïfs lacking in genuine Christian thought, so now we can sleep, oblivious, while they plunder.
What I want to know is this: We celebrated Lincoln last month, but how is it that no one today is as brave as that dead president so as to call for a national day of prayer and repentance? Isn't that what this country truly needs?
If you want to answer that question, do so quietly. Who knows? I just might be sleeping.