But I discipline my body and keep it under control, lest after preaching to others I myself should be disqualified.
—1 Corinthians 9:27
A few weeks ago, I mentioned that I'd spoken with several men who had become diabetic in their fifties. This, in part, prompted me to examine my own dietary habits and make some small corrections.
After one month on a low-glycemic diet, I'm 22 pounds lighter. I'm only three pounds from my target weight. That's astonishing to me. One month.
A few other things boggle me:
I made only small changes in my diet.
I didn't even do the tough first phase of the diet, but slid right into the maintenance phase.
The amount of energy I have right now is unbelievable.
I'm not craving snacks at all.
I'm eating less and not feeling hungry later on.
My wife tells me I'm sleeping better; I think she's right. I'm no longer dragging by 5:00 p.m.
Anyone can do this if they so choose.
I'm not diabetic, nor was I overweight by more than a couple pounds (according to the BMI index, but then it's a bit off for really massive guys like me).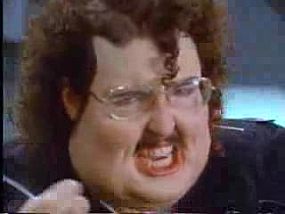 But I felt run-down and lethargic at the weight I was. Now I'm right where I should be. Feels great.
What did I change? Well, all processed food pretty much got eliminated. This wasn't hard because I eat a lot of natural foods anyway. I've been eating whole grains for more than 25 years, so I was ahead of that curve. I also eat organic meat and dairy as much as it's possible. I don't drink soft drinks except on rare occasions, so no sacrifice there. In the end, I mostly cut back on sugar and processed snack foods. I have a soft spot for baked goods, and that was the major sacrifice and probably the largest source of sugar in my diet. Goodbye, cookies!
As much as Splenda seems to be the non-sugar sweetener of choice, I prefer God's sweeteners to man-made junk. I don't need Splenda's chlorine, a massive oxidizer, tearing up my cells. Instead, I've used luo han guo, agave nectar, and erythritol as my sweeteners. They all seem to do fine and have been readily available, though not cheap. Still, the benefits are obvious. If you want to know more about these three natural sweeteners, drop me an e-mail.
So I'm feeling great.
All this has a point, too.
I wrote earlier this week about our consumptive habits in the United States, habits that are wiping out a lot of us spiritually. Our addiction to consumerism breeds a spiritual malaise that blinds us to the needs of others and cuts us off from relationships, which ultimately—I believe—leads to depression and a lack of concern for the things of God.
What (and how) we eat forms part of that consumptive cycle that we Christians need to fix. It wasn't just that I didn't want to possibly wind up a diabetic some day. It's that I couldn't let my own wants rule me. My desire to pack my plate had to end. My desire to ignore the four servings of Oreos in my hand needed to die. Sure, I ate mostly good stuff to begin with, but those few vices left me feeling drained.
And that's the way it is in one's spiritual life. That small thing which is anti-God will inevitably own us, only to destroy us later. You can take that spiritual principle to the bank. I wouldn't even have space to quote all the Scriptures that allude to that truth, so God must think it important.
The strangest thing of all about losing this weight is that I have more of a thirst for God than ever before. I'm not going to go so far as to say that some Doritos now and then impaired my spiritual life, but I'm not going to say it didn't, either. No one has to let anything rule them other than the Lord, and His yoke is easy, His burden light.
I've always thought the following quote comes truly God-inspired. Susanna Wesley, the mother of John and Charles, wrote this:
Whatever weakens your reason, impairs the tenderness of your conscience, obscures your sense of God, or takes off your relish of spiritual things; in short, whatever increases the strength and authority of your body over your mind, that thing is sin to you, however innocent it may be in itself.
I would personally substitute "spirit" for "mind" in that wisdom, but the point remains.
If a time of testing hunkers on the horizon for the Church, we can't be a bunch of couch potatoes, either spiritually or physically. Living a sober life means we're ready at a moment's notice for what the Lord desires of us. God has always told his people to be alert and ready. But if we're so fried because of what we eat or what we own or what we let control us that's not of God, then what chance do we of being ready for whatever God would ask us to do?
We Christians cannot become so plugged into our electronics, so obsessed with the material, so stuffed to the gills with garbage food that we'll be asleep from overconsumption when the Lord knocks on the door and asks that we follow Him where He's leading us.
Folks, we've got to cut the ties that bind us. Those ties come in a number of bright, shiny packages, all of which diminish us. I know what mine are, and I'm learning every day how to sever them for the sake of the King and the Kingdom.
So what's holding you back?