Today is Pentecost, the birth of the Church and the fruition of the Old Testament prophecy of Joel declaring that the Spirit of God would personally indwell men and women.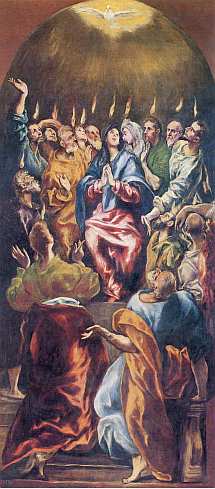 How sad then that the Holy Spirit is barely a presence at all in our meetings or in American believers in general.
Yesterday, I wrote to a faithful reader of this blog about my experiences in camping ministry. Ruminating further on what I wrote her, I want to literally and figuratively talk about two camps. I'll let you decide which one was more Spirit-filled and had a more effective ministry.
The camp in Southern Wisconsin had everything that an Evangelical camp could want—multi-million dollar budget, national recognition, much-copied programming, an enormous staff filled with well-known names in camping, and superior food and accommodations. They had all the right doctrinal stances and perfect theology. The director of the camp was also the sitting director of Christian Camping International.
The camping program in Southern Ohio had a minute fraction of that money and was part of a Mainline denomination that had been losing members to churches like the one that supervised the Evangelical camp. They didn't own their own campgrounds and the camping program was largely funded by one church. There was no national recognition and the leaders, while respected, weren't being asked to speak at Christian Camping International conventions.
The Wisconsin camp was a stickler for rules, even those that made it hard for summer staff members to attend church on Sundays. The camp didn't provide for the spiritual needs of the staff, going so far as to oppose a volunteer, staff-run, mid-week church meeting (organized by yours truly.) Year-round staff made it clear to summer staff that they were just there for a few weeks and the camp really didn't belong to them in the same way that it did for the resident year-rounders. Resident staff almost never let summer staff into their homes.
The Ohio camp made every allowance for the spiritual lives of staff. When leadership saw that the staff was getting tired, they poured their lives back into the staff and made certain that each staff person was getting fed by the Lord. Although many of the summer staff were not local, almost everyone on staff decided to attend the sponsoring church and time was made for staff to attend church and even enjoy fellowshipping afterwards. People from the church housed the staff in their own homes when camp was not actually in session. Relationships were forged for a lifetime.
The Wisconsin camp believed that God came first, campers came second, and staff came third. The Ohio camp believed that God came first, staff came second, and campers came third.
The Wisconsin camp poured out their staff until they were bone-dry and used-up. The Ohio camp got their staffers into the waterfall of the Holy Spirit and let them minister out of the overflow.
By summer's end, the Wisconsin camp staff had nothing more to give, while the Ohio camp staff was still ready to serve. The staff of the Wisconsin camp limped out of camp with long faces and few tears. The Ohio camp staff walked away empowered for service, and there were long farewells and many tears. Many of the people from the Ohio camp are still friends almost twenty years later.
I tell the tale of those two camps because today's Church in America falls into the same two camps. Our ministry is either a pouring out of people until there is nothing left to give or it happens out of the overflow of the hearts of people filled with the Holy Spirit.
Unfortunately, I believe that too much of our ministry today is taking what little of the Spirit of God is in those ministering and pouring Him out until people are dessicated.
A simple look around the United States will reveal the following:
1. We have more seminarians than ever and yet people are starving for good preaching.
2. More people have taken evangelism courses than ever and yet there is no revival in this country.
3. We have more books on Christian topics than ever, yet the ignorance of the Word of God is growing.
4. We have more Christian conferences and seminars than ever, and yet the world around us thinks Christians have nothing to offer.
5. We have snazzier, more consumer-oriented programming in our mega-mall-churches than ever before and yet every poll shows more and more people staying away from our churches.
Folks, we cannot do this by our own strength and yet that is all we seem to offer people. Is it any surprise that people stuck in this kind of dry, manmade Christianity are bored and restless? And for those who labor within those congregations, should we scratch our heads when they burn out and go elsewhere?
There is no substitute for the Spirit of God! We cannot build Christ's Church by any other means than by His Spirit! Our programming won't do it, our happy faces won't do it, our seminaries won't do it, our bookstores won't do it. Nothing builds the Church but the Spirit. We're wasting our efforts and wasting God's time if we think otherwise.
I've said here before that you never have to advertise a fire. If each believer in Jesus was filled to the brim until they overflowed with the Spirit we'd have people begging us to know what our secret is! We'd sit down on a plane and the people in the seats next to us would be clamoring to know how it was possible that they could actually sense our contentment and inner joy. Anyone who is empty would want a piece of Who we have!
I wish that everyone who reads this blog will take time today to read the entire Book of Acts in one sitting. Read it all the way through—your translation doesn't matter. Just read it. Now ask yourself if what you read there bears any resemblance to your own experience. If not, then why not?
The simple answer is that we are not serious about ministering out of the power of the Holy Spirit. But can I tell you something? You will burn yourself to a cinder of you minister to others in the way that most of you have been taught. But if you minister out of the overflow of the Holy Spirit, ministry becomes so effortless that you'll wonder why you wasted so much of your sweat trying to do it by your own strength!
My favorite passage in the Bible is Acts 4:23-31:
When [Peter and John] were released [from prison], they went to their friends and reported what the chief priests and the elders had said to them. (24) And when they heard it, they lifted their voices together to God and said, "Sovereign Lord, who made the heaven and the earth and the sea and everything in them, (25) who through the mouth of our father David, your servant, said by the Holy Spirit, "'Why did the Gentiles rage, and the peoples plot in vain? (26) The kings of the earth set themselves, and the rulers were gathered together, against the Lord and against his Anointed'— (27) for truly in this city there were gathered together against your holy servant Jesus, whom you anointed, both Herod and Pontius Pilate, along with the Gentiles and the peoples of Israel, (28) to do whatever your hand and your plan had predestined to take place. (29) And now, Lord, look upon their threats and grant to your servants to continue to speak your word with all boldness, (30) while you stretch out your hand to heal, and signs and wonders are performed through the name of your holy servant Jesus." (31) And when they had prayed, the place in which they were gathered together was shaken, and they were all filled with the Holy Spirit and continued to speak the word of God with boldness.
Did you catch that last verse? The place they were in was shaken! When was the last time that the Holy Spirit showed up so powerfully on Sunday morning or Wednesday night that your gathering place was shaken? Or how about you? When was the last time the Spirit go so ahold of you so fully that you were shaken? Those folks in that place already had the Holy Spirit in them since it was a gathering of believers, but look how God filled them to overflowing. And notice what follows from that massive empowering of the Spirit: the people went out filled with the Spirit, ministering the word of God boldly out of that overflow of their hearts! Do you think that they could NOT talk about the Lord after being filled like that? They didn't go out timidly, nor by whipping themselves into an emotional frenzy, nor by whatever they'd learned in a two day Evangelism Explosion session, but they went out in the utter confidence of the Holy Spirit! How could they NOT impact their environs if God Himself was dwelling in them so richly?
You can't buy the Holy Spirit; people have tried unsuccessfully (Acts 8:18-24.) The only way we can experience that filling is to humbly repent of our sins, travail before the Lord in prayer (and I don't mean for five minutes, either), praise His Holy Name by the Spirit already living in us, and wholly offer up our lives as a living sacrifice to Christ—our spiritual worship. We also need to surround ourselves with others who have the same single-minded devotion to Christ. And lastly, we need to be around mature Christians who have tasted the Lord in His fullness. They know what is possible and they believe, even when others don't.
The Lord never intended us to live any other way than overflowing with His Spirit. His promise in Joel was not half-hearted; He promised radical lives, radically changed, and radically equipped by Him to radically speak to shattered people in a shattered world. He alone makes this happen. And no matter how hard we try to manufacture results, without Him we can do nothing. N-O-T-H-I-N-G.
Now do we believe that?
{Image: "Pentecost" by El Greco, 1600. One of my favorite artists.}