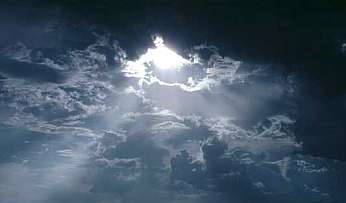 This is a response to Steve Camp's post "Worship Wars." While I greatly respect Steve's teachings in general, I believe there is a problem with his limited view of God's speaking to people today. The underlying idea he expresses is that God ceased to speak to us once the canon of Scripture was closed. This perspective is very common and I hear it all the time in the Christian blogosphere, but I contend it makes Christianity into a dead religion that was codified in a book by a God who once spoke, but does so no longer.
At issue is this quote from Steve's article:
Worship cannot be about my feelings or personal moorings based on what I think God is mystically communicating to me in a supernatural way.
While it is true that feelings cannot be the basis for worship, what God is communicating to us when we are communing with Him is critically important, especially if that communication is "supernatural," as Steve puts it. Steve limits what God can say only to what He has chosen to have written down in the Bible.
I start my response with a man who intimately knew God in a way that few do today:
In the beginning was the Word, and the Word was with God, and the Word was God—John 1:1
An intelligent, plain man, untaught in the truths of Christianity, coming upon this text, would likely conclude that John meant to teach that it is the nature of God to speak, to communicate His thoughts to others. And he would be right. A word is a medium by which thoughts are expressed, and the application of the term to the eternal Son leads us to believe that self-expression is inherent in the Godhead, that God is forever seeking to speak Himself out to His creation. The whole Bible supports this idea. God is speaking. Not God spoke, but God is speaking. He is, by His nature, continuously articulate. He fills the world with His speaking voice. One of the great realities with which we have to deal is the voice of God in His world. The briefest and only cosmogony is this: "He spake, and it was done" (Psalm 33:9). The why of natural law is the loving voice of God immanent in His creation. And this word of God which brought all worlds into being cannot be understood to mean the Bible, for it is not a written or printed word at all, but the expression of the will of God is the breath of God filling the world with living potentiality. The voice of God is the most powerful force in nature, indeed the only force in nature, for all energy is here only because the power-filled Word is being spoken.

The Bible is the written word of God, and because it is written it is confined and limited by the necessities of ink and paper and leather. The voice of God, however, is alive and free as the sovereign God is free. "The words that I speak unto you, they are spirit and they are life" (John 6:63). The life is in the speaking words. God's word in the Bible can have power only because it corresponds to God's word in the universe. It is the present Voice which makes the written Word all-powerful. Otherwise it would lie locked in slumber within the covers of a book.
—A.W. Tozer, excerpt from the chapter "The Speaking Voice" from The Pursuit of God
Agree or disagree?
Does God not still speak to us? If He does not, then what is the purpose of having the Holy Spirit placed in us if God did not intend to continue to speak through His Spirit? The Spirit is more than a stamp of salvific approval on the Christian. If He were only that, then there would be no reason for Him to be a living Person. Stamps do not speak, only persons do.
And what of inspiration or the words of a preacher like Whitefield brought to life by the unction of the Spirit? If God does not still speak, then there is no sense for us to be Christians any longer, for all inspiration is lost. It may have been codified once, but there is nothing more to say, therefore there would be no reason for us to speak a single word to anyone, preaching going the way of the dodo. Anyone here believe that to be true?
While I greatly respect Mr. Camp, he may one day come up against a person who meets the very criteria Camp himself sets forth, someone who is delivering the voice of God. What then?
Why are we so very afraid that God may still be speaking? Why should we be afraid of the Voice today? The Spirit blows where He wills; does He do so no longer? If He still does, would He come without a message? By no means! Because it is the very nature of God to always be speaking.
You could open your Bible anywhere and find God speaking to His human creations, but the one I choose here is God speaking to His wayward prophet Elijah. After God's trouncing of the prophets of Baal through Elijah and the subsequent destruction of the Baalites, Elijah fears for his life and takes off into the wilderness, hiding from King Ahab and his wicked wife Jezebel:
Then Jezebel sent a messenger to Elijah, saying, "So may the gods do to me and more also, if I do not make your life as the life of one of them by this time tomorrow." (3) Then he was afraid, and he arose and ran for his life and came to Beersheba, which belongs to Judah, and left his servant there. (4) But he himself went a day's journey into the wilderness and came and sat down under a broom tree. And he asked that he might die, saying, "It is enough; now, O LORD, take away my life, for I am no better than my fathers." (5) And he lay down and slept under a broom tree. And behold, an angel touched him and said to him, "Arise and eat." (6) And he looked, and behold, there was at his head a cake baked on hot stones and a jar of water. And he ate and drank and lay down again. (7) And the angel of the LORD came again a second time and touched him and said, "Arise and eat, for the journey is too great for you." (8) And he arose and ate and drank, and went in the strength of that food forty days and forty nights to Horeb, the mount of God. (9) There he came to a cave and lodged in it. And behold, the word of the LORD came to him, and he said to him, "What are you doing here, Elijah?" (10) He said, "I have been very jealous for the LORD, the God of hosts. For the people of Israel have forsaken your covenant, thrown down your altars, and killed your prophets with the sword, and I, even I only, am left, and they seek my life, to take it away." (11) And he said, "Go out and stand on the mount before the LORD." And behold, the LORD passed by, and a great and strong wind tore the mountains and broke in pieces the rocks before the LORD, but the LORD was not in the wind. And after the wind an earthquake, but the LORD was not in the earthquake. (12) And after the earthquake a fire, but the LORD was not in the fire. And after the fire the sound of a low whisper. (13) And when Elijah heard it, he wrapped his face in his cloak and went out and stood at the entrance of the cave. And behold, there came a voice to him and said, "What are you doing here, Elijah?" (14) He said, "I have been very jealous for the LORD, the God of hosts. For the people of Israel have forsaken your covenant, thrown down your altars, and killed your prophets with the sword, and I, even I only, am left, and they seek my life, to take it away." (15) And the LORD said to him, "Go, return on your way to the wilderness of Damascus. And when you arrive, you shall anoint Hazael to be king over Syria. (16) And Jehu the son of Nimshi you shall anoint to be king over Israel, and Elisha the son of Shaphat of Abel-meholah you shall anoint to be prophet in your place. (17) And the one who escapes from the sword of Hazael shall Jehu put to death, and the one who escapes from the sword of Jehu shall Elisha put to death. (18) Yet I will leave seven thousand in Israel, all the knees that have not bowed to Baal, and every mouth that has not kissed him."
—1 Kings 19:2-18 ESV
Notice a few things concerning Elijah and the Lord here:
1. Elijah was consecrated to God in the same way as we read in Romans 12:1 ("I appeal to you therefore, brothers, by the mercies of God, to present your bodies as a living sacrifice, holy and acceptable to God, which is your spiritual worship.) He was a true worshiper of God.
2. Even though Elijah trusted God, he was afraid and depressed enough to die. While we don't associate fear and depression with faithfulness, there was no doubt that God still considered Elijah faithful and still spoke to Him in a personal way.
3. God spoke to Elijah through the exact means needed to reach him. God's tenderness is shown to the prophet. And while we are not to base our worship on feelings, God is mindful of the emotional state of His prophet and takes this into account in the way that He deals with His servant.
In light of this encounter, should any of us believe that God does not speak to us in the same way that He spoke to Elijah? As true worshipers, is the depth of relationship we have with God somehow capped so we can never experience the level of intimacy that Elijah experienced when God spoke to him in the whisper? Are we somehow perpetually lesser servants of God? I see nothing in the Bible that says that God cannot speak to me in the same way that He spoke to Elijah, even when I am afraid or depressed, just like the prophet. Why should we limit God? In fact, with the Spirit of God actually indwelling us, I believe that our potential for intimacy with God, to have amazing conversations with Him, are even greater than in the days of the Old Testament when God would periodically dwell on people rather than remaining in them.
Therefore, not only does God speak, but He speaks personally. He speaks to each one of us. His intimacy is with each one of His children, those who bear the Holy Spirit within. And not only does He still speak, but He speaks to our need, our place in Him, and in measure to our ability to respond. If Steve Camp has any fair remark it's that too many self-appointed and highly immature "mouthpieces for God" want to talk when they should be listening, allowing God to mature them to the point where He will truly use them to speak if He wills. However, that fair criticism is used in a blanket way to establish a rule by which no one can ever relay the voice of God for an individual or group in the moment. By Steve's rule, God would never speak in the way that He does here:
While they were worshiping the Lord and fasting, the Holy Spirit said, "Set apart for me Barnabas and Saul for the work to which I have called them."
—Acts 13:2 ESV
If that kind of speaking is out today, then how are we to function as a Church?
Lastly, as the bearers of His Light, that Light speaks out from us to those in the darkness. Even our lives can be the words of God to mankind. Because God is still speaking, we should not be surprised when the person sitting next to us on the bus hears the Lord's voice in our very countenance.
So if God is still speaking, the only question that remains is, Are we listening?