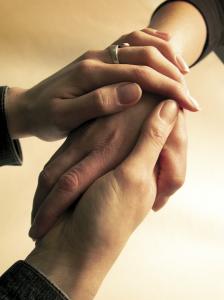 For the LORD your God is God of gods and Lord of lords, the great, the mighty, and the awesome God, who is not partial and takes no bribe. He executes justice for the fatherless and the widow, and loves the sojourner, giving him food and clothing.
—Deuteronomy 10:17-18 ESV
Religion that is pure and undefiled before God, the Father, is this: to visit orphans and widows in their affliction, and to keep oneself unstained from the world.
—James 1:27 ESV
Recently, as I've sat at home and healed up from the numerous illnesses that have hit our family since Easter, I've had plenty of time to think about some of the comments I've seen left on various Christian blogs. One comment that repeatedly raises its ugly head goes something like this:
The reason this happened to you is that you didn't trust God to provide for your needs.
On another blog, I left a comment that received this exact response. It wasn't directed at me in particular, but was aimed at all those people who found themselves in dire straits and after much prayer, sought their own solutions, often through means that "aren't Christian"—at least by the measure of the person leaving the comment.
I used to be one of those "faith bombers" who love to quote Scripture for the express purpose of making people feel bad about their solutions to tough problems. In many cases, a faith bomber proves his or her point by relaying a miraculous story of a specific answer to prayer that came about through direct intervention of God. The victims of the bombing are left to drown in the fact that the reason they did not receive a miracle was because they did not exhibit the same heaven-opening faith that the faith bomber did.
So there.
This post is an answer to faith bombers everywhere. It's a wake-up call and a re-examination of how God works. It's a message for every person who was ever tempted to bring a holier-than-thou attitude into the painful circumstances of someone in desperate need.
There have always been widows and orphans. The Bible repeatedly uses widows and orphans as a litmus test of need. To God, there is no one more needy than the woman who has lost her husband or the child who has lost one or both parents. God's heart is always for them. Always.
Yet, we also know of orphans who die forgotten and neglected. We read stories of widows who live alone, who forget to pay the electric bill, then freeze to death in the emptiness of their little ranch house when the electric company turns off their power for non-payment. Just last year I read such a story of a woman who had been a Sunday School teacher for more than fifty years, described as a wonderful Christian woman who loved many, yet her fate was hypothermia and a lonely death in the darkness of her own home.
How can this be reconciled with a loving God whose heart is for the widow and the orphan?
Philosophers will argue for or against the existence of God. Some will scream about divine watchmakers who cast their creations onto beaches to be found and marveled at by the curious. For others, it is a question of evil and why it exists.
But what of this?
But God has so composed the body, giving greater honor to the part that lacked it, that there may be no division in the body, but that the members may have the same care for one another. If one member suffers, all suffer together; if one member is honored, all rejoice together.
—1 Corinthians 12:24b-26 ESV
The suffering of fellow members of the Body of Christ is my suffering. It is your suffering. It is not just the suffering of those who were unfortunate enough to be receive it.
And here is where the great truth exists: God made the Church to be His means of delivering grace. As the Body of Christ we are to be the Lord to all people around us, no matter how deplorable their condition.
Can God feed the widow and orphan supernaturally by reinstituting manna that falls from heaven right into their hands? No doubt He could, but with His founding of the Church, we are the ones to feed them. It is our duty as the hands of God to deliver them food. This is the wisdom of God. This is religion that is pure and undefiled: that we look after widows and orphans and be the hands of God working to meet their need in the midst of their desolation.
My wife and I support a ministry called Voice of the Children. It started when one man walked into the sewers of Russia and brought the light of Christ to the scores of abandoned children that lived in the dank, black, disease-ridden bowels of his country. He understood that unless he, as a child of God, walked into that filth, children no one wanted would live and die there without hope. God enlightened his eyes to see that his hands were His hands.
To the so-called "Christian" who wounds the already wounded with the shrill words, "It's because of your lack of faith…," I say, "Heed your own words because it is you, and you alone, who have failed your brother." All day long the Lord cries out for His people to be the instruments of grace to others that He has called them to be. He beseeches us to be that miracle in the life of someone who has lost hope and has no solutions. How long before those of us who ignore this calling fall prey to the vicissitudes of life and suffer this fate:
Whoever closes his ear to the cry of the poor will himself call out and not be answered.
—Proverbs 21:13 ESV
Shame on us! Shame on every person who thinks they are exempt from being the solution, instead tossing that miracle back to God, saying with the words of Cain, "Am I my brother's keeper?" And the reply of God, the one so few are willing to hear is, "Yes. Yes, you are."