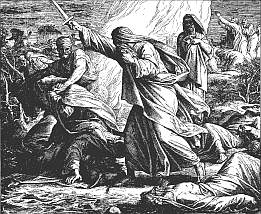 Here are comments from a formerly big cheese within the charismatic prophetic movement concerning the infamous "Toronto Blessing." For years I have questioned this supposed revival, and now Andrew Strom, ex of the prophetic movement, delves into the backwash it left behind. Must reading for anyone who remembers the Kansas City Prophets days, the tentative steps of John Wimber toward Kansas City and Toronto, and lots of folks running around clucking like chickens or roaring like lions somewhere near an airport in Canada, eh?
All I can ask is, What is it about today's charismatics that they can't say, "We were wrong"?
Now before I—a firm believer that the charismata are still for today—get linked to by more anti-charismatic websites, let me also add that I can't think of anyone in American Christendom who is saying, "We were wrong." And that especially goes for Evangelicals, Fundamentalists, and any other fractionalized form of Christianity who thinks, Only we fully possess the Truth, Amen. As the Scriptures tell us:
For it is time for judgment to begin at the household of God….
—1 Peter 4:17a ESV
Crow in a rich, citrus demi-glace, anyone?
{Image of woodcut of Elijah slaying the prophets of Baal by Julius Schnoor von Carolsfeld}