Carnage is the best word to describe what is happening in New Orleans. I pray the Church in this country is watching. What we are seeing may very well be the future, although on a scale restricted to one city in this country. Should more cities than one be involved in a more catastrophic event many days from now, it won't be pretty.
This is not a happy post. People may never want to come back here again after reading this, but I feel compelled to write.
I don't consider Jerry Falwell a spokesman for American Christianity. I want to say that up front. But on 9/11 he commented that perhaps what happened in New York that day was the judgment of God against America's sin. After being shouted down by a protest spearheaded by other Christians, Falwell was forced to retract that statement.
After hearing Falwell's comment, rather than immediately taking sides on it, I thought about it for a long time. Though I never did come to a firm position on what he said,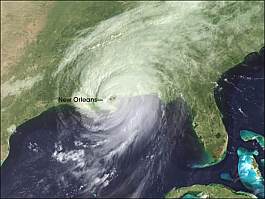 what shocked me was that so few people were even willing to consider for a brief moment that what Falwell said might be true.
Now we have a monstrous hurricane decimating a city known for it profligacy and overt sensuality. We have the gambling centers of Mississippi washed out into the Gulf. A couple folks have proffered the same reasoning as Falwell for the wreckage of New Orleans and Biloxi, but once again no one is listening.
Again, I don't have the perfect answer here. Judgment of God or not? I'm still pondering that. What troubles me is that so few Christians are willing to entertain for a second the possibility that Katrina is Wake-up Call #2.
Why does this trouble us so thoroughly that we relegate this possibility to the dumpster so quickly? Can we take a day to ponder this before we say that this is not the judgment of God against this nation? If it's not, then we move on. But what if it is?
The Church here has something to learn through all this. If we cannot discern the judgment of God, a judgment His righteous people easily saw in our Scriptural examples, what does that say about the American Church today?
The images and stories coming out of the Gulf are shocking. They so clearly show the utter depravity of Man that I can't see how we can be the same country after this. All the bravery that we hailed in New York almost four years ago has been swept away. The courageous stories of Katrina are buried in the rubble of vice and sin we see paraded on our TV screens.
What unnerves me about this is that the Church here does not understand that what we are seeing and hearing in New Orleans is far closer to the truth about Man than some are willing to admit. Worst of all, the events in Louisiana only prove that we as a Church are not prepared.
How are we unprepared? Look at the ripples this Gulf event is creating through all the strata that make up this experiment called America. The glaring weaknesses in our government, our energy reserves, our food and water supplies, and most of all, our souls, are on display for all to see. I read today that the area that makes up the most afflicted parts of the Gulf contributes a little less than two percent to the American economy. What if five or ten percent had been affected? Would total chaos reign nationwide?
It saddens me that the Church is largely unprepared to meet a major meltdown in America. We are not planning for a day when times get brutal. In truth, we act as if bad days will never come, the veritable grasshopper to the ant. Only in this story, there appear to be no ants.
He answered them, "When it is evening, you say, 'It will be fair weather, for the sky is red.' And in the morning, 'It will be stormy today, for the sky is red and threatening.' You know how to interpret the appearance of the sky, but you cannot interpret the signs of the times.
—Matthew 16:2-3 ESV
Church, should we not be the ones who interpret the signs of the times? Have we filled our lamps with oil or have the reserves gone out?
Did we learn anything from 9/11?
Did we learn anything from the prolonged recession from 2000-2004?
Are we going to learn anything from the aftermath of Katrina?
From what I can see, we ignorantly go on, blithely brushing it all aside. What else can explain the fact that we have not changed our course?
Just the other day I read that the underground Church in China is praying that persecution will come to America so revival will break out here. While I don't exactly side with that way of thinking, are we prepared if God answers the prayers of the persecuted Church in China?
I don't want the Church here to learn the hard way, but it looks as if we need a more catastrophic event to wake us from our slumber. God help us all should that catastrophe come and we are unprepared.