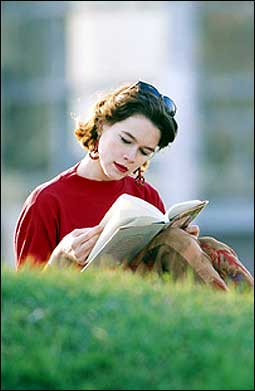 In two weeks I pitch my novel to agents and publishers at the American Christian Fiction Writers conference in Nashville. Though I'm a tad nervous, I've been richly blessed by the Lord in the last few weeks, with several astonishing answers to prayer that I'll share after the conference. Amazing stuff, indeed.
As part of my pre-conference market research, I'd like to ask everyone who reads this to help me out. Ask people you might know who never read Cerulean Sanctum to drop by, too, because what I am about to ask may help everyone in the end.
I would appreciate answers to the following five questions:
1. Do you read speculative fiction—science fiction, fantasy, horror, supernatural thrillers, etc.?
2. What authors are you reading in speculative fiction?
3. Do you find that there is not enough speculative fiction available?
4. What concerns you about the themes and morality displayed in the speculative fiction you read?
5. Would you read more speculative fiction if more titles by Christian authors were available?
I'm particularly interested in hearing from women readers of speculative fiction who are finding a lack of Christian thought in that genre (or a lack of speculative fiction titles in general) to be discouraging. If strong female leads in those novels would influence whether you read a novel or not, also let me know. (Guys, I need your input, too, but the simple truth is that women buy 80+% of the Christian fiction out there, so they wield most of the demographic power.)
Thank you in advance. Your comments are exceedingly helpful!