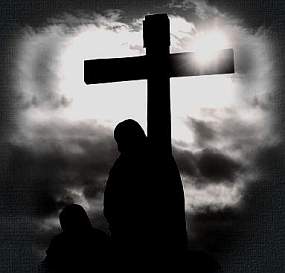 If you haven't already noticed, this blog is about the Church, especially the American variant. In my search for an authentic 1st century faith in a 21st century framework, I've come to the conclusion that there are about two dozen ways in which American churches have gone off the path. For anyone new here, this blog isn't about complaining about the problems; it exists to galvanize believers into action to remedy those shortcomings.
Over the years, folks have asked me many times what I think are the most pressing of those two dozen problems that are afflicting today's Church in America. Rather than go into detail about all of them, I'll list the five I believe are key:
5. We need to "de-materialize."
No one can serve two masters, for either he will hate the one and love the other, or he will be devoted to the one and despise the other. You cannot serve God and money.
—Matthew 6:24 ESV

As for what was sown among thorns, this is the one who hears the word, but the cares of the world and the deceitfulness of riches choke the word, and it proves unfruitful.
—Matthew 13:22 ESV

And he told them a parable, saying, "The land of a rich man produced plentifully, and he thought to himself, 'What shall I do, for I have nowhere to store my crops?' And he said, 'I will do this: I will tear down my barns and build larger ones, and there I will store all my grain and my goods. And I will say to my soul, Soul, you have ample goods laid up for many years; relax, eat, drink, be merry.' But God said to him, 'Fool! This night your soul is required of you, and the things you have prepared, whose will they be?' So is the one who lays up treasure for himself and is not rich toward God.
—Luke 12:16-21 ESV
If there's a sign of the times in the Church today, it's that we're possessed by things. Our desire is for what worm, moth, and rust destroy and not for what is eternal. This is the great deception of the Enemy that we should trade eternal riches for earthly ones. The Church in America is caught up in the materialism of an age that cries, "More!" Rather than simplifying our lives, we clutter them. Death purges all materialism; everyone dies a pauper in the eyes of God save for the ones who abide in Christ and gain His riches forever.
4. To be real disciples, we need to abide in Christ.
Now as they went on their way, Jesus entered a village. And a woman named Martha welcomed him into her house. And she had a sister called Mary, who sat at the Lord's feet and listened to his teaching. But Martha was distracted with much serving. And she went up to him and said, "Lord, do you not care that my sister has left me to serve alone? Tell her then to help me." But the Lord answered her, "Martha, Martha, you are anxious and troubled about many things, but one thing is necessary. Mary has chosen the good portion, which will not be taken away from her."
—Luke 10:38-42 ESV

Abide in me, and I in you. As the branch cannot bear fruit by itself, unless it abides in the vine, neither can you, unless you abide in me. I am the vine; you are the branches. Whoever abides in me and I in him, he it is that bears much fruit, for apart from me you can do nothing. If anyone does not abide in me he is thrown away like a branch and withers; and the branches are gathered, thrown into the fire, and burned. If you abide in me, and my words abide in you, ask whatever you wish, and it will be done for you. By this my Father is glorified, that you bear much fruit and so prove to be my disciples. As the Father has loved me, so have I loved you. Abide in my love.
—John 15:4-9 ESV
The Church in America is troubled by many things that have little eternal value. We get caught up in quibbles and quandaries when we should be caught up in dwelling at the feet of Jesus. What draws us away from real discipleship is our desire to explore the boundaries rather than staying near the Master. This means that no deviation from the words of Christ is allowed, nor should we allow those words to be perverted by those who seek to corrupt them. We need only one thing in our lives: to abide in Christ.
3. We need to put into practice what the Lord has taught us.
But be doers of the word, and not hearers only, deceiving yourselves. For if anyone is a hearer of the word and not a doer, he is like a man who looks intently at his natural face in a mirror. For he looks at himself and goes away and at once forgets what he was like. But the one who looks into the perfect law, the law of liberty, and perseveres, being no hearer who forgets but a doer who acts, he will be blessed in his doing. If anyone thinks he is religious and does not bridle his tongue but deceives his heart, this person's religion is worthless. Religion that is pure and undefiled before God, the Father, is this: to visit orphans and widows in their affliction, and to keep oneself unstained from the world.
—James 1:22-27 ESV

Go therefore and make disciples of all nations, baptizing them in the name of the Father and of the Son and of the Holy Spirit, teaching them to observe all that I have commanded you. And behold, I am with you always, to the end of the age."
—Matthew 28:19-20 ESV

Therefore encourage one another and build one another up, just as you are doing. We ask you, brothers, to respect those who labor among you and are over you in the Lord and admonish you, and to esteem them very highly in love because of their work. Be at peace among yourselves. And we urge you, brothers, admonish the idle, encourage the fainthearted, help the weak, be patient with them all. See that no one repays anyone evil for evil, but always seek to do good to one another and to everyone. Rejoice always, pray without ceasing, give thanks in all circumstances; for this is the will of God in Christ Jesus for you. Do not quench the Spirit. Do not despise prophecies, but test everything; hold fast what is good. Abstain from every form of evil. Now may the God of peace himself sanctify you completely, and may your whole spirit and soul and body be kept blameless at the coming of our Lord Jesus Christ.
—1 Thessalonians 5:11-23 ESV

Then the righteous will answer him, saying, 'Lord, when did we see you hungry and feed you, or thirsty and give you drink? And when did we see you a stranger and welcome you, or naked and clothe you? And when did we see you sick or in prison and visit you?' And the King will answer them, 'Truly, I say to you, as you did it to one of the least of these my brothers, you did it to me.'
—Matthew 25:37-40 ESV

For though by this time you ought to be teachers, you need someone to teach you again the basic principles of the oracles of God. You need milk, not solid food, for everyone who lives on milk is unskilled in the word of righteousness, since he is a child. But solid food is for the mature, for those who have their powers of discernment trained by constant practice to distinguish good from evil.
—Hebrews 5:12-14 ESV
Why do we need the basics taught to us over and over again? Because we are not putting those basics into practice. The reason we're not moving on in maturity and taking America for Christ is that our outward service isn't growing with what we know. Knowledge puffs up, but love builds up, and love is what drives us to put our faith into action—love for the Lord and for those who so desperately need Him. And who is it that loves the Lord? The one who has His commandments and keeps them.
2. We need to develop a true Christian counterculture that questions all worldly systems and seeks to live outside them.
To what then shall I compare the people of this generation, and what are they like? They are like children sitting in the marketplace and calling to one another, "'We played the flute for you, and you did not dance; we sang a dirge, and you did not weep.' For John the Baptist has come eating no bread and drinking no wine, and you say, 'He has a demon.' The Son of Man has come eating and drinking, and you say, 'Look at him! A glutton and a drunkard, a friend of tax collectors and sinners!' Yet wisdom is justified by all her children.
—Luke 7:31-35 ESV

See to it that no one takes you captive by philosophy and empty deceit, according to human tradition, according to the elemental spirits of the world, and not according to Christ.
—Colossians 2:8 ESV

Do not be conformed to this world, but be transformed by the renewal of your mind, that by testing you may discern what is the will of God, what is good and acceptable and perfect.
—Romans 12:2 ESV
When the world sings, why is it that most Christians dance to the tune? Why do we so easily conform to the culture around us without asking if the very culture itself is bankrupt? Christians blindly follow far too many systems that have their origins outside the perfection of Christ's wisdom. Certainly, we question the blatantly antichrist ideas that infuse the modern world, but only if they don't benefit us. Far too often do we assent to ways of living simply because we've been too lazy to discern their deadly outcomes or we're too comfortable with what they provide—even if what those systems provide isn't as good for us as what Christ has purchased. Living counterculturally forces our dependence off of ourselves and onto the Lord and the community of Faith He has created for His good purpose.
1. We need to return the cross to its central place in the message of salvation.
For I decided to know nothing among you except Jesus Christ and him crucified.
—1 Corinthians 2:2 ESV

For Christ did not send me to baptize but to preach the gospel, and not with words of eloquent wisdom, lest the cross of Christ be emptied of its power. For the word of the cross is folly to those who are perishing, but to us who are being saved it is the power of God.
—1 Corinthians 1:17-18 ESV

I have been crucified with Christ. It is no longer I who live, but Christ who lives in me. And the life I now live in the flesh I live by faith in the Son of God, who loved me and gave himself for me.
—Galatians 2:20 ESV
Then Jesus told his disciples, "If anyone would come after me, let him deny himself and take up his cross and follow me. For whoever would save his life will lose it, but whoever loses his life for my sake will find it.
—Matthew 16:24-25 ESV
Many of our churches no longer preach the cross. The cross demands too much for the majority of people, so they bypass it altogether. As a result, we have too many fleshly, half-baked disciples who may be deceiving themselves as to the truth of their actual conversion. What could be more deceptive than to believe that Jesus is ours without a trip to Gethsemane? Only by that journey can we take that next step in making our calling and election sure. Preachers who do not preach the cross are not preaching the Gospel. If they were, we'd have a whole lot fewer megachurches and a whole lot more folks who have died to the world and are now doing great things for the King and His Kingdom.
As I see it, if we address these five needs on the Church today, we'll be living out exactly what the Lord desires of us.
Disagree? Are there other priorities you would substitute? Drop a comment below and let me know what you think.