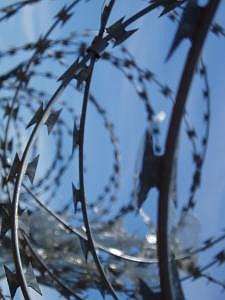 If you've been a reader of this blog long enough, you're familiar with one of the issues I believe we Christians today need to strengthen: discernment. As the world around us decays and the Western churches look increasingly like the world, never before has discernment been so needed—and yet so lacking.
Knowing how to pray is important. When people come to us for prayer, the Holy Spirit is there to pray for us, especially when we don't know what to pray. However, the influence of the churches we grew up in and our lack of the scriptural knowledge may overpower our faith in praying. We may very well not be praying what we ought.
Discernment carries over into prayer when we discern how to pray correctly for people who are undergoing trials.
Everyone reading this, I'm sure, believes that God is sovereign. On that we rest assured. However, knowing whether the trials of someone's life are due to opposition from Satan or the loving correction of God is difficult. For our purposes here, let's understand that correction is the refining of a path that a believer is on, even if it means a 180 degree turn. Opposition is the figurative "hitting the wall," when nothing at all can get through and everything appears fruitless. At issue is that, from our limited perspective, the two might seem interchangeable.
I think most people believe one of the following ideas about correction in a person's life:
1. God corrects by utilizing His own direct agency.
2. God uses his ultimate sovereignty over Satan to permit the Enemy to serve as a tool of correction.
3. Time and chance happen to all; this includes "correction."
4. We are not being corrected by anything or anyone outside of ourselves.
Most people would also tend to believe that opposition occurs in one of these ways:
A. God opposes those who are out of His will by utilizing His own direct agency.
B. God uses His sovereignty over Satan to permit the Enemy to oppose the wayward.
C. The thief comes to steal and destroy; Satan is the opposer, not God.
D. Because of the Fall, everything is tainted. What some view as "opposition" is only the practical result of a fallen world.
E. When life gives you lemons, you make lemonade. Nothing outside of ourselves is opposing us.
Some will argue that people may operate out of more than one of those concepts listed, but should they happen to have multiple views operating, one will usually be primary.
Let's see how this applies in reality…
A godly man named George, who ran a grocery store for years, believes that God is guiding Him to sell his very profitable grocery in order to start a ministry. Having seen the difficulty that some ministries endure in getting emergency food, water, and medical supplies to stricken areas, he starts a logistics company to streamline this process. George sells off the grocery and puts his life's savings into his new company, the ministry he feels called to serve through.
At first the new company does very well, but a large secular multinational notes the success of George's smaller company and moves into its marketspace. George's company immediately begins to suffer. He prays every day that his ministry will stay afloat. However, his ministry/company is losing money rapidly, only being kept afloat by George's dwindling personal savings.
One Sunday, George winds up in your church asking you for prayer about his problem. Which of the principles of correction or opposition listed above guides the way that you pray for George? Is he being corrected or opposed? And in what way?
Or consider your next-door neighbor Nancy, whose nineteen-year-old stepdaughter Meredith has been mistreating her own child. Nancy, a strong Christian, has been attempting to intercede on behalf of her grandchild, knowing that the state is close to removing custody of the child from Meredith. Ultimately, the state places the child in a foster home and Nancy is still locked in an increasingly futile fight for custody.
When Nancy is sharing her story with you and asks for prayer, along what lines of reasoning above does your prayer follow?
So how do you view and pray for George's and Nancy's situations? Did George hear God's guidance, or is God correcting George's waywardness. Or is this simply a case of Satan's opposition to godly initiatives? And what about Nancy's fight? How do you see her battle? How would you pray?
Your answers and comments are very much appreciated!