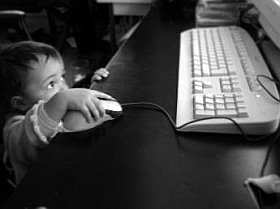 Everyone and his dog has a blog now. If there were eight million blogs a few months ago, it's surely ten million today. The Truman Show didn't overtake us while we were sleeping. No, we volunteered to be on it.
But is there a point to all this blogging?
My incendiary question for this week is this: If Christian blogging isn't advancing the cause of Christ, aren't we just wasting time?
I started Cerulean Sanctum in 2003 because I saw that there was a vacuum in the blogosphere for people who were looking for the reality of the 1st century Church in 21st century America. I've always looked at this blog as a ministry. There weren't any blogs talking about Christian living and whether the Church we have today is the Church God means for us to be, and I rectified that a tiny bit.
Much has changed in the last few years since this blog's inception, though. From my perspective, a quick perusal of the Christian blogosphere makes me wonder if anyone is really becoming a better Christian because of what is bandied about on blogs. If anything, the rapid increase in the number of blogs has resulted in a "ditto" mentality, where blog readers eventually turn their reading away from the blogs they disagree with and toward those to which they can shout a hearty "Amen!" It's becoming one big choir preach-in.
I've noticed a change in comments because of this. More and more the comments sections of Christian blogs aren't filled with dissenters, but the people who always agree with whatever is posted. (While I realize I did get many dissenting comments on my Myths of Homeschooling series, I suspect that this is more the exception—because of the incendiary topic and its relative newness in the scope of the last fifty years—than the rule.) Truthfully, I wonder how that helps anyone.
Blogs started out as online daily diaries, and I guess there's still a case that can be made for that purpose, but honestly, I don't read genuine online diaries. Pictures of someone else's cat and said feline's litterbox adventures won't hold most people. Some blogs serve as news sites, too, but don't people tend to read news sites that cater to their own preconceptions rather than sites that conflict? If we hang out at blogs with views in conflict with ours, aren't we merely looking to pick a fight most of the time? We aren't there to come around to that differing way of thinking, are we?
More and more book review and info blogs are cropping up daily; I read some of them. But I can say with all confidence that there's not a book review blog existing today that will give a positive review to both a John MacArthur book and one from Watchman Nee. Doesn't that bother any of us even a little bit? You'll get plenty of awesome Spurgeon material from Phil Johnson at Pyromaniac, but you'll never see a thing from Phil covering Spurgeon's more charismatic contemporary, Andrew Murray. The comfort zone exists and most readers are cool with it, but don't you ever wish that some blogger would bust out—just once? Christian ghettoes are a sad reality, and while each one will label themselves "The Remnant," do people ever walk up to the second floor of the house that is their own self—a la that old tract, "My Heart, Christ's Home"—and open the door to that room they've never explored just to peek at what's inside? If we don't break out of our spiritual comfort zones from time to time, how do we ever grow in Christ?
Any Arminians who have become Calvinists after stumbling across one of the many Calvinist blogs out there? Anyone? Has a blog changed anyone's mind on any topic related to faith? Please correct me if I'm wrong, but for the clashes that occur on blogs, don't the combatants eventually retreat to their own corners, completely set in their monolithic ways?
As for the Great Commission, I suspect the unsaved aren't reading our Christian blogs, so we're not really doing evangelism. Are we making disciples? I can't tell. Again, a blog would need to toss grenades into established thinking in order for growth to occur, and I see fewer dissenters hanging out at most blogs. They're frequenting blogs that tickle their ear itch. I mean that as no indictment of blog readers, but as a fact of human nature. Still, what can be expected from that conformity?
If these contentions are true, then what is accomplished by Christians blogging?
From my perspective, if any measurable good comes out of the Christian blogosphere it's that bloggers occasionally meet face-to-face with other bloggers. Blogging may be a substitute networking and relationship-building tool for some. I have no problem with that. Recently, I broke bread with megablogger Jared Wilson of The Thinklings, Mysterium Tremendum, and Shizuka Blog, plus Robin Lee Hatcher of Write Thinking, Katy Raymond of Fallible, and a host of folks who hang out at Faith*in*Fiction (and most of them have blogs, too.) I would love to meet Tim Challies, La Shawn Barber, Matt of The Gad(d)about, Bob over at Gratitude & Hoopla, Diane at Crossroads, Milton at Transforming Sermons, Seymour at The Light Is Sweet, Lars of Brandywine Books, and a whole host of others, including all the fine people who comment here at Cerulean Sanctum and the other blogs I frequent. Truly, I'd get more from those personal meetings than anything else. If not for the cost and the distance, I'd be front row and center at GodBlogCon for no other reason than to hang with other likeminded bloggers.
That said, though, is our blogging only a way to make friends? Are bloggers blogging because they're lonely, in need of support, or feel like no one is listening to them otherwise? I'm not sure most bloggers would contend that relationship-building is the primary reason they blog.
So what is the point? And if there is no point, then why are we blogging?