About midnight Paul and Silas were praying and singing hymns to God, and the prisoners were listening to them, and suddenly there was a great earthquake, so that the foundations of the prison were shaken. And immediately all the doors were opened, and everyone's bonds were unfastened. When the jailer woke and saw that the prison doors were open, he drew his sword and was about to kill himself, supposing that the prisoners had escaped. But Paul cried with a loud voice, "Do not harm yourself, for we are all here." And the jailer called for lights and rushed in, and trembling with fear he fell down before Paul and Silas. Then he brought them out and said, "Sirs, what must I do to be saved?" And they said, "Believe in the Lord Jesus, and you will be saved, you and your household." And they spoke the word of the Lord to him and to all who were in his house. And he took them the same hour of the night and washed their wounds; and he was baptized at once, he and all his family. Then he brought them up into his house and set food before them. And he rejoiced along with his entire household that he had believed in God.
—Acts 16:25-34 ESV

…if you confess with your mouth that Jesus is Lord and believe in your heart that God raised him from the dead, you will be saved. For with the heart one believes and is justified, and with the mouth one confesses and is saved. For the Scripture says, "Everyone who believes in him will not be put to shame."
—Romans 10:9-11 ESV

No one can come to me unless the Father who sent me draws him. And I will raise him up on the last day.
—John 6:44 ESV

Therefore I want you to understand that no one speaking in the Spirit of God ever says "Jesus is accursed!" and no one can say "Jesus is Lord" except in the Holy Spirit.
—1 Corinthians 12:3 ESV
I like to follow trends in the Church and in the Christian blogosphere. One trend that is gaining power attempts to tell who's in and who's out by questioning if some people who think they're saved really aren't.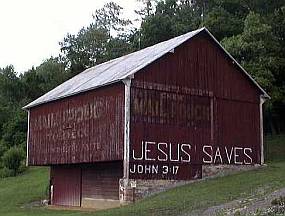 Any consistent readers of Cerulean Sanctum will know that on more than one occasion I've quoted Leonard Ravenhill asking if only 2% of professed Christians are truly born again. So even here there's been some of that same rhetoric.
John Piper has a new book out called God Is the Gospel and it's stirring up controversy about this very topic of how one is saved. Over at Old Truth, there was a post about decisional regeneration that adds fuel to the fire.
The debates about who's in and who's out rage, but I have to wonder if we are making it too hard. Look at the four verses posted above, for instance.
In the case of the jailer, look how simple his conversion was. Believe on the Lord Jesus Christ and you'll be saved. Did the Lord draw him? Yes, in the middle of despair, the Holy Spirit was drawing him. Did Paul ask anything of him other than to believe? Not that's listed here. Nor does Luke list anything different said by Paul than what the apostle himself outlines in the Romans passage above.
We can try to second-guess God on this, piling up other requirements, but isn't that adding to the Gospel? If someone confesses with their mouth that Jesus Christ is Lord, why is there reason to believe that God has not drawn that person?
My confession is that I'm a Lordship salvation person. Have been for a long time. But that puts me in the company of others who make coming to Jesus a real trial.
Perhaps the problem here is one of theological systems.
The Calvinist position is hard to hold because persistence of the saints becomes a problem. What do you do with people who profess Christ then seemingly fall away. The out for Calvinists is saying that those people never really were drawn by God in the first place and therefore never made a true profession of faith. But do the Scriptures above, when taken together, paint that picture? It sure doesn't seem so. It certainly appears that someone can be drawn of God, confess Christ with their lips and believe in their heart and still have the possibility there for falling away. Saying they were never a Christian in the first place seems like a lazy out.
Those against decisional regeneration are confronted with the fact that the jailer responded not because he was confronted with the full measure of the Gospel, but because he was in despair. He was ready to be saved without hearing a full Gospel presentation. He didn't say to Paul, "I'm a sinner under full conviction of the Spirit as He's brought me to the foot of the cross!" His rationale was that his boss was going to kill him OR he was astonished at the miracle earthquake that made it possible for the apostles to leave. I know plenty of people who became Christians at a remarkably low point in their lives or because they were confronted with a miracle. Is their salvation null and void? Can God not use situations to draw people? Do the passages above say that?
A Lordship salvation person, like me, struggles for a couple reasons. One is that I'm forced into an Arminian position, even though I don't want to ascribe to it, simply because I have to struggle with the same issue as the Calvinists: what to do with people who fall away. The other is that the verses above do not say anything about the actual living out of the Lordship of Christ in one's life. It's assumed, obviously, but the question must be asked then if the process of Lordship begins at conversion and progresses, or is completely in place at conversion. The former makes salvation progressive while the latter makes it instantaneous. A quandary, obviously.
I could go into great deal about how all the other views on this struggle, but that doesn't provide a solution to the original question: are we adding too many qualifiers to a person's coming to Christ?
I would truly like to hear what other people think about this. Just how hard is it to be saved?