In concluding this series (which previously was found in three parts: 1, 2, and 3), I'd like to reference a reply I made in the comments section of my last post to explain my rationale for taking on these myths:
[H]omeschool is used like a set of brass knuckles to the jaws of some parents. They are being crushed by guilt for not homeschooling or are likened to sinners or profligate parents for not homeschooling. Those accusers and accused know who they are, and I hope they're reading this and seeing that homeschool is not the be all and end all of life. I also want those parents who homeschool their kids to know how to work the land or to raise animals that they are not freaks for doing so.

I meet victims of homeschoolers' ire and they are indeed hurting. Many are Christians and yet their own churches label them negatively because they don't homeschool or they think some things are more important than understanding Plato's dancing shadows.

I see the moms with seven kids who are homeschooling them all. They get all the accolades. Good for them. But what about the mom who can't homeschool because her ailing parents consume her time? To have people berate her for that disgusts me! And I've seen that happen.

Homeschooling is used increasingly as a ruler to measure people and judge their fitness as parents. If you don't see that, then count yourself lucky that you live in a place where people don't do that. I don't live in that place. Despite living all over the Midwest and California, I've never lived in a place where homeschooling wasn't used to judge people.

All I want is to tone down the rhetoric; it's hurting people. It's also forcing people into homeschooling who are not equipped or are overburdened already. If keeping up with the homeschooling Joneses is what it is coming down to, then we need to offer people more grace to pursue other options without feeling like the spawn of hell.

That's all that this series is about. I hope the people who need to hear this are getting the message.
I've had a lot of arguments tossed at me during this series. Several comments, weblinks, and e-mails have said that what I've witnessed in my 18 years of watching the homeschooling movement simply isn't true.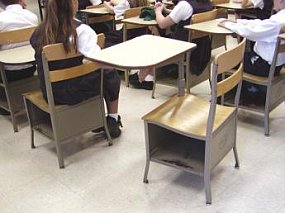 Others have said that they've never seen some of the behaviors I've talked about.
My challenge to those folks is to look around, step out of the hype for a few seconds, and examine the messages and behaviors espoused in the homeschooling movement. Some scary thoughts and practices exist in homeschooling circles, and we choose to ignore them at our own peril—and to the peril of the accused I referenced in my quoted comment above.
Consider that some women no longer introduce themselves as "a mom of four kids" but as "a homeschooling mom of four kids," as if the homeschooling tag must be added to ratchet up the standard of successful parenthood one more notch. That's nothing but competitive pride. Notice, too, what happens when a group of homeschooling parents encounters parents who do not homeschool. Watch the social dynamic. Look at people's faces. Watch the reactions when the topic of homeschooling arises. The societal pressure is obvious, especially in Christians.
The myths I've featured in this series are used to beat down people in a new kind of social class ranking. That stratification extends even to homeschoolers, as various teaching methodologies gain or lose traction. With the rise of classical education within homeschooling ranks, other methods have been relegated to lower positions as if there's a right and wrong way to present knowledge.
Some of this is a reaction against educational methodologies originally made popular in the public schools. With all things related to public school under massive scrutiny by homeschooling advocates, anything that smacks of public school is subject to scorn. John Holt's educational ideas that form the backbone of the "unschooling" movement were highly popular in public schools in the late '60s and early '70s, and some homeschooling parents consider them suspect. Other homeschooling parents who were not exposed to Holt as practiced in public school are more willing to use his ideas. This, of course, will bring conflict to a massing of homeschooling groups where one methodology is preferred to another. Stick classicists with unschoolers and let them have at it—the results are sadly amusing.
In conclusion, a few points.
Homeschooling is not for everyone. We need to be more accepting of families that choose not to homeschool. In almost all cases, they are not helmed by bad parents. In fact, those parents may be doing their children a favor by acknowledging their own weaknesses in teaching. One of the backbone beliefs of the homeschooling movement is that parents know their own kids best. Why then do some homeschool advocates lambaste parents who believe their children would thrive in a non-homeschooled environment? I have great respect for parents who acknowledge their own insufficiencies to meet their child's educational needs. Most parents WILL struggle with teaching once a child gets beyond a seventh grade education. We resist thinking the world has changed, but a vast sea of knowledge has been added or has trickled down to lower grade levels since we were in school. Do we persist in homeschooling beyond a certain level for the right reasons? Or do we capitulate to peer pressure and pride?
No one educational method reigns. Frankly, I believe that parents homeschooling to a lone methodology (e.g., classical, unschooling, behavioral, etc.) rob their kids of a broad-based education. That goes for private and public schools, too. There is no magic bullet. Teaching kids to think for themselves is fine, but that's not what the corporate world wants, quite honestly. Which world do we teach to then? How we accommodate what is valued in our society today matters. Creating a superkid who can't make his learning conform to societal demands is asking for another Todd Marinovich-type burnout. Tunnel vision is dangerous, and too many homeschoolers have so focused their teaching that I wonder how their kids will cope when their entire education proves to be the square peg in society's round hole.
Don't despise the basics. In our rush to turn our kids into quantum physicists who will unite both the particle and wave models of the universe, we may well be creating children who can't feed themselves. With globalization opening up American workers to foreign competition, our children will not be able to compete on an equal playing field if money is the bottom line. It would be wise of us to acknowledge this truth and prepare our children for a markedly different work future than the one we faced at the same age. Engineers in the U.S. are finding that they can't convince their kids to go into engineering, and this is a shock to them; perhaps the kids are smarter than they are given credit, considering that many of them would rather work for less pay than face the perpetual layoff cycle they saw their parents endure. In light of this, I firmly believe that instructing our children in a locally-needed trade may be the best work prep we can offer them. If we subsequently add  an understanding of the land, animal husbandry, and small farm techniques, we can ensure them a better future than the one already upon us. Remember, THAT was a biblical education in the days of Jesus. While it is true that we need the educational superstars to continue to build the next-generation medical devices and such, increasingly those superstars are not going to be Americans. Honestly, skyrocketing tuition costs may put college out of reach of the middle class, so other job and education options must be explored. We need to prepare our kids differently for a different future.
God is a God of grace. If we firmly believe He is in control, then we will entrust the care of the children He's given us—children that are not ours but His—to Him and Him alone. How that plays out in your children's educations is something God alone can deliver. And that may NOT include homeschooling. We should not limit God on how He can work in our children's educations. Nor should we enforce our will on other parents. God deals with all of us in different ways. We should not judge people by their schooling choices, especially if we are not vehicles of grace to accept their decision or help them move into a homeschooling model if the toughness of living is making it hard for them to do so. We've made homeschooling a millstone around the necks of parents and children alike, and the Lord is not in the millstone necklace business.
Education is not the path to salvation. Ironically, it is the very secular humanists that Christians vigorously oppose who truly believe that premise. However, as much as Christians say that is not them, George Barna recently showed otherwise. In one of  Barna's published surveys showed Evangelical parents were more concerned that their kids got into an elite college than that their kids followed Christ. That's a devilishly misplaced priority! Homeschooling, like anything else, can become an idol. God would much prefer a non-scholar with a heart that burns for Him than a Nobel-winning scientist who claims He does not exist. That's where our focus should be, raising kids for Christ, no matter where they go to school.
Thanks for reading through this series. I hope the gang now preparing the tar and feathers will graciously reconsider.
***
This four-part series: