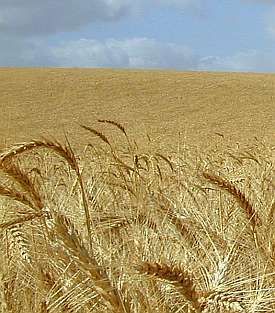 I baptize you with water for repentance, but he who is coming after me is mightier than I, whose sandals I am not worthy to carry. He will baptize you with the Holy Spirit and with fire. His winnowing fork is in his hand, and he will clear his threshing floor and gather his wheat into the barn, but the chaff he will burn with unquenchable fire.
—Matthew 3:11-12 ESV
Last week I was shopping for groceries in my local Kroger when I was overcome by a staggering feeling. Turning into an aisle with two rows of cooler cases, I felt like I was displaced from the rest of the crowd in the store, pulled away, destined to persecution at the hands of those around me. It was a sobering, yet eerie, sensation. When I finally took it to prayer, I was reminded of John the Baptist's comment on the work of Christ, the Savior's winnowing fork in hand, ready to thresh the nations.
Many times on this blog I have commented that we are not ready. A passage that comes to mind so frequently is
For man does not know his time. Like fish that are taken in an evil net, and like birds that are caught in a snare, so the children of man are snared at an evil time, when it suddenly falls upon them.
—Ecclesiastes 9:12 ESV
Will the world soon be "caught in an unguarded moment?" Is an evil time coming more swiftly than we realize? I cannot say with prophetic certainty, but something is happening. I don't want to blame this on two hurricanes, either. It's more than that. It feels, to quote C.S. Lewis, as if "Aslan is on the move."
I thought about all those people around me in the store. Chaff? I also felt like hard times were coming for us believers in Jesus, the wheat, and that we will have underestimated its ferocity when it arrives. I heard recently that Chinese Christians are praying for persecution for American Christians so that the sleeping American Church would finally get serious. Will that prayer soon come to pass?
Anyone else get this same impression recently?