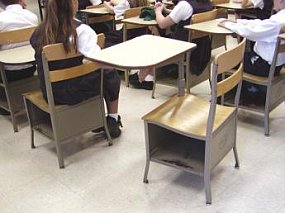 If you haven't caught the first two parts of this series (1 and 2), please read them first or you will have missed the rationale for the series and previous myths.
Myth #6: It is "more Christian" to homeschool
Christianity as a cultural norm has taken a few steps backward in this country in the last 30 years, so it's probably not true that ANYTHING is "more Christian" today than yesterday. I was born in the early '60s and have never met a peer who was homeschooled, so this forces the question: Were there no Christian parents before homeschooling took off in the late 1980s?
Many homeschooling pundits today claim you can't be a good Christian and not homeschool your children. What a huge slap in the face to their parents! With almost no adults over 40 today taught through homeschooling, most American parents of my own parents' generation were profligate in their children's educations—if you believe the pundits. If we are starting to define a Christian home by homeschooling, then our parents were sinned by allowing us to go to public school. And then there's the Protestant parents who sent their kids to private Catholic schools…
How foolish a myth, yet how often we hear it tossed out like a live grenade by well-meaning ministries that never think through their propaganda!
Schooling options exist beyond homeschooling and none of them violate the essence of our faith. Too many people forget that Christians started the public school system, and those pioneers had no problem violating the supposed sanctity of school at home. Nor were those schools simply for the unbelievers or for slack parents. Good Christian parents sent their kids to public school.
I understand that today's public schools are a mess thanks to entrenched teachers unions and liberals who think along the lines of humanists like John Dewey. Still, many options for schooling exist: charter schools, private schools, parochial schools and more. Homeschooling is a choice, not a mandate.
God has not placed His sole imprimatur on homeschooling. In fact, I say with no hesitation that God is less concerned with schooling methodologies and school types han He is that our kids serve Him and love Him with all their hearts, souls, and minds.
Myth #7: Homeschooling protects our children
Our children are not ours; they are God's. When we become Christians, we forfeit our rights to everything we own. We do not even own ourselves; therefore, we cannot "own" our children.
Would God have us build bunkers? Or is our light intended to shine in the midst of darkness? How long can we shelter our children before they must go out into a dark world and live as salt and light?
We miss chances to strengthen our children to stand up in the midst of a fallen world if we perpetually shelter them from the reality of wickedness this side of heaven. Better for us to teach them in the middle of the fray than to send them out untested with the hope that we covered every chink in their armor.
I'm not convinced a bunker mentality works. That line of thinking is based in fear and not love, in worry and not faith. Good parents will work with their kids to combat bad messages. If we want to train our children to think, what better way than to have them experience lies firsthand? My son and I sometimes turn on TV to watch the commercials so I can work with him to unpack the real messages in the ads. He can now tell me what is being sold, why, and how it is being packaged. If we had no TV in the house, would he be that wise? Hardly. But by exposing him to the world in supervised amounts, I know that he is using knowledge and God's truth to make wise decisions.
My own personal experience is that the truly sheltered, once out from underneath mom and dad's shadow, typically throw off the shackles. When I was at Wheaton College, I could tell you which kids were under their parents' constant scrutiny. Once the all-seeing eyes were gone, the result became painfully clear, or to quote the rock band Kiss, "Junior's gone wild."
Myth #8: Homeschooled children are smarter than their peers
I searched forever online but could not find  the Ohio Department of Education survey that showed homeschooled kids scored equal to or lower than their public and private schooled peers in the state's mandatory educational tests. Still, I remember reading that report and the statistics that backed up the conclusions and was startled—I expected the homeschoolers to be on par or higher, not on par and lower. With as many kids being homeschooled today—and the constant hype from homeschooling organizations—you'd think that test scores would be rising astronomically, but they truly aren't.
Yes, the National Spelling Bee champion and the National Geographic geography savant are likely to be homeschoolers, but we seldom hear about the many homeschooled kids who are barely above Jell-O in intelligence. I meet kids like that, so they do exist. As much as homeschool proponents love to shine the spotlight on the 16-year-old med student who was homeschooled, they're tightlipped on the ones who never make it to college or who tanked the SAT or ACT.
I searched online for any Nobel Prize-winning scientists who were homeschooled and couldn't find a one. And though I did find one page that had interviews with Nobel winners who claimed to hate school, they obviously derived enough out of it to eventually win that coveted prize!
Those are the myths for today. There will be one last concluding post in this look at homeschooling, so stayed tuned.
Until then, I'm breaking into my own series since there have been many questions asked and various comments made about my ability to discuss the topic of homeschooling at all. That was to be expected since any deconstruction of homeschooling is bound to rile at least a few people.
I mentioned some of my qualification in the first post, but I'll go over this in more detail here:
I graduated summa cum laude from Wheaton College in 1992 with a degree in Christian Education. That degree's requirements included significant analysis of curricula of all kinds. Much of the curricula I examined was homeschool-related. In addition, I studied all the educational theorists and teaching styles, so I'm well versed in both current and historic educational methods.
I've written countless curricula myself in a variety of Christian and secular environments. I have more than a thousand hours of personal teaching experience.
Before Wheaton, I taught outdoor education at several Christian camps in Ohio and Wisconsin, encountering numerous homeschoolers. This was my first exposure to homeschoolers and my fascination with the burgeoning movement led to further personal study of trends within it.
I've continued to follow all aspects of homeschooling, talked with hundreds of homeschooling parents from all over the teaching methodology spectrum, tracked the most important Internet sites related to homeschooling, read the hottest books in homeschooling circles, and generally have known what's what in homeschooling since 1987.
In short, I'm well qualified to discuss the topic. I've no problem if anyone wants to disagree with my conclusions, but impugning my experience isn't worthwhile.
Someone said that I was fronting for Wendell Berry by advocating "The New Agrianism." Well, I might very well be advocating agrarianism! Honestly, how well educated is a person who cannot feed herself or build himself a house? That used to be basic knowledge, but we've eschewed knowing how to cover the basics of food, clothing, or shelter for such relatively unusable pursuits as calculus, Latin, or Asian history. I'd just like to know why.
I also want to comment on an interesting outcome of this series. I've had both male and female commenters and it's intriguing to me that men seem to agree with my analysis of the current state of homeschooling more than the women do. Can't say exactly why that is, but I find it curious.
The conclusion follows: The Myths of Homeschooling #4.
***
This four-part series: