I've been blogging for more than four years now. What has changed in the last year is that I'm spending more time reading what others are writing rather than solely concentrating on my own words.
There are incredibly bright men and women, people of intense faith and devotion, blogging.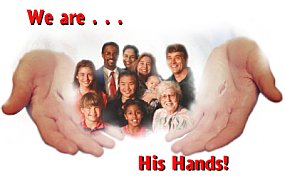 At one time I considered myself intelligent, but some of the folks blogging today are on some plane of intellect that makes me feel like I'm five and back on the Uncle Al show.
I don't think a time in history has ever existed when so many people have so much opportunity to influence others via the written word. Just seeing the names of other familiar bloggers in the comment section of yet another blogger's site is enough to tell me that collected wisdom is getting around.
But I'm also seeing another trend, one that others are just now acknowledging. Our brains are routinely getting filled with knowledge, but if other bloggers are like me, putting all that we know into practice is suffering. We're accumulating facts, but are we increasingly unable to take what we know and translate that into being the Body of Christ to the world?
My head is full, but my hand is too often empty.
This is what it says in 2nd Peter 1:5-8 (ESV):
For this very reason, make every effort to add to your faith goodness; and to goodness, knowledge; and to knowledge, self-control; and to self-control, perseverance; and to perseverance, godliness; and to godliness, brotherly kindness; and to brotherly kindness, love. For if you possess these qualities in increasing measure, they will keep you from being ineffective and unproductive in your knowledge of our Lord Jesus Christ.
Knowledge comes at the beginning of the process, but love is the final goal. How are we expressing that love to a broken world?
We may know the differences between Moltmann and Barth, Knox and Zwingli, but do we know the names of our neighbors? Have they ever been in our homes? Have we broken bread with them? Have we asked them what we can pray for? Have we been the first ones at their doorstep with food when there is a sickness—or for no other reason than that we care about them?
I understand that it's hard in the fractured society we live in to reach out to strangers. Loving those we do not know well is exceedingly difficult. But do we even love our brethren in Christ? When was the last time we visited the shut-ins from our own churches? Do we invite new members to our homes for a meal? Are we actively seeking out visitors? Do we keep in touch with the people who were essential to our coming to faith and our growth afterwards? Are we showing the brotherly kindness that leads to love?
Years ago, I believed that knowing was everything. Yet now that my head is filled with more Christian knowledge than it seems I can ever fully comprehend, I'm no longer satisfied with adding more. Unless I'm putting all that knowledge into practical service to the lost and to my brothers and sisters in Christ, have I not become that useless resounding gong that Paul warned of?
Words matter, but actions matter just as much.
That is why I'm proposing something so radical that it may not only change the Christian blogosphere, it may very well change the world: Let's stop the words for a week and instead substitute action. Let's put all that we know into practice.
I'm calling all Christian bloggers to step away from their computers from November 20-26. Rather than add one more word of theology, one more complaint about the way things are versus how they should be, let's take all that we have learned in our blog travels and use it to further the Kingdom by putting it all into action. Let's take our blogging time and dedicate it instead to making a personal difference in our neighborhoods, churches, and the world.
In the midst of that week, what can we do that we've never done before? Work at a soup kitchen on Thanksgiving Day? Visit an elderly mentor whom we've lost contact with? Talk to someone in our neighborhood we've never spoken to?
And if you're the kind of person who's mastered all that, what else can you do that you've never attempted before for the Lord? Perhaps you can call a missions organization and have them send you a list of missionaries from your local area. You could begin praying for those folks or even send them money, books, or a card saying you're lifting them up before the throne. Maybe you could offer to watch the pastor's kids so that he and his wife could have a night alone. Or you could rake the leaves of the neighbor you've been trying to witness to for years with words, but never with actions.
Blogging can become our comfort zone if we let it. But that isn't the Lord's desire of us. Can we do this, folks? Can we turn off the computers and take a week to reach out with the truth and love of Christ in a way that changes others and changes us along the way? In a week when we Americans celebrate Thanksgiving, can we give thanks back to the Lord for all He's done for us by making this happen?
November 20-26: Blog-out for the Kingdom.
Folks, what can we do that week to change the world for Jesus?