This is the third in a series of posts covering the hidden messages that sneak into American churches' proclamation of the Gospel. For more background, please refer to this post.
And behold, a lawyer stood up to put him to the test, saying, "Teacher, what shall I do to inherit eternal life?" He said to him, "What is written in the Law? How do you read it?" And he answered, "You shall love the Lord your God with all your heart and with all your soul and with all your strength and with all your mind, and your neighbor as yourself." And he said to him, "You have answered correctly; do this, and you will live." But he, desiring to justify himself, said to Jesus, "And who is my neighbor?" —Luke 10:25-29 ESV
We all know about love. Those of us who came of age in the Seventies heard "God is Love" so many times it must have been drilled into us via some clever ad campaign. Remember, the crying Indian? Somebody must've had a "God is Love" public service ad just as catchy.
For all the talk of love, you would think our churches would have that message down pat by now. And even if we don't love perfectly, we should at least understand the priority the Lord gave to love. No need to pull out 1st Corinthians 13 and 2nd Peter 1: 5-8, right? The love message percolates in everything we do.
Well, supposedly.
Somehow, we Christians in the West have this affinity for misprioritizing love below faith, hope, and everything else.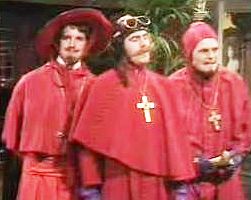 The very people of a God who is characterized by His Fatherly Love talk a good game about love, but the message we send out rarely starts with love. And when we end with it, that love's usually in the form of "Sorry about ripping your still-beating heart from your chest, but I did it in love."
Listen, our interaction with the brethren and with the lost shouldn't always take on the form of an intervention. It doesn't have to be a bare lightbulb, a hard wooden chair, and a cult deprogrammer we hired out of the Yellow Pages.
Too often our attitude is that of the lawyer who confronted Jesus. A master of splitting hairs, he swiftly noted how well he'd followed the love rules of the Law, but showed his true colors by adding his final element of personal correctness: "And who is my neighbor?" You can almost see the smirk.
Having been on a blogout last week, I evidently missed an enormous brouhaha that erupted over something Michael Spencer said over at BHT. At this point, I don't even want to know the specifics. All I know is that a lot of normally sane people forgot that love comes before correctness. The idea of leading with love first before tactfully addressing a fault got buried in a rush to judgment.
Can we see why the lost have no deep desire to join our little temples of pettiness? "Oh, shocking statement, Dan! 'Temples of pettiness'? Isn't that being a tad harsh?" All I can say is that our message of the love of Christ is being trumped by our desire to be correct. Love must come before correction. Love must come before EVERYTHING, folks. The mature Christian leads with love first and follows with everything else.
And yes, I know that love must be tough sometimes. My argument here is that it doesn't have to be tough all the time, nor does it have to be tactless. Our sense of proportion is out of whack when a few comments on a blog cause the strongest voices in the Godblogosphere to turn shrill and unloving.
Here's a little "Count to 10" anger management idea when we stumble across some inflated comment: Let's ask ourselves, How can I be a true example of love to my brother before I confront him?
I know a couple who were driven out of their church by folks who were more concerned about being correct than being loving. That couple's crime? They thought it was okay to read the Harry Potter books. When this opinion was expressed in a group of believers who did not share that belief, things turned ugly. To make matters worse, the couple was fairly young in the Lord and were new to that church. Now those final two elements aren't generally in themselves a reason to let things slide, but love should still have come first, then the acknowledgment that perhaps it is best to remark and let the Lord work it out in the lives of this couple. The result, however, was a bludgeoning, tears, anger, despair, and two fine people leaving the church.
It breaks my heart that we are too often concerned with being correct than being loving. And for all those who would accuse me of being soft on doctrinal stances for thinking that way, I would ask if the spirit in which anyone corrects another truly flows out of love and not self-justification. I would also ask that any of us who correct consider our own faults first, then consider if we are functioning more like the lawyer in the passage above than in the Spirit of Christ. Even in those passages where Jesus corrects sinners, he starts off by letting them know they are loved before He adds, "Now go and sin no more."
Which message do we lead with when we encounter others? Correctness or love? Only one is the way of Christ.